'Kung hsi fa tsai!' Can I have that couch?
"Congratulations! Get rich!" goes the greeting heard throughout Chinese New Year. But while there's no guarantee you'll get rich in the coming year, you can get a houseful of hand-me-downs by scavenging the streets for discarded furniture right now. \nAmong the many traditions of the Lunar New Year -- a visit to Dihua Street or a week of endless eating -- is the time-honored task of qujiubuxin (去舊佈新), or getting rid of the old to make room for the new. \nNow is when closets are cleaned, kitchens are cleared and sitting rooms are stripped bare in anticipation of all the things a thick red envelope might buy. And when all that old stuff is brought out to the street, it brings out both antiques enthusiasts and bachelors looking to replace sagging boxes with actual bookshelves. \nOf course, the vast majority of stuff thrown out of a person's home isn't going to make its way into anyone else's home, but one man's trash is sometimes another man's treasure. \nWalking home from the night market earlier this week, I watched a man pull a black leather Lazy Boy from a pile of mostly broken non-belongings. He examined it front back and bottom before putting it on his motorcycle -- back of the chair to the seat of the cycle -- then sitting atop the whole rig as he drove off. \nIn the same pile I found a faux-oak coffee table with magazine holders built into the sides. It has replaced a lesser-quality find from several Lunar New Years ago. Out with the old, in with the ? well, different old. \nBut "old" is sometimes better described as "antique." Daniel Zimmerman has thrown more than one dinner party using a mismatched set of broken chairs. Now his guests will gather around the table in Japanese-style, cherry-wood chairs after he earlier this week spotted six of them stacked on the side of the road. \n"We're really lucky living off Minsheng West Road," he said. "The street is lined with furniture shops and there's often a lot of good pieces." \nThe chairs are of heirloom quality and -- except for a couple with loose joints -- in excellent condition. Repairing them is easily done using the proper tools, but the previous owner tried unsuccessfully to hammer brad nails through the backrest. \nZimmerman has already bought materials to get the job done right. He's also keeping his eyes open for a roadside sofa to replace one masked by a red bed sheet -- something in a brown leather, perhaps, that would match the cherry wood chairs. \n"Then it'll be time for a dinner party!" he said. \nHOLIDAY HEIST KNOW-HOW \n \nHave a master plan \nKnow what furniture you need and what would only clutter your home. If you're after a big piece, measure to know what will fit. Don't forget to take that tape measure with you! \nGet an accomplice \nA friend will not only help with heavy lifting, but also help insure no one scavenges half your new dinette set while you're making trips to the curb. \nGas the get-away car \nIf you don't have one yourself, it's good to have a friend with a van or a little blue truck. \nKnow your valuables \nCloth can be cleaned, but be very afraid of the cushion it covers. Remember the "golden" rule: You can bring a stranger home into your bed, but never bring a stranger's bed into your home.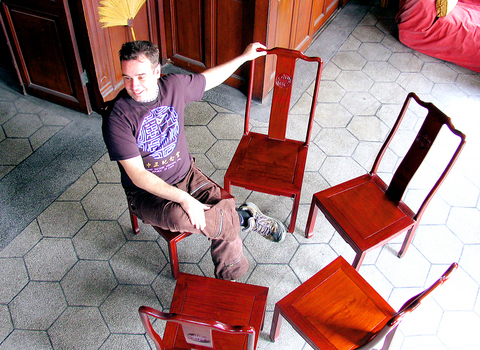 Daniel Zimmerman and his recent acquisition: A set of heirloom-quality hardwood chairs.
PHOTO: DAVID MOMPHARD, TAIPEI TIMES
Comments will be moderated. Keep comments relevant to the article. Remarks containing abusive and obscene language, personal attacks of any kind or promotion will be removed and the user banned. Final decision will be at the discretion of the Taipei Times.