The eyelashes are artificial but the happiness is real
No detail is too small for Taipei's growing beauty industry
Spending time and money to look good is no recent trend in Taiwan but salons and spas are multiplying in Taipei and are offering beauty-conscious women the latest fashion in cosmetic treatments. \n"There are no ugly women only lazy women" (只有懶女人沒有醜女人), said Lee Li-ming (李麗敏) the general manager at Borghese Beauty Spa in Taipei, repeating a line first made popular by Helena Rubinstein. \nIt's a common saying (at least it is in the beauty industry) that suggests everyone has hidden beauty and only needs to spend a little time to bring it out. \nTaiwan's salons go more than skin deep, because as Lee explained, "We spoil them [clients] for a few hours and make them feel good on the inside. When they feel good, they look good." \nIn the past, women went to hair salons to have their hair styled and nails painted, she said. Now, with more financial freedom and leisure time they're experimenting with their appearances. \nA new look includes everything from a NT$400 eyelash perming at a simple beauty salon to a NT$4,500 body mask at an extravagant day spa. \nTaiwan's spa sector has evolved from the hair parlors of 30 years ago into the luxury beauty centers of today, said Shenyn Wang (王序寧), the founding chairperson of International Spa Association Taiwan. She attributes the explosion in the industry to an emerging middle class and strengthening economy from 20 years ago. \n"When spas first originated in Taiwan, they were based on those in Japan that offer body masks and massages, but today they are a combination of the Japanese style and the European cosmetic centers, which offer facials and cosmetic services," she said. \nAccording to Wang, the Ministry of Economic Affairs does not have an annual earnings report for the spa industry. Part of the reason is that it falls under the beauty sector, which includes hair salons, slimming parlors and fitness centers, but more importantly because 30 percent of the industry is made up of unlicensed business. \n"Taiwan's beauty spas have multiplied in numbers. You can find one on every street now. But the quality of service varies from spa to spa," she said. \nLee's spa, Bourgesu, like most mid-to-high-end beauty salons, has an extremely relaxing environment. The soft lighting, new-age music, herbal tea and aromatherapy are all devices to make spending a few hours there feel like a brief escape from the city. \nEighty percent of Lee's customers come for facials and are the 35 to 45-year-old wives of wealthy businessmen. There are anti-wrinkle, re-hydrating and revitalizing facials with prices ranging from NT$2,200 to NT$4,500, but the most popular facial treatment is whitening. \nFacials are where most salons make their profit, but a few advancements in cosmetic techniques have become fashionable among the young and old. Tattooing eyeliner and eyebrows has given way to perming and fake eyelashes, the latest trends in the beauty industry, Lee said. \nKobayashi Makae, who moved to Taiwan from Japan eight months ago, had her eyelashes permed for the first time last Saturday. She normally goes to the spa twice a month for a body mask and facial, spending approximately NT$15,000 a month. \nAnother loyal yet less frequent customer, Wang Pei-hua (王珮華) said she goes once every two months for a two-hour facial. Last Saturday she opted for an extra one-hour body massage because she was getting married the next day. When asked what makes a 22-year-old woman decide to get a facial she said, "It makes my skin look brighter and feel softer. \nWhen her fiance was asked if he noticed any difference he replied, "No, but if it makes her happy then that's enough. But I think it takes too long," he added at the beginning of his three-hour wait. \nPerming eyelashes originated in Korea a decade ago, but it never reached the level of popularity there that it has in Taiwan. It is also a relatively new phenomenon in Japan, according to Makae, who added that her friends have it done whenever they come from Japan to visit. \nThe process takes 45 minutes to one hour and lasts six to eight weeks. Depending on the salon, it costs between NT$400 and NT$800. A small, white tube is fitted around the upper and bottom eyelashes and a diluted perm solution is applied to the tips. \nAccording to Lee, perming does not make the lashes weaker and it is safer than using a metal eyelash curler, which pulls the lashes at the roots and can cause them to break or fall out. \nThe downside to perming eyelashes, however, is that it makes them appear shorter than before. To get longer, curlier and fuller lashes, they need to be fake, said Lee, who added that more women are opting for fake eyelashes instead of perming. \nIn the past, synthetic lashes were glued onto the eyelid and could easily cause infection, but now they are attached to a person's real lashes and can last up to three months. \nThe technique has proven popular and since its introduction on the Taiwan market from America less than a year ago the number of clients wanting fake eyelashes has doubled. \nNT$1,500 and one hour later, Hsu Hsing-hsien's (許幸仙) short thin eyelashes grew to twice their original size. \n"It looks natural, right?" Hsu asked, adding, "I think it looks good, I look good." \nHer eyelashes might be artificial but her happiness is real.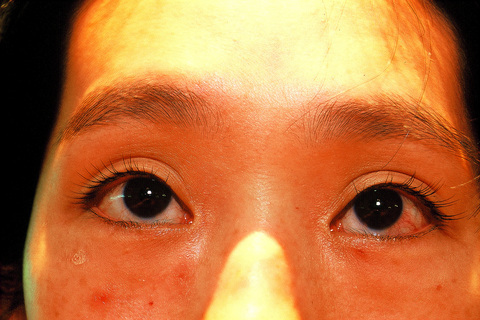 The eyes have it at at Borghese Beauty Spa in Taipei.
PHOTOS COURTESY OF ASHLEY PENG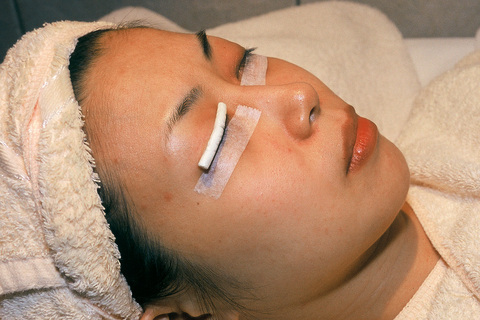 Comments will be moderated. Keep comments relevant to the article. Remarks containing abusive and obscene language, personal attacks of any kind or promotion will be removed and the user banned. Final decision will be at the discretion of the Taipei Times.