The 4th Taiwan International Documentary Festival: A diamond in the sky
Opening the 4th Taiwan International Documentary Festival today will be Werner Herzog's brilliant new film `The White Diamond'
Anyone who has seen Werner Herzog's Aguirre: The Wrath of God will immediately recognize the images of the German director's latest film The White Diamond, a documentary that was also filmed in the lush jungle of Guyana. \nIn this documentary, the forest looms as a haunting presence, a backdrop appropriate to the story of loss, tragedy and eventual victory. \nThe story that Herzog has focused on is the work of a mildly eccentric British aeronautic engineer, Graham Dorrington, who has invented an airship that resurrects the design of early 20th-century zeppelins on a smaller scale to create a craft capable of hovering at the level of the jungle canopy at slow speeds and in relative silence. \nHis objectives for the creation are to allow deeper research into the diverse flora of the forest canopy, a potential biotechnology goldmine. On watching Dorrington's wide-eyed, breathless presentations of his aircraft, however, one develops the sneaking sense that he is primarily interested in aviation in its own right. \nThat ambition is clearly a source of immense motivation for Dorrington, yet it is also the reason for his deep sadness, as a similar design of the craft shown in the film had been used 10 years earlier in Sumatra and resulted in the tragic death of his friend, Dieter Plage. \nThe German cinematographer fell to his death in what was an unavoidable accident unrelated to any design flaw on Dorrington's part. Nevertheless, the professor bears his sorrow over the death quite openly. The experiments with the new craft, it seems, are an attempt to surmount that pain and loss and, perhaps, bring some meaning to Plage's death. \nOn site in Guyana, Herzog stumbles upon a parallel story of loss and longing in the character of local Rastafarian Mark Anthony, a diamond miner who is a hired hand in the professor's project. Anthony quietly and placidly reveals to Herzog the story of the loss of his family -- eight brothers, two sisters and his mother -- who have all emigrated to Spain and who he wishes to see more than anything else. \nAs Anthony watches the professor undertake test flights of the craft, he muses how he would like to fly the craft over the Atlantic Ocean and land on his family's roof in Malaga, Spain, and say to them, "Hello, I am home." Ultimately, there are two heroes in the film, Dorrington and Anthony. Dorrington overcomes his ghosts and past failures by fine-tuning his craft and successfully flying it around the jungle canopy with Herzog, who comes along for the ride to film. \nAnthony, meanwhile, presents a figure of strength and perseverance, as well as deep wisdom. At one point, when Herzog poses an unusually banal question to him, Anthony flatly replies, "I cannot hear you for the thunder that you are," effectively brushing off the director. He is clearly deeply appreciated by the crew for his composure and his optimism in the face of hardship. Finally, he's offered a ride, after which he comments that his only regret was that his pet rooster wasn't able to join him. \nAs in Aguirre, the jungle offers up some spectacular images that, when accompanied by the eerie soundtrack, compound a sense of mystery and foreboding. The tone raises the suspense of the film, as we are gradually told of the details of Plage's death and begin to fear a possible repeat of the tragedy with the new craft. \nDorrington's apparent casual attitude toward procedure and safety provides ample reason to suspect that such could be the project's eventual conclusion. \nBut the enduring allure of flight, symbolized by the film's images of the forest's swift birds, and the strength of ambition fused with ingenuity and hope see the project through to its spectacular ending. \n白鑽石 \n韋納荷索德 \n/日/英 \n這部片子是關於荷索一次探索亞馬遜叢林的冒險之旅。他與飛船工程師葛雷朵靈頓博士乘坐嶄新發明的氫氣飛船,前往圭亞那內陸氣勢磅礡的凱特瀑布區,滿載創造的夢想飛躍叢林頂端,二十年前朵靈頓的同僚友人在類似的冒險之中不幸墜地身亡。這次荷索隨同朵靈頓探索亞馬遜這片美麗誘人的祕境,進入當年拍攝經典名作《天譴》與《費滋卡拉度》的失落天堂,荷索將以這部獨特的影片記錄並訴說非凡的冒險故事。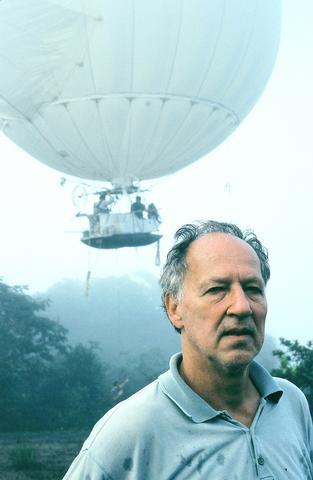 The haunting image of a balloon floating over the jungle is an appropriate metaphor for Werner Herzog's meditative new film The White Diamond.
PHOTO COURTESY OF TIDF
Comments will be moderated. Keep comments relevant to the article. Remarks containing abusive and obscene language, personal attacks of any kind or promotion will be removed and the user banned. Final decision will be at the discretion of the Taipei Times.