Restaurant: Doner Kebab
Address: 11, Ln 113, Minsheng E Rd, Sec. 3, Taipei (台北市民生東路3段113巷 11號)
Telephone: (02) 8712 0311
Open: 10am to 10pm daily
Average meal: NT$130
Details: English menu
Taipei's first kebab shop opened just three weeks ago and has already built up a strong following. Its hearty Turkish grilled meat combos are currently popular with office workers out for a quick feed, local residents looking for something more substantial and expats in search of familiar tastes from home. \nThe brainchild of Jerry Hsu (徐孟楷), the Doner Kebab's menu and look are based on similar joints in Sydney, where, he was a student at culinary school until recently. All the equipment, from the computerized kebab grill to the latest kebab shavers, have been imported from Down Under and the Doner's simple and spacious interior resembles kebab shops that are typically like a Sydney shopping mall. \nOffering diners a clean, pleasant, roomy and inoffensive environment, the Doner's small, yet solid menu is, according to Hsu, still a work in progress. Those craving grilled Turkish treats should find the few items currently available to their liking. The drawback is the lack of dips. While Hsu has mastered the garlic and cucumber yogurt sauce the lack of tahini in Taiwan has meant that humous is, at present, not on the menu. \nThe most popular of the dishes on offer is the Turkish soda bread kebab. Available in beef, chicken, or a mixture of both, the hearty kebab comes stuffed with salad and is topped off with Hsu's homemade garlic yogurt sauce and costs NT$110. Hsu also offers Lebanese, or flat pita bread wraps, which cost NT$110 and are \navailable in the same combinations as the Turkish kebab. \nDiners looking for more than a simple sandwich should try one of one of Hsu's set meals. The priciest of these is the NT$450 Kusbasi kebab, or a fillet of lamb served with mixed vegetables, Turkish bread and onion salad. The Adana kebab -- two spiced lamb kebabs cooked with capsicum and served with mixed vegetables, Turkish bread and a huge fiery green pepper -- and the Ishender kebab, a plate of beef topped off with garlic yogurt and chili sauce served on a bed of Turkish soda bread, both cost NT$300. Side orders of French fries are available on request for diners wanting that extra bit of cholesterol with their meal. \nHsu plans to add more Mediterranean-based meat and fish dishes as well as several vegetarian choices, including falafel in the near future. But for now, diners will have to make do with the basics. Not that there's anything wrong with that, as Hsu's kebabs hit the spot and diners will walk away from any meal at the Doner satisfied.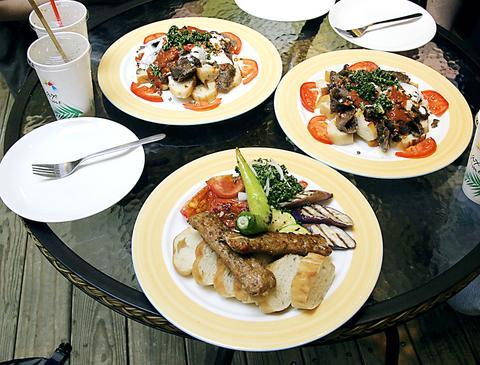 Tuck into Turkish style grilled meats at Taipei's Doner Kebab.
PHOTO: GAVIN PHIPPS, TAIPEI TIMES
Comments will be moderated. Keep comments relevant to the article. Remarks containing abusive and obscene language, personal attacks of any kind or promotion will be removed and the user banned. Final decision will be at the discretion of the Taipei Times.