A passage to Penghu
Located in the middle of the Taiwan Strait, the archipelago of Penghu offers empty beaches and rustic villages dating back centuries
To think of Penghu as an island off Taiwan is to get it the wrong way around. Because of its location in the middle of the Taiwan Strait, the islands of the archipelago have been a first and favorite destination for invading navies since the 17th century. Nowadays, though, it's a favorite destination for tourists -- and with good reason. \nMakung, Baisha & Hsiyu \nThese three islands are the largest of the Penghu archipelago. A string of bridges completed in late 1970 has essentially turned the three islands into one large island. Makung is the largest of the three and is also the location of Makung City, the administrative center of the Penghu island group. While there are plenty of things to do and see in the city itself, it seems a pity to travel to an island only to spend time in a city. Best, then, to rent a scooter at the airport and set out for any of the islands' numerous beaches. There are several on Makung itself -- Shanshui, Aimen, Shili, and others -- but the best is at Neian, a 30km drive to the western side of Hsiyu. \nHeading out to Hsiyu is a good idea for several reasons. As well as the beach, visitors can take in the lighthouse standing sentry on the western cliffs. It can be seen from 46.3km away and sits next to one of many military installations throughout Penghu that are off limits -- most of them at least. \nNear the lighthouse is the famous Hsiyu Fortress. Built in 1884 to defend Penghu against the French, it is 7.2 hectares of poured reinforced cement tunnels that once housed four, huge British Armstrong canons. The site stands as a silent reminder of Penghu's tumultuous history. \nWangan \nThe island of Wangan is home to Chungshe (中社), one of Taiwan's most precious cultural properties -- at least according to the American Express Foundation, which put the centuries-old village on its World Monuments Watch list of the 100 most-endangered sites. \nThe village was established about 300 years ago by Han Chinese who were encouraged by the imperial authorities to guard against invasion by Japanese and European forces. The homes built by those first settlers have long since disappeared, but many of the 151 remaining courtyard homes date back 200 years. \nWith the exception of three modern houses, all the structures have maintained their traditional aesthetic. The corrugated sheet metal covering the roofs of most buildings in Taiwan isn't found here. Many of the homes still use traditional cooking stoves. Water is still drawn from public wells. And each of the few remaining residents still makes a living from fishing and farming. \nChungshe suffered a mass exodus in 1971, when the government began providing semi-regular boat services to the island. At present, there are only some 240 residents left. \nAnd it would seem none of them are beachcombers. Wangan's other obvious asset is its beach, located at the southern end of the island. When the Taipei Times last stepped foot on Wangan, they left behind the only footprints the stretch of pristine golden sand had seen in weeks, according to locals. They seemed mystified that anyone would use the beach for something other than fishing. \nThe only other beach on Wangan isn't for swimming. It's where giant sea turtles come each year to lay their eggs. It's also the site of a sea turtle protection center-cum-museum. The museum was built to satisfy the curiosity of thousands of visitors who came each year to watch the sea turtles lay their eggs, then came again when the eggs hatched and the tiny turtles made their way into the ocean. It served another, more important, function as well: Keeping the visitors off the beach and away from the endangered turtles. \nCHIMEI \nThis island has a history of women drowning themselves because of men, according to local folklore. Two of the island's most famous tourist attractions are the Tomb of the Seven Beauties (七美人塚) and Wangfu Rock. \nThe island gets its name from the first of these sites. Legend has it that Japanese invaders came upon this island at the beginning of the Ming Dynasty. Seven young women were washing clothes at a well when they heard the news and, in order to protect their virtue and avoid being harassed by the invaders, they each leapt into the well. The locals filled it in to create a tomb for the women and, later, seven Spring Catalpa trees grew there. The trees are said to maintain their yellow and white flowers year-round. \nOver the hill from the tomb is a rock stretched out across the water called Wangfu or "wanting husband" rock (望夫石). The story here is of a young pregnant woman whose husband went to sea and never returned. Months went by. Fearing she'd never be able to raise her child by herself, the desperate woman threw herself in the ocean. But (Oh, my God!) a rock later came out of the ocean that looked just like the pregnant woman! \nWhen the tour bus next takes you to another rock which you're told looks like a lion (it doesn't), you realize you're being hoodwinked by a lot of hokum designed to give the island a meager tourist industry. Without these stories of stones, sorry to say, Chimei is just a rock. No one would want to come here were otherwise. \nOne last stone to observe on Chimei, though, is one of Penghu's most recognizable sites. The Twin-Heart Fish Trap (雙心石扈) sits at the bottom of a cliff on the island's northern side. Locals don't know when it was built or by whom, but they owe their livelihoods to it. For as long as anyone can remember, it has caught fish and lured young couples who have their photo taken standing above it and often get in to take a swim. \nWith 64 islands in the archipelago, Penghu has a lot more to offer than what's to be found on the few islands mentioned here. Best, then, to get on the Web and plan ahead before setting out to conquer the islands for yourself. \nFor more information: \n▲WHAT: Penghu is a 64-island archipelago located halfway between Taiwan and China in the Taiwan Strait. Makung is the largest island, followed by Hsiyu, Baisha, Wangan and Chimei. Total land area is 127km2. \n▲ POPULATION: About 60,000 \n▲ CLIMATE: Windy in the winter; hot in the summer. Penghu receives the least amount of rainfall of all of Taiwan's islands and the most sun. \n▲ WHAT TO BRING: Clothing to protect from the sun and seasickness pills, if necessary. \nACCOMODATIONS: \nOn Makung: \nPauhua Hotel (06) 927-4881 \nFungjuo Hotel (06) 927-3801 \nErhsin Hotel (06) 927-8170 \nOn Chimei: \nShuntien Hostel (06) 997-1024 \nFupeng Hostel (06) 997-1043 \nOn Wangan: \nWangan Hostel (06) 999-1200 \nAIRLINES: \nUni Air (06) 921-6350 \nFar Eastern Air (06) 924-9388 \nMandarin Air (06) 921-6966 \nFuhsing Air (06) 921-8500 \nOn the Web: \nhttp://www.phhg.gov.tw/english/intro/intro.htm \nhttp://www.wmf.org/html/programs/watchlist2004.html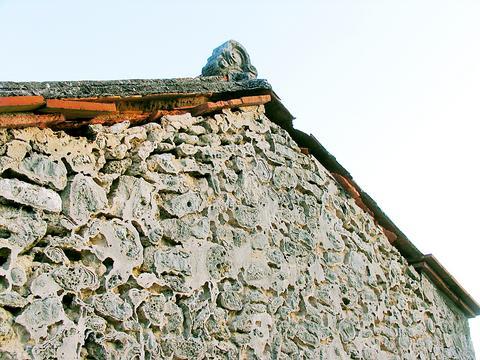 Wangan's Chongshe has been listed on the American Express Foundation's World Monuments Watch of the 100 most endangered cultural sites.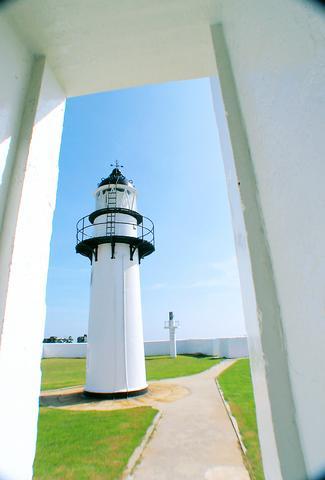 The lighthouse on Hsiyu.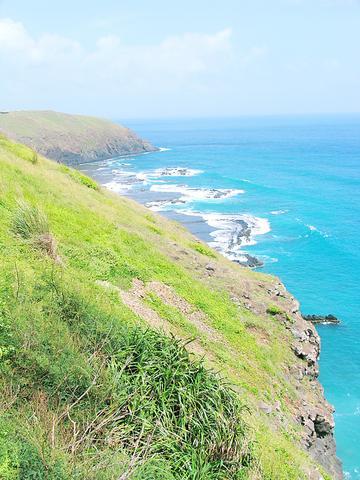 The coastline of Chimei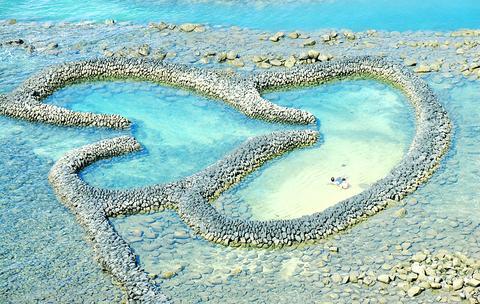 Located near Chimei Island, Twin-Heart Fish Trap is Penghu's most recognizable feature.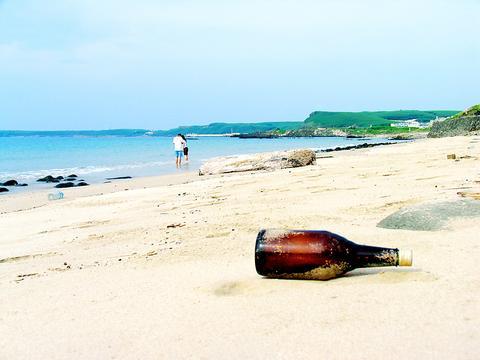 The beach at Hsiyu's Neian is the more spectacular of the large islands' beaches.
Comments will be moderated. Keep comments relevant to the article. Remarks containing abusive and obscene language, personal attacks of any kind or promotion will be removed and the user banned. Final decision will be at the discretion of the Taipei Times.