How freedom was won
Today is International Day for the Remembrance of the Slave Trade and its Abolition
They came from the cotton fields of Mississippi, the plantations of Georgia and the tobacco farms of North Carolina and Kentucky. \nFugitive slaves, fleeing America's southern states, seeking freedom in Canada, Mexico or the "free" northern states, in the years before and during the American Civil War of 1861to 1865. \nTens of thousands of runaway slaves made the dangerous journey, with the help of an informal network of abolitionists and safe houses that came to be known as the "Underground Railroad." \nThe story of those early activists has often been lost in the telling of the history of the American slave trade, but a US$80 million museum that celebrates its grand opening this weekend -- The National Underground Railroad Freedom Center -- aims to rectify that oversight. \n"We want to provide a powerful experience that demonstrates how the conviction, dedication and passion of some very diverse people changed the world 150 years ago," said Spencer Crew, the museum's executive director. \nThe center sits on the Ohio River in downtown Cincinnati, across the river from Kentucky, a former slave state. \nThis southern Ohio city has had its share of race relations problems in recent years, but during the 1850s and 1860s, Cincinnati, and Ohio, were at the crossroads of the "Underground Railroad" -- a circumstance owing as much, if not more, to geography as to politics and community values. \nThe state's 200km of river frontage with Kentucky and 250km border with western Virginia made freedom only a river's width away for slaves from those states and others who reached them from the Deep South. \nOne study concluded that nearly 3,750km of escape routes zigzagged across Ohio. \n"In the Ohio River Valley, there was a virtual war going on over the issue of the Underground Railroad helping fugitive slaves get their freedom," said Crew. "Historically, we've earned our bones." \nThe center's defining artifact is a two-story slave pen, recovered from a Kentucky farm where it once was used to hold slaves awaiting transport to auctions. \nOther signature displays include possessions of abolitionist Frederick Douglass and Uncle Tom's Cabin author Harriet Beecher Stowe, as well as films narrated by talkshow host Oprah Winfrey and actor Danny Glover. \nThe exhibits seek to paint a picture of the abolitionists and free blacks who acted as "conductors" on the railroad, risking fines and worse -- people like Levi Coffin. \nA white Quaker who became one of the nation's best-known anti-slavery leaders and is sometimes called the "president of the Underground Railroad," Coffin is credited with ushering nearly 3,000 fugitives over the Ohio and Indiana lines. \n"I soon became extensively known to the friends of the slaves at different points on the Ohio," wrote Coffin, who sometimes concealed fugitives for weeks in his home or in the dry goods store that he operated in downtown Cincinnati. \nCoffin and his comrades-in-arms in the Underground Railroad, which was neither a railroad, nor underground, may have helped anywhere from 30,000 to 100,000 slaves slip their bonds, according to the best estimates of scholars. \nAs highly organized in some places as it was spontaneous in others, the Underground Railroad was by nature amorphous and secretive, especially after the 1850 Fugitive Slave Act allowed slave owners or their agents to pursue and seize fugitive slaves in free states and territories. \nFugitives were called passengers or cargo, those who guided them over the circuitous routes were conductors, and the homes, barns or other hiding places where they found shelter along the way were referred to as depots or stations. \nIn Ohio, they encountered a state with sharply discriminatory laws and widespread racial bias. "Black Laws," among other things, required blacks to post US$500 bonds to establish residence and prohibited blacks from testifying against whites in court. \nBut most could at least take comfort from the knowledge that their new conditions, however unenviable, were generally a vast improvement from the often inhumane circumstances that they left behind in southern locales where they were treated as private \nproperty. \nThe center opened to the public earlier this month, but its formal dedication is scheduled for today, the day the UN has singled out to commemorate the abolition of slavery.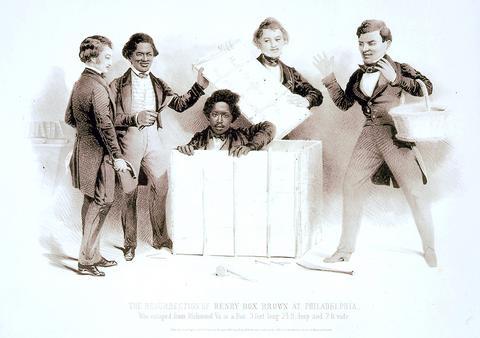 This lithograph from the US Library of Congress shows the work titled Resurrection of Henry Box Brown. Brown was a slave who escaped from Richmond, Virginia, in a crate-sized box which he had shipped to Philadelphia. The box itself became a metaphor for the inhumanity and spiritual suffocation of slavery.
PHOTO: AP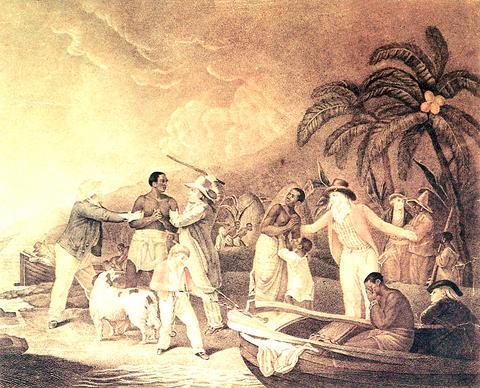 An engraving by a French artist named Rollet (1763 to 1804), shows an episode in the trading of Africans.
PHOTO: AFP
Comments will be moderated. Keep comments relevant to the article. Remarks containing abusive and obscene language, personal attacks of any kind or promotion will be removed and the user banned. Final decision will be at the discretion of the Taipei Times.