One sneaky Loch Ness movie
Critics are torn over whether the new movie is a mockumentary about Werner Herzog,or a documentary about a documentary about the filming of a film
As the director Jean-Luc Godard once wrote, "Reality is too complex," especially these days, when entertainment purports to be a blend of fact and fiction. \nMore and more, from Steven Soderbergh's 2002 film-and-video feature Full Frontal to reality television like Survivor to the Sci-Fi Channel's mockumentary The Buried Secret of M. Night Shyamalan, it is hard to tell what you're watching. \nIs the new thriller Open Water a documentary? No, it is a fictional scripted film, shot like a documentary and loosely based on a true story. On the other hand Touching the Void, released in January, is a docudrama that slavishly recreates what really happened to two British climbers in the Peruvian Andes. \nAnd then there is Incident at Loch Ness, the directorial debut of Zak Penn, a stocky young Hollywood screenwriter whose credits include Antz and X-Men 2. Loch Ness revolves around the legendary monster said to lurk near Inverness in the Scottish Highlands. \n"Are there people here confused about what they saw?" he asked an audience in June at the Seattle International Film Festival after unveiling the film, which later shared the festival's New American Cinema prize. Quite a few hands shot up. \nThe Internet is already buzzing about the movie, which is making the rounds of film festivals and will have an early Los Angeles premiere today at the American Cinematheque at the Egyptian Theater. "Is this a film about a documentary or a documentary about a film?" asks KRr at www.aint-it-cool-news.com, "Or a documentary about a documentary about a film?" \nAlienBoy responded, "I'm 99 percent sure it's a mockumentary starring Werner Herzog as himself trying to shoot a film about the Loch Ness monster, and everything goes horribly and hilariously wrong. Heard it was pretty damn funny." \nOn thetruthaboutlochness.com, Greg Atkins, who is identified as a fired prop man from a Herzog documentary called Enigma at Loch Ness, writes that Penn is trying to put over a hoax on Herzog. (This site is a promotional vehicle for the film.) \n"I do get e-mails from people who want to defend me against Zak Penn and do battle shoulder to shoulder," Herzog said during a recent telephone interview between trips to Guyana and Alaska from his base here. "This is an interesting exercise in truth interacting with facts." \nHerzog's negative views about cinema verite are well documented; as a director he is known for fiddling with truth in films like Fitzcarraldo, from 1982, about an obsessed opera lover. In his 1999 manifesto, Minnesota Declaration, Herzog wrote: "There are deeper strata of truth in cinema, and there is such a thing as poetic, ecstatic truth. It is mysterious and elusive, and can be reached only through fabrication and imagination and stylization." \nThat perspective is useful to keep in mind when trying to interpret an interview that Herzog gave to The Scotsman newspaper in June 2003. Talking in Inverness about his film search for the Loch Ness monster, he said, "Even better than getting it on film would be capturing it and having it as an exhibit at San Diego Sea World and charge a 50-bucks entrance fee." \nThe interviewer, Brian Pendreigh, observed, "Herzog's apparent vagueness on his subject matter makes it likely an air of mystery will surround the film until its premiere." \nRead on only if you are interested in clearing up the mystery. \nIncident at Loch Ness is a high-concept mockumentary invented by Penn. In it he builds on Herzog's public persona as a fearless, slightly crazed filmmaker who was rumored to have pulled a gun on his leading man, Klaus Kinski, on the 1972 jungle set of Aguirre, the Wrath of God. \n"Werner is a very sane and funny man," Penn told the Seattle audience, "who is more in control of himself and his surroundings. Werner was happy to poke fun at himself. This movie is more about Werner Herzog than the Loch Ness monster." \nHerzog, he said, was willing to improvise. "The movie was entirely ad-libbed. We worked from an outline," Penn said. "What I was striving for was authenticity. None of it is real." \nPenn channeled his studio experiences to play a venal Hollywood villain based loosely on himself. The Zak Penn character hires the Werner Herzog character to direct a documentary about the search for the Loch Ness monster. "During the shooting he decided that he should become more and more of a bad guy," Herzog said of the Penn character. "I think he enjoyed it. He has intimate knowledge." \nHerzog in turn surprises his producer when he invites the cinematographer John Bailey to document the filming of the documentary, much as the director Terry Gilliam revealed the disintegration of his Man Who Killed Don Quixote to a film crew in the documentary Lost in La Mancha. \nThe initial dinner-party scene in Incident at Loch Ness, portrayed as being held at Herzog's Hollywood home, was actually filmed at Penn's house. Guests who seem dismayed by the presence of cameras are all acting, from Jeff Goldblum and Crispin Glover to Michael Karnow, a close friend of Penn who is identified in the film as a "cryptozoologist" and who actually did the cooking that night, not Herzog. \nHerzog, who is German, first worked with Penn on a polish of a screenplay based on Herzog's recent documentary Little Dieter Needs to Fly. When Penn brought up Loch Ness, Herzog said he was "immediately enthusiastic." He added, "I like this kind of collective paranoia." \nHerzog supplied props and ideas for the film, including the potentially toxic yucca served at dinner. "I'm good as an actor," said Herzog, who has appeared in 10 films. "I've got six to eight actors' agencies chasing me to take on work." \nPenn, frustrated by how long it was taking him to make the transition to directing studio films, took matters into his own hands last year and arranged financing for Loch Ness through a group of Wall Street investors and 20th Century Fox Home Video. The film cost US$1.4 million, of which Penn contributed US$350,000. "I'd been saving my dollars since I started writing," he said. \nAfter Incident at Loch Ness became a festival hit, distributors checked it out. The bigger companies did not think the movie would perform well enough, Penn said, while the smaller ones made too many demands. \n"The art-house film is just as much of a genre as a major Hollywood movie," he said. "You have a better chance of getting some `Gloomy Depressing Sunday' film made than something offbeat and truly indie." \nSo Penn disregarded the Indiewood playbook. He hired a distribution consultant, Richard Abramowitz, to book his film directly with the independent Landmark theater chain in 10 cities, starting with Los Angeles and New York on Sept. 17. \nBecause Fox Home Video is backing the movie, DVD sales are the real commercial raison d'etre. \n"We really don't need a distributor," he said. "What we need are reviews in major markets to get people to see the movie." \nThat, and a very un-Hollywood sense of being in control. "I wanted to own it," Penn said. "I wanted to feel a sense that if this works, I'm going to have the last laugh."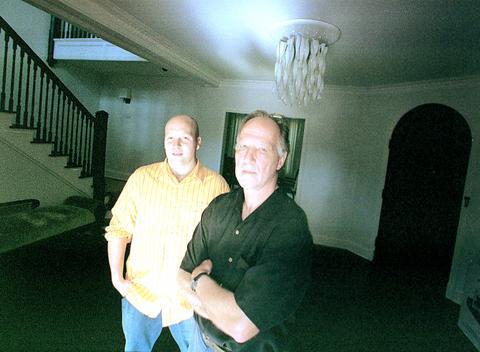 Zak Penn, left, and Werner Herzog are shown in Los Angeles. Herzog appears in Penn's directorial debut, Incident at Loch Ness.
PHOTO: NY TIMES
Comments will be moderated. Keep comments relevant to the article. Remarks containing abusive and obscene language, personal attacks of any kind or promotion will be removed and the user banned. Final decision will be at the discretion of the Taipei Times.