Hanky panky andthe `Hokey Pokey'
Oh, for the days of roller skating! Teens gathering in a rink on Friday nights to put their hormones on wheels. All it took was a little help from Lionel Ritchie and those magic words: "Couples' skate. Couples' skate only, please." Hokey Pokey nothin' -- roller skating was about hanky panky.
But the Xanadu days of roller skating were squashed under the wheels of in-line skates. Now even in-line skating isn't cool unless it's "extreme" skating or "aggressive" skating. Decades ago, aggressive skating meant you were getting frisky with your date during couples' skate, not how many flights of stairs you could leap off.
Luckily, there is still a place where skating looks the way it used to. Jin Wan Nian Skating Rink (金萬年冰官), in Taipei's Ximending District, doesn't have any ramps, half-pipes or handrails getting in the way and the music, while not Lionel Ritchie, isn't Limp Bizkit either. It's the same place it was when it opened 20-odd years ago. There's plenty of neon lighting to set the mood and you can even hear those magic words announcing the couples' skate, albeit in Chinese.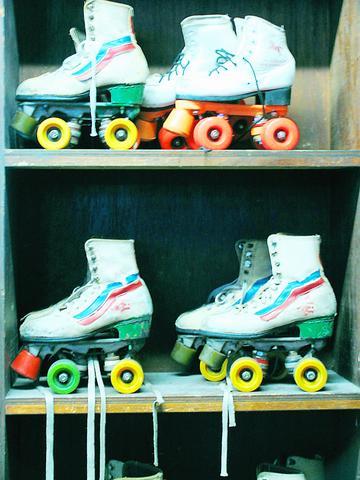 They're not in-line and they're not in style, but old skates keep rollin'.
PHOTO: DAVID MOMPHARD, TAIPEI TIMES
"There used to be other skating rinks," said Scott Chiang (蔣健禮), whose family owns Jin Wan Nian, "but they're all closed. We're the only one in Taiwan now, I think. We still get a lot of kids on the weekends, but not like we used to."
Several other rinks previously owned by Chiang's family in Taoyuan, Chungli, Hsinchu and Taichung have all closed.
Jin Wan Nian Skating Rink is located in Taipei's Ximending District at 6F, 70 Xining Rd. (北市西寧路70號六樓) at the intersection of Xining and Emei streets. It's open from noon to 9pm weekdays and until 10pm Friday, Saturday and Sunday. Cost is $90 for one hour or NT$180 for the whole day on weekends (NT$150 all day during the week). Bring a drink or snack as there aren't any sold on the premises. Call (02) 2331 8592 for more information.
Those who prefer their skating outdoors and in-line should check out the skating park located adjacent to Zhongshan Soccer Stadium on Zhongshan North Road.
Comments will be moderated. Keep comments relevant to the article. Remarks containing abusive and obscene language, personal attacks of any kind or promotion will be removed and the user banned. Final decision will be at the discretion of the Taipei Times.