`Teahouse' a benchmark of ensemble theater from which Taiwan can learn
Taipei's first performance by the Beijing People's Art Theater (北京人民藝術劇院) production of Lao She's (老舍) Tea House (茶館) came to an end last night. Tickets did not sell as well as Andrew Lloyd Webber's Cats but with eight performances packing in over 70 percent capacity, the show put in a more-than-respectable box office for New Aspect (新象文化基金會), which brought the show to Taiwan.
Rumors that ticket sales were down due to an unofficial boycott of a production from China proved unfounded, but the audience on the evening this reviewer saw the performance certainly lacked respect, quite apart from an unforgivable number of cellphone interludes.
Tea House was first performed in 1958, but it has weathered the years surprisingly well -- far better than the works of Cao Yu (曹禺), who shares divine honors with Lao She in the pantheon of modern Chinese drama.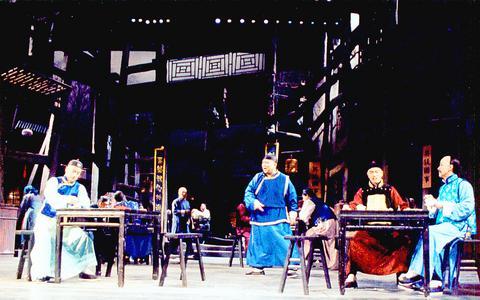 Tea House presents the conflicts of life at the end of the Qing Dynasty.
PHOTO COURTESY OF NEW ASPECT
In Western terms, Tea House is a relatively conventional production focusing on the life that passes through a Beijing teahouse. There are three acts, each of which covers a slice of life spanning half a century -- the end of the Qing empire, the period of unrest after the death of Yuan Shi-kai (袁世凱) and the Nationalist interlude.
At the center of this vast production is the character of the teahouse proprietor Wang Li-fa, played by Liang Guan-hua (梁冠華), which was such a work of virtuoso character acting that it would be difficult to over-praise.
While the cast is uniformly strong, Liang's talent overwhelms, bringing enormous subtlety of expression to this massive work. Given the melodramatic nature of the play, Liang performed miracles of understatement.
The fact that the whole cast was performing without the aid of attached microphones puts the show in a league well beyond that of all Taiwan's large-format theater simply in terms of thespian skill, especially as they were able to overcome the well-known acoustic limitations of the Sun Yat-sen Memorial Hall.
Technically Tea House should have been a work of ensemble theater, and Liang was ably supported by co-stars Pu Cunxin (濮存昕) and Yang Lixin (楊立新). Top-flight actors themselves, this production relegates them to subsidiary status, allowing only moments of cameo brilliance, of which there are many from the large cast. More than anything, the depth of talent revealed a major problem with Taiwan's theatrical establishment, which revolves around stars supported by relative nonentities.
Tea House, as the major theatrical event of the summer, is an obvious benchmark for Taiwan's theater establishement. The comparison that comes to mind most readily is Wedding Memories (女兒紅) by Taiwan's Ping-Fong Theater Troupe. A powerful piece of theater that has strong local themes, in comparison to the 50-year-old play, it comes off as somewhat parochial.
Lao She, despite his many, many faults as a playwright, not least that he sold most of his soul to the communist powers-that-be, still reaches out for universal themes.
It can only be hoped that given the poverty of dramatic productions in Taiwan, more such "conventional" theater productions can be brought over from China. While some of the ideas expressed might not be regarded as edifying, the skills and, above all, the knowledge and appreciation of ensemble theater might eventually reach Taiwan.
Comments will be moderated. Keep comments relevant to the article. Remarks containing abusive and obscene language, personal attacks of any kind or promotion will be removed and the user banned. Final decision will be at the discretion of the Taipei Times.