Don't pet the machines
Lee Tzu-hsun takes machinery and architecture, both rooted in realism, and plays with them until they become absurd
Lee Tzu-hsun (李子勳) has a fascination with architecture that carries over into every aspect of his art. On canvas and in his three-dimensional installations, there is an obsession with physical structures, derived from his study of architectural concepts. But unlike the utilitarian nature of architecture, the objects and images rendered have little connection to reality. His esthetic relies more on the fantastical and slightly dystopian.
In his paintings, the buildings Lee creates are monumental, imposing structures lifted from the archives of pre-War modernist architects or from post-apocalyptic sci-fi comics, with Gothic ornamentation and populated by faceless human figures.
Like an architect's blueprints, the images reveal visible erasure marks and ruler-made lines extending beyond corners. An even closer examination shows that many of the canvases have several layers of sketches. It seems unlikely, though, that any of his buildings would ever be commissioned as they were drawn up here, ugly and intimidating as they are.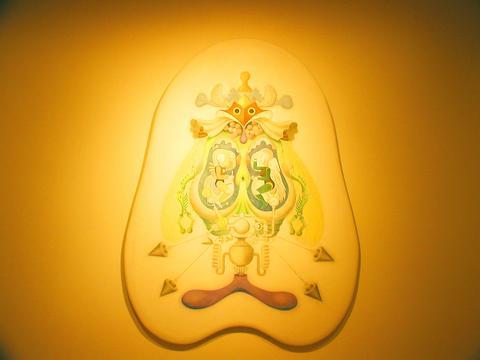 Lee Tzu-hsun has a taste for the fantastical.
PHOTO: MAX WOODWORTH, TAIPEI TIMES
A second fixation of Lee's is machinery, the use of which has characterized much of his earlier work, including Great Theater of the World, which made a deep impression at the Taipei Biennial in 2002 and the installation work that anchors his current solo show titled Glass Bead Game at Eslite Gallery.
The mixed-media installation is a robot-like construction with two slowly moving appendages that reach to the floor gently moving and shuffling glass balls.
Again, one recognizes the shapes and colors of early generation robots from cheesy 1950s and 1960s sci-fi comics with their unblinking bug eyes and rotating antennae.
If nothing else, the piece is a display of how much fun can be had with some scrap metal and some basic machinery know-how. Swiss artist Jean Tinguely did much the same with his absurd assemblies of twisted metal and gears that moved, banged and clacked for no apparent reason other than to show motion in elements that are inherently static.
But while Tinguely's contraptions were usually rusty, hideous piles of metal, Lee's are painted in lively primary colors that make the viewer almost want to pet them.
At the show's opening Friday, Lee said he had been trying recently to break from the limiting confines of architectural concepts and move toward abstract creations such as his installations and his two-dimensional mixed-media works, about half a dozen of which are on display.
These montages of random items are arranged in a manner that, from a distance, look like primitive circuit boards or cartoon sketches of factory floors, or machine works. So, even in more abstract compositions, Lee draws on his twin interests of machinery and architecture.
For your information :

What: Glass Beads Game
When: Through Aug. 1.
Where: Eslite Gallery, B1, 243 Dunhua S Rd, Sec 1, Taipei (台北市敦化南路1段243號B1).
Comments will be moderated. Keep comments relevant to the article. Remarks containing abusive and obscene language, personal attacks of any kind or promotion will be removed and the user banned. Final decision will be at the discretion of the Taipei Times.