Hot or Not?
Jim Young and James Hong's Web Site, Hot or Not.com is a local Internet success story
On a scale of one to 10, Jim Young (楊鑫) is a seven. At least that's what thousands of people who have seen his photo at Hot or Not.com have judged him to be. It's not the best of scores, but Young has only himself to blame -- he made the site.
Young and his longtime friend and fellow Taiwanese, James Hong, were sitting around one evening in the fall of 2000 when Young confided that a girl they'd both recently met was, in his opinion, a perfect 10. It's a conversation that is a pastime for college students everywhere. But Young and Hong, who were both studying computer science at San Francisco's Berkeley University, decided they could maybe profit from the pastime.
Within a few days, Young had built a simple Web site where people could post their pictures and let others rate how hot they are. They mailed the site to their friends and, presto, one of the most visited sites on the Internet was born.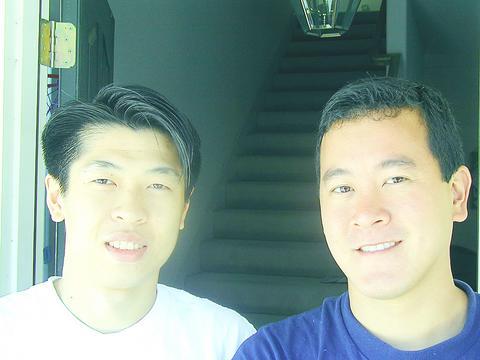 Jim Young and James Hong, millionaire winners on the Internet from Taiwan.
PHOTO COURTESY OF EIGHT DAYS
"We launched at about 2 o'clock," Hong said in a telephone interview from San Francisco. "By the end of that day I think we had about 30,000 people come to the site."
In the years since, that number has grown exponentially and caught the attention of media outlets from The New York Times to Entertainment Weekly, who called them some of the "100 most creative people in entertainment."
There have been over 12.3 million photos posted to the site. "We have around 5 million accounts," Hong says, "but people can post more than one photo of themselves." Those 12 million photos have been looked at over 8 billion times, if the counters are to be believed. It seems feasible given just how addictive the site can be.
It works like this: When you log onto http://www.hotornot.com, you're met with an anonymous face under a simple banner that asks "Hot or Not?" Beneath it is a strip numbered one to 10. Choose a number and the page quickly refreshes to give you that person' s average score and how many votes they've received. You can choose to view a certain sex and age range, or pass judgment on all-comers.
You're also told the last time they checked their score, making the whole experience somehow less anonymous. It's one thing to chuckle at the woman with the wart, it's something else to see that she checked her rating just 56 seconds ago. "It's a beauty mark," your conscience hisses at you. "You should have given her a six."
And, of course, you can put your own photo on the site. It doesn't cost anything -- except maybe your self-esteem -- and there just might be someone who thinks you're a perfect 10, warts and all.
If you want to meet them, though, it'll cost you. And this is where Hong and Young have hit it big.
While they're not saying how much they've earned since launching Hot or Not.com, Young and Hong admit it's made them wealthy. "We have tens of thousands of members," Young said. "We charge US$6 per month, so, you can do the math."
They're not the only ones to profit from Hot or Not's dating feature. Visitors can choose to meet someone they fancy and, if that person wants to meet you, a double match is made. In the site's own words, "Jack clicks `Yes' to Jill. Jill Clicks `Yes' to Jack and a double match is made. Jack writes Jill knowing they both said `Yes.'"
How often does it happen? At the time of writing, 25,185 double matches were made in the last 12 hours. That figure is constantly updated and rarely small.
One of the greater rewards, according to Hong, have been the letters from people claiming they've met someone special through Hot or Not. "We get tonnes all the time," he said. "I'd say at about a marriage a day."
Dozens of testimonials from satisfied customers attest to this. Occasionally, the testimonials provide a laugh.
"I met the girl of my dreams about a month ago," wrote Chris C from Boston. "She is not only physically stunning (a swimsuit calendar model), but she is also amazingly intelligent, witty and sincere. ? I, on the other hand, am no loser either. I am a personal trainer, entrepreneur, and soon to be Harvard divinity student. ? I didn't expect to meet someone of my caliber on a Web site!"
Occasionally they pull a heartstring: "I looked high and low for the perfect guy for me," one user named Holly wrote. "I was getting so discouraged until I put my pic on hotornot.com and I met the most wonderful guy in the entire world to me. ? I know that we are gonna turn out great and wonderful together. Thanks hotornot.com, I'm finally happy."
And often the testimonials are not what you'd expect.
"I met the guy of my dreams, wrote Matt N, in Bellingham, West Virginia. "We talk every day now and every once and a while he'll comment about how happy he is that he "clicked yes" to meet me."
While wedding bells haven't rung for Hong and Young, they claim their job provides a lot of perks. Both say they have dozens of ladies wanting to meet them each week. The problem is finding the time.
They have the help of thousands of volunteer moderators who help keep the site "fun, clean and real," but maintaining the business end of things still keeps Hong and Young busy. Their latest joint venture is a picture-sharing site called Yafro.com. Young is also busy finishing a dissertation at Berkeley for his Ph.D. in computer science.
For his part, Hong is enjoying the bachelor's life and an improved rating. "My last real score was a 6.1," he said. "But because now you can get to my profile from the `about' page on the site, my score's been jacked up. I think I'm something like a 9.6 now ? but in reality, I'm not."
Comments will be moderated. Keep comments relevant to the article. Remarks containing abusive and obscene language, personal attacks of any kind or promotion will be removed and the user banned. Final decision will be at the discretion of the Taipei Times.