Reestablishing a golden era
The development of the Gold Ecological Park in Jinguashih looks set to turn the sleepy hamlet into a bustling tourist center that will outshine its better-known neighbor, Chiufen
Once one of the nation's largest mining settlements, Jinguashih (金瓜石) and its rich cultural heritage and historical significance has long been overshadowed by that of its popular tourist-attracting neighbor, Chiufen. Originally the center of Taiwan's gold-mining industry, Chiufen and its multitude of teahouses, handicraft stores, picturesque narrow thoroughfares and long, snaking stairwells has been one of northern Taiwan's leading tourist destinations for over 20 years. \nAll this could change later this summer, however, when the equally picturesque yet little-mentioned town of Jinguashih stamps its mark on the tourist map with the opening of the Gold Ecological Park (黃金博物園區). \nNot that the soft yellowish corrosion-resistant element was the only precious metal mined at Jinghuashih. The area's copper deposits were once so extensive that the town was the hub of the Asian copper mining industry and its deposits of silver outweighed those of its gold. \nLarge deposits of precious metals were first discovered in Jinguashih in 1890. From the late 1800s until as recently as 1987, when mining operations ceased, over 2 million tonnes of precious metals had been exploited from the extensive catacomb of tunnels that covered a combined area of nearly 450km. \nJointly financed by the Taipei County Government (台北縣政府), Taiwan Power Company (台灣電力公司) and Taiwan Sugar Corp. (台糖公司), work on the NT$200 million project began on the site of Jinguashih's old copper mine last November and is due for partial completion this August. \nThe first stage in the park's development to be opened to the public includes a museum, an ecology center and pathways that follow the route once used by the mine's narrow-gauge railway. Developers expect stage two of the project, which will include renovation of half a dozen Japanese colonial dormitories and a mansion once used by Japan's Emperor as a summer retreat, to be completed later this year and opened early next year. \nAlong with museum-styled exhibitions and pleasant, meandering pathways, the park will also allow visitors to venture into and walk through an old mine shaft and features Southeast Asia's largest air-filtration system, which has been restored and is now a central and unavoidable feature of the new park. \nWhile the project looks set to transform Jinguashih from a sleepy backwater into a bustling tourist hotspot, residents of Chiufen are concerned that the development will mean a drop in the number of visitors to their town, which for two decades has survived and thrived on tourism. \n"I've heard about it and I'm worried. People will see the development as a `new' thing and, of course, it will be the fashionable place to go," said a chain-smoking car park attendant who declined to give his name. "There's nothing new here. And look at the place, there's no room to build any new tourist facilities even if we wanted to." \nTseng Shui-chih (曾水池), owner and curator of the Chiufen Gold Museum (九份金礦博物館), which, since opening in 1993 has been the area's only museum, has slightly stronger views in regards the creation and funding of the Jinguashih project. \n"Of course I'm upset. For nearly 20 years Chiufen has been a hugely popular tourist destination. We've received little, if any, funding from the government, but have brought in huge amounts of capital for the county," said Tseng. "They've invested all this money into Jinguashih in order to develop a new tourist infrastructure when we already have one. It's as if [county government] has forgotten about us." \nAccording to Taipei County Government employee and Director of the soon to be completed park, Chiang Min-chin (江明親), the county hasn't forgotten about Chiufen and nor does it plan to. Instead. It's hoped that the development of Jinghuashih will prove economically rewarding for both towns. \n"I think people are being a bit anxious when they say that the park will kill off Chiufen as a tourist destination. It's so famous that tourists will still go there regardless of the construction of the park," said Chiang. "The project is not solely about Jinguashih, but rather a positive step in the right direction for both towns." \nJinguashih's gold, silver and copper deposits might have dried up a long time ago, but visitors to the town who find themselves suffering from a case of gold fever can still try their luck. Panning for gold in the numerous rivers that run through the hamlet, according to the park's Jack Wu (吳鎮宇), is not illegal, although the chances of finding anything are incredibly slim. \nWhile substantial funding has been given to reinventing the town as a joyful tourist retreat, there is a much darker side to Jinguashih's history. \nFrom November 1942 until the surrender of Japanese Imperial Army on Taiwan in August 1945, the township was home to the infamous Kinkaseki POW camp. \n"We certainly don't plan to ignore the town's less positive history," said Chiang. "Working alongside the [POW Camps Memorial Society] we plan to establish a permanent exhibition focusing on this issue. After all, it is a part of the town's history that cannot be ignored." \nLarge numbers of these POWs were put to work in the mines that held the largest copper alloy deposits to be found anywhere within the Japanese Empire. Over 1,000 British Commonwealth and Allied troops were interned at Kinkaseki at one time or another and all were subject to inhuman treatment, denied the most basic of medical facilities and flogged by their jailers, some of who were Taiwanese, if they failed to reach their daily quota. \n"I think it is certainly necessary and good to include a part on the POWs in the story of Jinguashih and the mines," said Director of the Taiwan POW Camps Memorial Society Michael Hurst MBE in an e-mail. "The main reason why the story is not that well known is because the Japanese wanted to keep what happened in Kinkaseki Camp -- and all of the other camps on Taiwan -- a secret from the local population.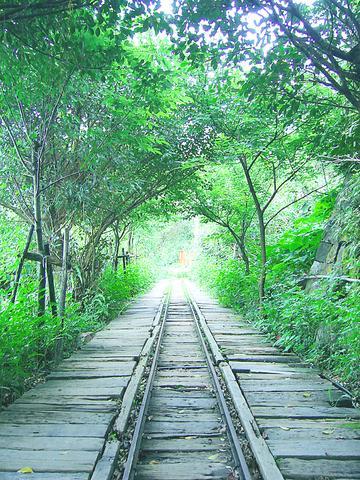 Narrow-gauge railway once used miners in Jingguashih has been renovated and makes for a pleasant way to reach the museum and take in the scenery.
PHOTO: GAVIN PHIPPS, TAIPEI TIMES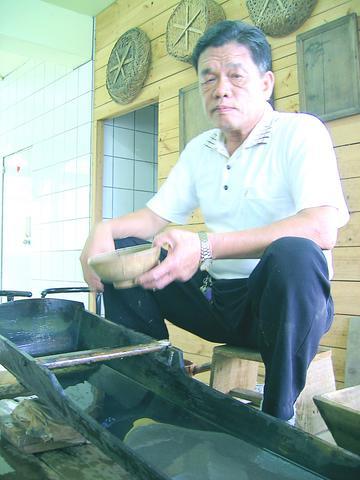 Tseng Shui-chih, curator of the Chiufen Gold Museum fears that the Gold Ecological Museum in Jinguashih will harm tourism in Chiufen.
PHOTO: GAVIN PHIPPS, TAIPEI TIMES
Comments will be moderated. Keep comments relevant to the article. Remarks containing abusive and obscene language, personal attacks of any kind or promotion will be removed and the user banned. Final decision will be at the discretion of the Taipei Times.