Hung recaptures the Renaissance spirit, absolutely
Hung Tung-lu's work may be familiar to magazine readers, as his recent Absolut ad got a lot of press lately. His solo exhibition, Karma, currently on view at Lin & Keng Gallery, includes that image which depicts a cyber girl stuck in a 3D space-age cylinder with pink background. \nThere is a danger in letting an art image be used for an advertisement, in that the ad grows stronger in one's mind, rather than the art itself. For example, many readers can visualize Paul Newman holding a pitchfork selling his organic products rather than picturing the famous plain-faced farm couple in the painting American Gothic. \nIn Hung's current show there are many other space-age images that are stunning to look at. Having been a painter, Hung approaches his digital work with a harmonious sense of color and balance. \nIn one seductive work, a cyber girl: part manga, part space-age, who figures in a lot of his images, is perched in a crystal bubble atop of a purple glassy lotus blossom. Her reflection in the sparkling water below and in the clear blue air above stretches to infinity. \nThe 3D imagery is created as a lenticular image which is made with several digital images put together under a corrugated transparent film, so that when the viewer moves position, the image moves too. Think of those little toys packed in the Cracker Jacks box. \nIn the center of the room, Hung shows six small porcelain-like sculptures of the cyber girl that are made from fiberglass reinforcement plastic (FRP), a material that gives the appearance of clay but has the lightness of papier-mache. Blue designs were carefully hand-painted to emulate the look of classic Chinese ceramics. \nBut the knockouts of this show are the large framed images of a man and a woman. This newest work operates in the space between painting and photography. A single nude figure appears multi-armed like a meditating Bodhisattva. \nAn inner light emanates from the background, as the serene figures slowly contemplate a lone beating animal heart placed at their feet. Part spiritual figures, but yet very human (as you see the fleshy areas of kneecaps and nipples), they are holy and human simultaneously, operating like Renaissance paintings where the religious figures are based on actual human models. \nThe work effectively combines high and low culture, while raising issues of mortality and the meaning of life. \nThis work is a perfect example of what happens when art is in the flow: being multi-layered with meaning, referring to many things and to itself at the same time, allowing a platform for dreaming. Seemingly so effortless and so simple in its complexity. A great work and a must see! \nExhibition notes: \nHung Tung-lu's solo exhibition `Karma' runs till June 30 at the Lin & Keng Gallery. \nWhen: The gallery is open Tuesday to Sunday, from 11am to 7pm. \nWhere: 1F, 11, Ln 252, Tunhua S Road, Sec 1, Taipei (台北市敦化南路一段252巷11號1樓). \nCall: (02) 2750 8811.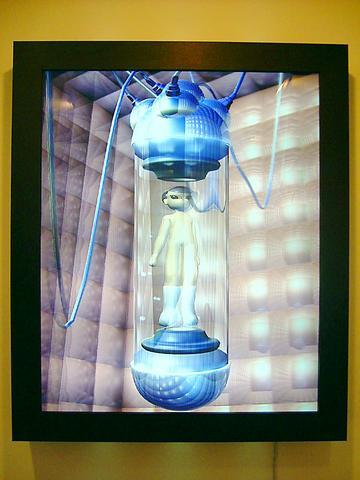 Man contemplates meaning, by Hung Tung-lu.
PHOTO: SUSAN KENDZULAK, TAIPEI TIMES
Comments will be moderated. Keep comments relevant to the article. Remarks containing abusive and obscene language, personal attacks of any kind or promotion will be removed and the user banned. Final decision will be at the discretion of the Taipei Times.