Finding some inspiration through looking at glass
Sunny Wang's latest exhibition, at Page One in Taipei, features a new series of works with the theme of love
Sunny Wang's (王鈴蓁) glasswork has received international recognition. Nurtured by her traditional heritage of Chinese art, Chinese calligraphy in particular, and trained in Australia in modern glass art, Wang has been developing several series of her own artwork since 1998.
Now, together with just under a dozen young glass artists in Taiwan, Wang and her gang are trying to create a new wave of public awareness about glass as a medium for modern artistic
creation.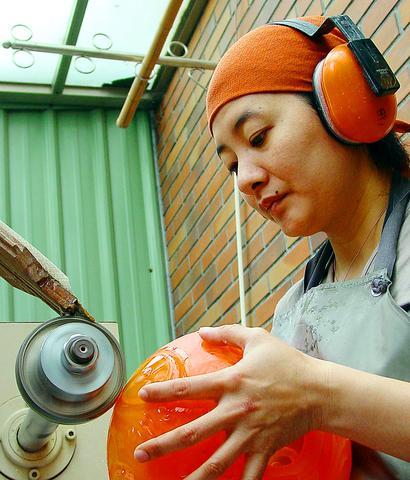 Sunny Wang hand-finishes one of her pieces with a diamond wheel.
PHOTO COURTESY OF SUNNY WANG
Ever since Heinrich Wang (王俠軍) and his former associate Yang Hui-shan (楊惠珊) started to apply the lost-wax-casting method (脫臘鑄造) to create glass artifacts in Taiwan in 1988, their successes sent shock waves through the declining traditional glassware community.
Wang worked at a glassware factory in Hsinchu (新竹) -- the traditional center for glass industry in Taiwan -- after graduating from college in 1995. She worked as a lecturer at Titto (琉園) and went to Australia to further her studies in the field of visual art.
As a full-time glass artist and university lecturer, Wang applies various glass techniques to show different types of beauty exhibited by glass artifacts. In her exhibition at Page One in Taipei, titled Contemporary Art Glass of Taiwan she displays her talent to the fullest extent.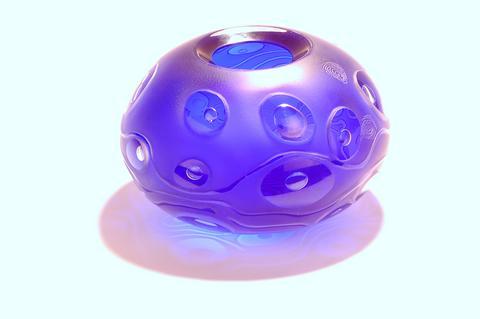 This blue line ``cell'' is made from blown glass, which is then sandblasted and hand-finished.
PHOTO COURTESY OF SUNNY WANG
In her earliest series, Cell, she employed the lost-wax-casting method. Because of the spherical sculpturability of the casting method, the cells appear as three dimensional and rich in form. As the cells were enlarged and transformed, light was able to pass naturally through them and the effect promoted a seeming dialogue between the light and the glass.
Wang explained her philosophy behind these works thus: "The cell is the basic building block of life. Its purity and beauty are fascinating. The cell is special because it extends life."
Through this series, which represented the essence of life, she sought to encourage tactile appreciation of her art by asking people to touch the works -- the opposite approach to most other artists working in glass. This is the reason why she engraved fingerprints in some of her works, to provide an additional tactile element.
Her use and choice of Chinese characters in another series of her glassworks were, perhaps, inspired by the simplicity and silence that she felt practicing Chinese calligraphy. Contrary to traditional Chinese calligraphy, however, the legibility of Chinese characters in her works was not the focus. She sought to present a sense of primitiveness or origin through each symbolic image that her created character represents.
As Nigel Lendon, deputy director of Australian National University, commented: "The artist is not using drawing to plan the relationship between line and form, but is in the process discovering the character of the line, imagining how it will finally find itself wrapped around the curvature of the vessel, and interacting with the character-drawing it meets on the other side."
These characters revealed the artist's experience and passion for life, through lines and images engraved on her works. This series has been exhibited in the US, Italy, Australia, Japan and Hong Kong.
A more recent series of works, entitled Love is the materialization of a concept that the artist has contemplated for two years. As she pointed out, in this series linear beauty is shown through the characteristics, lines and thickness of the glass. The techniques and vocabulary used are very different from those employed in her earlier works. She hopes to further develop her ideas in this series for wider spaces, as installation art.
As for this exhibition, Wang's glass artifacts are infused with life, wisdom and artistic possibility. There is a presence of maturity and understanding. Each piece is to be experienced, and requires time for exploration. Take your time and enjoy looking at the form and color of her ingenious glass works.
Exhibition notes:

What: Sunny Wang's Glass Exhibition.

Where: Page One, Taipei 101 Mall, Taipei (台北市市府路台北101購物中心四樓).

When: June 19 to July 25.

Time: 11a.m. to 10pm.

Phone: (02) 8101 8282 X 6622.
Comments will be moderated. Keep comments relevant to the article. Remarks containing abusive and obscene language, personal attacks of any kind or promotion will be removed and the user banned. Final decision will be at the discretion of the Taipei Times.