CE Reviews
Hallelujah

Great Sacred Choruses

EMI 5 85758 2

June is the month for mega-compilations, apparently. EMI has three, and they're all in their different ways worth listening to, the first rather more than the others.
Hallelujah: Great Sacred Choruses is three CDs containing some magnificent music. And all the great composers wrote this kind of music -- Bach, of course, but also the freemason Mozart, the deist Beethoven and the unbelieving Brahms. None of them could resist it.
These CDs in fact converted me to this art-form -- previously I'd thought it was too loud, and frequently sanctimonious into the bargain. But the incisive splendor of the polyphonic chorus Unto Us a Child is Born from Handel's Messiah as performed by the Ambrosian Singers, especially when they explode with 'Wonderful! Counselor!' with the violins going ecstatic in a high register, is supremely life-affirming.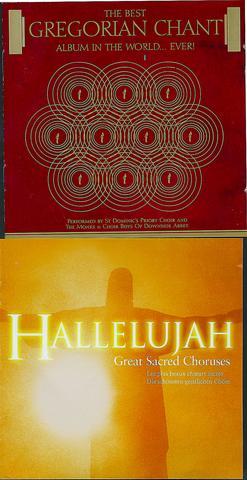 As so often when companies like EMI issue compilations such as this, re-using the most spectacular tracks from their vast stock of older recordings, the result is a huge bargain. And they're all here -- Giulini conducting part of the staggering Dies Irae from the Verdi Requiem, Jochum with the Crucifixus from Bach's B Minor Mass, David Willcocks with the choir of King's College, Cambridge in several pre-classical items. All my life (to date) paraded before my eyes as I listened to these spectacular CDs, sometimes reducing me to tears. Through Stennheiser headphones they lift you straight out of this dusty life and into the stratosphere. They're wonderful beyond measure and very highly
recommended.
Martha Argerich

Live from the Concertgebouw

EMI 5 629172 0

Much-lionized Argentine-born pianist Martha Argerich has a new album coming out in August with cellist Mischa Maisky, so EMI is
currently promoting her 3-CD set, Live From the Concertgebouw, first issued in 2000. It consists of some of her concerts in Amsterdam in the late 1970s, plus a Beethoven concerto from 1992, all taken from tapes in the possession of The Netherlands' NPS Radio.
It would be nice to be able to report that I can distinguish Argerich's playing of Mozart's Piano Concerto K.503 and Beethoven's Piano Concerto No:1 from anyone else's. Quite frankly, I can't. With her Bach, though, let alone her Chopin, it's another matter. She plays the former's Partita No:2, and later, as an encore, the Bouree from the Second English Suite, with a wonderful Romantic intensity light years away from the punctiliousness of the period authenticity specialists. Chopin's Nocturne No:13, which ends in such passionate desperation, is here played with a wild willfulness, but the classic version by Fou Ts'ong [reviewed Taipei Times July 18, 2003] is more restrained, and surely more beautiful. Argerich seems more in her element with such prickly geniuses as Prokofiev and Scarlatti, both represented in this collection, albeit the latter only briefly. But the incandescent Bach items remain the ones to get this set for.
Gregorian Chant

The Best Gregorian Chant Album in the World...Ever!

EMI 5 76904 2

For some reason the youth culture has latched onto Gregorian chant as an ancient example of ambient music. The Best Gregorian Chant Album in the World ... Ever! is clearly designed to appeal to that market. The notes are skimpy, though they do tell you that there were many kinds of chanting around in the Middle Ages, and that it's the oldest form of European music we possess, in other words the first type to be written down. It probably represents the music sung by the earliest Christians, and as such may go back to
ancient Byzantium.
There are two main sources for these CDs, the monks (i.e. schoolteachers) of the expensive British Catholic boys' school Downside, and St Dominic's Priory Choir. One husky track is from the Spanish cloister Monasterio Benedictino de Santo Domingo de Silos. The quality of these performances is much of a muchness, and a little plainchant goes a long way. It's the sort of thing that's used in the theater to introduce the England scene from Shakespeare's Macbeth, set in the 11th century. You may ask why the gilded youth of the UK are being inducted into all this theological gobbledegook, but the music is certainly beautiful, and not only on account of its age. Quite what the teenagers are thinking about when cooling out to this sort of thing is, of course, open to question. Meditating on the mysteries of Harry Potter, as likely as not. And why not? They're wonderful books (and films). The sound quality of these CDs is excellent, though the ubiquitous churchy echo, doubtless judged atmospheric, is sometimes hard to take.
Elisabeth Schwarzkorf

A Self-portrait

DVD EMI 4 77831 9

Lastly, a DVD. Elisabeth Schwarzkopf was Europe's foremost Vienna-based operatic soprano in the years immediately after World War II, and this film about her mixes a brief outline of her life with excerpts from interviews and filmed performances. It isn't very long -- under an hour -- but features remarks by her husband, the recording mastermind Walter Legge, an interview extract as she prepares to go on stage as Donna Elvira in Don Giovanni, a sequence of her trying out the acoustics of a problematic Spanish concert-hall, and her voice as she tutors a younger singer (in later life she didn't like being filmed on camera). Much of all this has a rather dated feel now -- listen, for instance, to the pompous voice of the 1950s interviewer, attempting to be simultaneously polite and aggressive, in the dressing-room sequence. But enthusiasts will be fascinated to have these insights into the life of someone many of whose recordings still adorn the CD catalogues.
Comments will be moderated. Keep comments relevant to the article. Remarks containing abusive and obscene language, personal attacks of any kind or promotion will be removed and the user banned. Final decision will be at the discretion of the Taipei Times.