Silence and chaos
The Angel Creative Dream Park is a small, spic-and-span exhibition space that has featured low-key, mostly oil painting shows since its opening last summer. Its current show, titled "Nature and Art," which opened this week and runs through May 2, is a solo exhibit by Taiwanese oil painter Huang Song (黃頌).
Huang is trained as a photographer, but in his paintings he makes a radical break from the figurative representation of the photographic medium to create abstract, meditative color scapes.
Though he uses oil paints, the canvasses bring to mind Chinese watercolor and landscape paintings with the blending and overlapping of colors and the impression of field depth through careful composition. Several of the paintings come with accompanying sentimental poems (translated into English), which reinforce the reference to the Chinese landscape tradition. With titles like True Love, Deep in Love and Deep Love, it's hard to mistake what's on the artist's mind when he paints. He writes of love as a force of nature -- not unlike fire, wind or rain -- with its creative and destructive properties intertwined in a yin-and-yang mesh.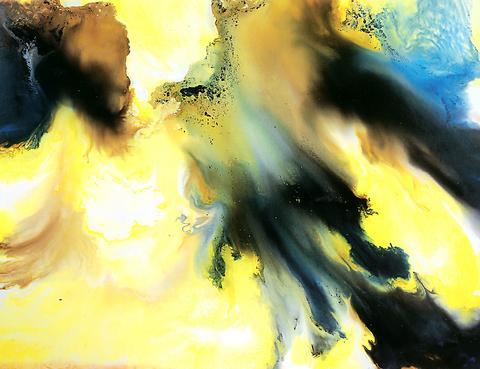 Huang Song's oil paintings, like the untitled work shown above, look like photos of space.
PHOTO COURTESY OF ACDP
As silent meditations on nature and the ephemeral state of life, some of the paintings have a Zen quality that also recalls the American expressionist painter Mark Rothko's color field paintings, though Huang's are much smaller. The contrasts of fiery primary colors with somber blues, purples and blacks and the arrangement of large single-hue plains offset by slightly different shades of the same color seem to have been inspired by the same Eastern philosophy that captivated Rothko.
Some of the best pieces on show, however, bear an uncanny resemblance to deep-space photography or infra-red photos of earth taken from orbit. The subtlety of shading that recreates what looks like nascent galaxies or nebulae is outstanding, considering it was achieved with oil. Also, the feeling the viewer gets of being in deep space observing forces of nature far, far away encourages philosophical reflection on cosmic forces.
What is unfortunate in this otherwise impressive show is the harsh lighting in the exhibition space, which seems to detract from the meditative state the paintings should evoke. Turning down the track lighting a notch or two would draw the viewer deeper into the canvas.
Nature and Art runs through May 2. Angel Creative Dream Park is located at 41 Xinyi Rd, Sec 3, Taipei (台北市信義路3段41號).
Comments will be moderated. Keep comments relevant to the article. Remarks containing abusive and obscene language, personal attacks of any kind or promotion will be removed and the user banned. Final decision will be at the discretion of the Taipei Times.