Saving dyeing from death
Nuannuan was formerly Taiwan's main exporter of assam indigo dyestuff, but the industry fell into a long decline. Now, with the popularity of indigo dyeing, residents are beginning to revive the ancient craft
A stone plaque next to the Wu Shi Ren Gong Temple (五十人公廟) near Nuannuan (暖暖), Taipei County, bears witness to the history of Taiwan's assam indigo industry, which thrived up until the end of the 19th century. "In the mid-Qing dynasty, a group of ancestors living near the Keelung River grew assam indigo at the present location of this temple, for trade in Mangga (present-day Wanhua)," it says. \nOne hundred years after chemical dyes replaced the assam indigo dyes, Wang Guo-wei (王國緯), a descendant of assam indigo growers, has been trying to revive the tradition with a workshop for the past three years. Works by over 30 students from the workshop are currently on display through April at the Cozy East Nursery Garden (暖東苗圃) in Keelung. \nAll the fabrics were colored using dyestuff from Wang's assam indigo farm, which he tends by himself. He is currently awaiting approval for financial assistance from the Council of Labor Affairs that he hopes will allow him to hire more workers to begin larger-scale production of indigo handicrafts and have them sold in major cities in the country by the end of this year. \nA member of Keelung's Culture and History Workshop, Wang started growing assam indigo to prepare for the 2001 Local Culture Exhibition at the Presidential Palace. Although outsiders often associate Keelung with marine industries, the workshop wanted to show a different side of Keelung. "Assam indigo agriculture is the oldest industry in Keelung," Wang said. \nWhen Han Chinese came from Fujian province to the Keelung hills, which were inhabited by the Ketagalan Aboriginal tribe, they introduced assam indigo and sweet potatoes. Eventually their inter-married descendants grew the plant, produced dyestuff from it, and sold indigo dye to Fujian dress-makers. \n"The damp climate of Keelung is perfect for the plant. They outshine their mainland-Chinese counterparts in depth and brilliance of the blue," said Wang, who still vaguely remembers seeing his grandparents harvesting the plant on the family farm. \nIn the late-19th century, two years of drought destroyed many of the indigo farms. At the encouragement of British traders, farmers turned to tea plantation, which is equally suited to Keelung's misty weather. Soon afterward, the Qing dynasty allowed coal mining in Taiwan, and the remaining indigo farmers then abandoned farming for the easier job of mining. Wang's parents were two of the last indigo farmers. \nAt its peak, assam indigo was Taiwan's top export in terms of income and Nuannuan's main source of revenue. \nBut Nuannuan residents were never dye craftsmen, because there were too few sunny days to dry the dye-work. Wang turned to the National Taiwan Craft Research Institute and craftsmen in Taipei county's Sanhsia, where a small amount of dyestuff and dye-work continues to be produced, for assistance in dyeing techniques. \nWang began by planting assam indigo on his land and extracting dyestuff from the plants months later. When the Keelung Culture and History Workshop expressed enthusiasm for the resulting indigo fabrics, Wang started recruiting students for his "Dyeing Workshop" (染工坊) in 2002. Classes were held at his garden. \n"Indigo dyeing is the industry of our ancestors. I want to try and bring it back to Nuannuan," Wang said. \nThe works on show at the exhibition, mostly by local housewives with previous training in tailoring, quilting or painting, are mostly up to market standards. There are delicate purses and cushions dyed in star patterns using the stitch dyeing method, handkerchiefs dyed in floral designs with stencils, curtains dyed with clamping and pleating techniques and skirts soaked in the indigo vat five times to acquire gradual shades of blue. Many fabrics are even more refined and creative than the imported goods from China and Indonesia available in fashionable Taipei boutiques. \nWang attributed the rising popularity of learning indigo dyeing to the localized school curriculum in recent years. As part of the local culture and history education program, some elementary schools have introduced their pupils to the ancient craft. \nWang is eager to put works by his students on the market, but is taking cautious steps in that direction. "I don't want to have them on the market before the right time, otherwise they would end up in street stalls. If that happens, the students will feel very sad because they have put so much effort into their work," Wang said. \nThere are other obstacles to conquer, as well, before the fabrics can hit the market. "After residents gave up the plant 100 years ago, it's not easy to persuade them back into the business. I have talked two families into growing assam indigo, and have found farmers need a lot of convincing. I have to prove to them that it's a viable option," Wang said. \nWang's farm produced over 100kg of dyestuff last year, most of which was used by the 25 students in the workshop from December to March. From 1kg of dyestuff, only 40 45cm-by-45cm handkerchiefs can be dyed. Wang said the commercial potential is therefore limited. "The main problem is the source of assam indigo," Wang said. \n"I just want to sow the seeds now, and if more people grow to love indigo dyeing, there will be more farmers and more people wanting to buy the works.9ji Then, indigo dyeing will return to Nuannuan." \nCozy East Nursery Garden is located at No. 12 Tong-ding Rd., Nuannuan, Keelung (基隆市暖暖區東碇路12號)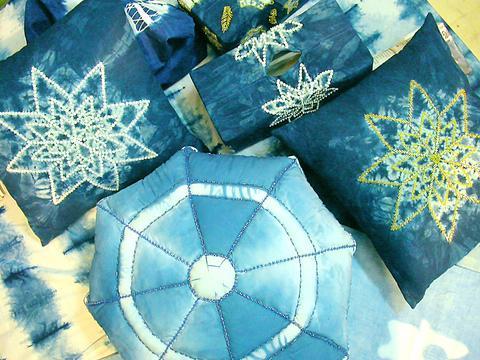 In the town of Nuannuan, Taipei County, an indigp farmers is trying to revive the indigo-dyeing industry that once thrived around Keelung.
PHOTO: VICO LEE, TAIPEI TIMES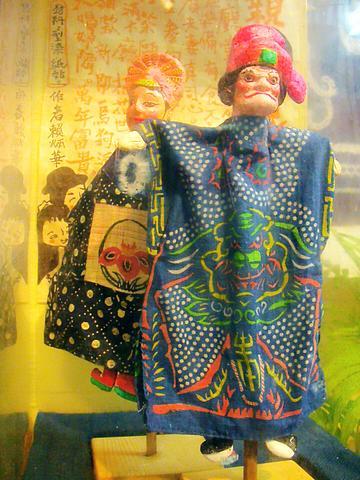 Comments will be moderated. Keep comments relevant to the article. Remarks containing abusive and obscene language, personal attacks of any kind or promotion will be removed and the user banned. Final decision will be at the discretion of the Taipei Times.