MoS opens with style
The new club was inundated by punters wanting to be seen and wanting to see
Over 5,000 people poured into Neihu for the opening night of Ministry of Sound (MoS) and even the stars were made to wait for up to one-and-half hours in the drizzling rain to get in.
What they got was pretty impressive, according to most observers.
A free opening party is always going to be popular so there should have been no great surprise at the number of people who turned up, a mixture of the beautiful and the curious, in a place to be seen and a place to see.
The crush outside MoS.
PHOTO: JULES QUARTLY, TAIPEI TIMES
VIP invitations were useless and pretty much everyone was forced to wait after the doors opened to the main crowd around 10pm (there had been a select party for investors and people in the business earlier). The queue grew, wrapped around the building and was over 1,000-strong at midnight, with a one-in, one-out policy operating most of the night.
"A movie star pushed his way through. Well, he said he was a movie star, so the attendants and security just parted, until he comes to me and he says, `I'm a movie star.' So, I say, `You'll have to wait like everyone else.' And he did," said MoS Project Director Peter Bodie.
Addressing the problem of crowding at the door -- which swelled uncontrollably at points and became dangerous as people started climbing over the barriers and pushing past security en masse -- Bodie said adjustments would be made.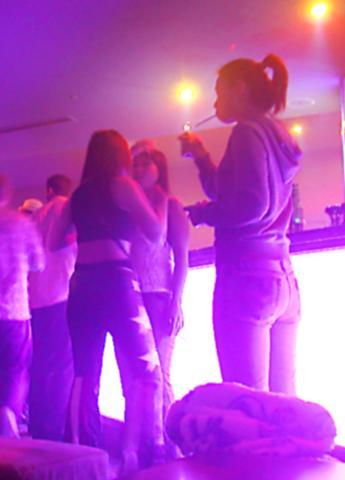 Lighting up.
PHOTO: JULES QUARTLY, TAIPEI TIMES
"It just took us by surprise. There was a bit of inexperience on the door and they should have pushed the crowd back beyond the railings, but it was sorted out," Bodie said from the Macallan VIP skybar, which looked out on a sea of people in both the main and second arenas. "It was lucky, in a way, the crowd was so polite."
Bodie said close to 5,000 people in total made it into the club -- hundreds left without gaining entrance -- and there were still people queuing at 2:30am.
A young woman who gave her name as Crystal and was accompanied by her "manager" said she managed to avoid the line because her friend worked at the club.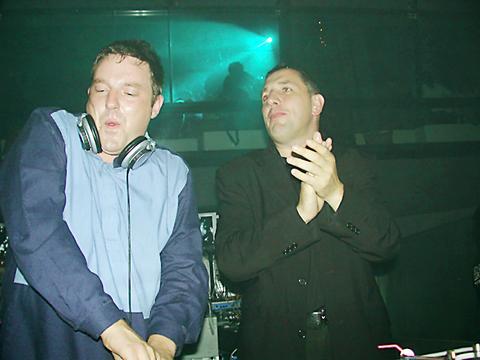 DJ Buff Wise and MoS Project Director Peter Bodie.
PHOTO: JULES QUARTLY, TAIPEI TIMES
"It's great, we need this sort of place," she said before sweeping off in search of "Wah Wah."
Public relations worker Noriz (陳皙文) said he got in after waiting one-and-a-half hours. "I heard about it on the Internet. I like progressive house so I thought I'd check it out. Yeah, I'll come come again."
Other comments were along the line of: "This is good but how long's it going to last?" adding they would wait and see if prices rose (NT$150 for a beer) and the offer of money back on the taxi ride to the club was withdrawn.
The lights and lasers all worked, casting the main arena in a surprisingly subtle number of shades and configurations. The main room, with its four large speakers suspended over the dance floor, had the boys pumping and the girls writhing, capped off by a good set from resident DJ Damian Saint. Standing outside the building, you could feel the walls shivering from the low bass points.
The club has a range of environments to cruise, plenty of comfort zones and bars. The service was better than some city center nightspots, in that it was possible to buy a drink.
At 5am an ambulance was called when a woman
collapsed. The police were called, but the situation was said not to be serious. The party finished at 6am.
Comments will be moderated. Keep comments relevant to the article. Remarks containing abusive and obscene language, personal attacks of any kind or promotion will be removed and the user banned. Final decision will be at the discretion of the Taipei Times.