Pop Stop
In the absence of a real scandal, Next Magazine (壹週刊) is certainly not above insinuating one, as long as there are a few tidbits of "evidence," preferably photographic, that make the story appear semi-credible. So, this week, the gossip rag snuck into Jacky Wu's (吳宗憲) room at the Macau Hyatt, where he, fellow TV host Nono and a bevvy of other B-grade starlets, were shooting an episode of their Sunday show and discovered two used condoms in his bedside trash can and printed some rather gross photos of the offending prophylactics. By this point, everyone knows that Jacky is not exactly the paragon of family man, so somehow his much-storied and colorful sex life barely seems to qualify as a scandal. And doesn't he deserve some credit for practicing safe sex? The Department of Health would be the first to endorse that view, given the abysmally low rate of condom use in Taiwan.
More hanky panky was in the news this week when The Liberty Times (自由時報) reported on Jordan Chan (陳小春) getting molested onstage by singer Joey Yung (容祖兒) at a concert in Hong Kong over the weekend. During a hot dance routine, Joey reached around and gave Jordan a solid grab in the crotch, sparking a gasp in the crowd. After the show, both said it was a choreography mistake, which is not to be confused with a wardrobe malfunction.
Jordan's on-and-off love interest Cecilia Cheung (張柏芝) was in Hong Kong's Apple Daily on Tuesday for taking shelter at the Beijing apartment of her former boyfriend Nicholas Tse (謝霆鋒), in preparation for filming there of the new Chen Kai-ge (陳凱歌) movie. Her visit to the apartment led to speculation about rekindling their relationship now that Nicholas has definitively broken up with Mando-pop diva Faye Wong (王菲). Nicholas and Cecilia are set to star opposite each other in Chen's The Promise (無極).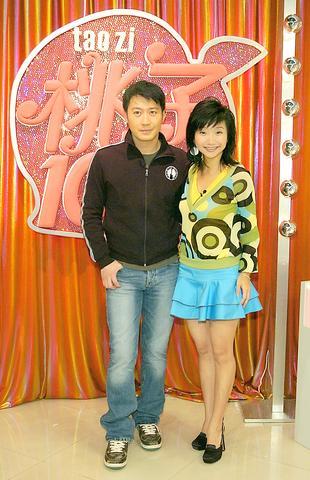 In Hong Kong, actress Shu Qi (舒淇) has been trying to fend off the usual media inquiries about her relationship with Leon Lai (黎明) since the release of The Eye 2 (見鬼2) in which she stars. The China Times (中國時報) reported in its Monday issue that the Taiwan-born starlet was circumspect when asked questions about possible marriage partners, but said that whoever it was he would have to be like David Beckham. "He must be handsome and have money," she said, laying down her criteria. As for her movie The Eye 2, reviews in countries where the movie has already come out say mostly that it's funnier than it is scary, which bodes ill for a horror movie. We can find out for ourselves in Taiwan today.
Taiwan's newspapers had a field day with TV actor Lee Wei (李威) last Sunday, reporting that he brought the wrong ID card to the polling station to vote in the presidential election. Pictures show him scratching his head and looking incredulously at his ID card. He still found time though to get down to the real business of the day and sign a few autographs.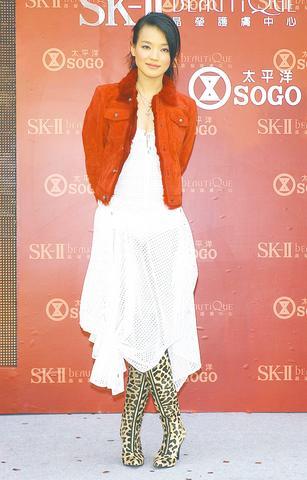 Move over Posh Spice, Shu Qi has an interest in David Beckham.
PHOTO: TAIPEI TIMES
TV actor Lee Wei has an identity crisis.
PHOTO: TAIPEI TIMES
Comments will be moderated. Keep comments relevant to the article. Remarks containing abusive and obscene language, personal attacks of any kind or promotion will be removed and the user banned. Final decision will be at the discretion of the Taipei Times.