Listening to the Sound of Colors reprised
Following its successful Taipei premiere last July and runs in Hong Kong and Macau, the musical Sound of Colors (地下鐵), based on Jimmy Liao's (幾米) illustration book, has returned.
Fans of Liao's book should not miss out on this second chance to see the show. Theater director Miguel Li (黎煥雄) leads the same cast and crew, including young movie star Wing Fan (范植偉), pop singer Chen Chi-chen (陳綺貞) and prominent theater actors, to give four more performances from today, at the National Theater of CKS Cultural Center.
Derived from a story about a blind girl who gets lost in different subway stations and imagines the world as a colorful circus, director Li has added sounds and turned it into a popular musical.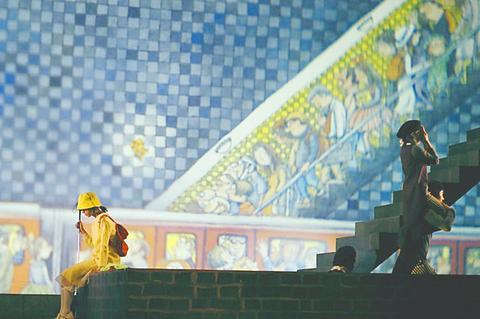 An underground scene from the musical Sound of Colors.
PHOTO COURTESY OF ARTIST
The performance was described by critics as "combining the fairy-tale quality of Alice in Wonderland and the Fraz Kafka-style questions about life."
A very common audience response to the show was, "Fascinating ... I really like it but don't quite understand the meaning of the story."
Despite being difficult to understand, the musical has been spectacularly successful, spawning by-products such as a soundtrack and a musical script.
It also generated phenomenal sales in Macau, where the tickets were sold out three weeks before the performance.
The movie Sound of Colors, starring Tony Leung (梁朝偉), was also a hit last year, although the story had been completely changed.
For the second show, director Li has prepared something different. This time not only the actors will be singing, the audience will also be asked to sing along with the actors on stage and there are also some grand chorus scenes. As of press time, 100 tickets were left.
Comments will be moderated. Keep comments relevant to the article. Remarks containing abusive and obscene language, personal attacks of any kind or promotion will be removed and the user banned. Final decision will be at the discretion of the Taipei Times.