Taiwanese artists bring ink painting up to date
Few ink painters can win over curators to include them in contemporary art exhibitions. College art students have long been discarding Chinese painting in favor of installations and videos. Leafing through any contemporary art publications, you almost never come across ink. The connection between ink painting and contemporary art would seem to be a flimsy one at best, but the Taipei Fine Arts Museum (台北市立美術館) thinks otherwise. \nAn exhibition at the museum, curated by its research staff, showcases the often overlooked modernity of ink. Contemporary Ink Painting and Ink in Contemporary Art, (當代水墨與水墨當代) according to Lei Yi-ting (雷逸婷), the curator of the show, aims to illustrate the two meanings of the term "contemporary." \n"One of the meanings is more literal. We include works representative of the development in ink painting in the past 20 years. The other meaning is the contemporary characteristics of the artists. They do not see themselves as ink painters and they abide by no codes of Chinese painting. They often put up installations or other works. They use ink as just one of their media," Lei said. \nAbout one-third of the 45 works by 13 artists come from the museum's collection, while the others are on loan from private collectors in Taiwan. The best known among these artists is Yu Peng (于彭), whose eccentric paintings on ostentatiously traditional scrolls made him a darling among collectors. \nSince the 1980s, Yu has followed the footsteps of ancient students of ink paintings who imitate the works of their predecessors. While ancient imitators did so to emulate the old masters, Yu made slight changes to the well-known works to express his personal quirks and also to reflect on modern life. \nThe 10m-wide Dwelling in the Fu-chun Mountains (富春山居圖), named after Yuan painter Huang Gong-wang's (黃公望) famous scroll, shows childlike dots for lotus flowers, dark craggy hills typical of Taiwanese landscapes rather than those of Zhejiang province. The work seems a humorous comment on the impossibility of today's Taiwanese ink painters following the landscape traditions handed down by ancient Chinese ink painters living in a very different natural environment. \nThis probably explains the many landscape works (landscape is still a prominent theme in ink painting) that disregard conventional ink techniques to come up with their own ways to portray the environment of Taiwan. Lee Mao-cheng (李茂成) paints the hills around Keelung in short, dry strokes in On the Road (路途上), while his brother Lee An-cheng (李安成) applies layers of wide brush strokes to represent the humid air near mountains around the island in his Landscape (山水) series. Chang Fu-Chun's (張富峻)Circling Homeward (那載浮載沉的呻吟者向家園打轉) highlights Taiwan's island topography with a bird's eye view similar to what one sees on the plane when flying over Taiwan. \nApart from the landscapes, the sampling of works are mostly abstract studies in shapes and shades that make good use of ink's organic character. Walking around the circular gallery is a tranquil experience. \n"Ink is now no more than a medium for contemporary artists, but this medium still attracts the more introspective and well-composed artists," Lei said. \nContemporary Ink Painting and Ink in Contemporary Art will run through April 25 at Taipei Fine Arts Museum, 181 Zhongshan N Rd, Sec 3, Taipei. (台北市中山北路三段 181 號).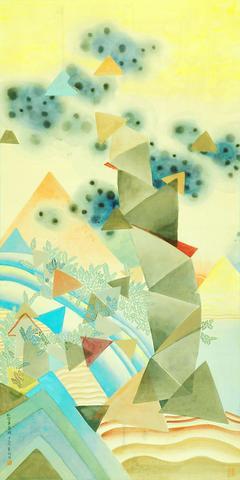 Yuan Chan's Pine Valley Flying Spring.
PHOTO COURTESY OF TFAM
Huang Chih-yang's Morphological Ecology.
PHOTO COURTESY OF TFAM

Chen Hsing-wan's Germany Impression: After Listening to Gurecki's Symphony No. 3.
PHOTO COURTESY OF TFAM
Comments will be moderated. Keep comments relevant to the article. Remarks containing abusive and obscene language, personal attacks of any kind or promotion will be removed and the user banned. Final decision will be at the discretion of the Taipei Times.