An old story, but a good one from a prize-winning author
Ma Jian looks at how a society numbed by dictatorship finds its way in the modern world
There are two reservations to be made about this book, neither of them serious. For the rest it's a readable fictional foray into more-or-less familiar territory from the prize-winning author of Red Dust. \nThe first reservation is that this book, though hot off the presses this month in English, was copyrighted in its original Chinese version in 1993. This means that, rather than being a much-awaited follow-up to Ma Jian's (馬健) successful debut, it in fact pre-dates Red Dust in the scenes it describes, and the period of Chinese history it evokes. \nThis is an old story. Publishers have always been eager to capitalize on successes, and, when an author despairs of producing something up to the level of his first careless rapture, routinely assure him it doesn't matter. Surely he has something he's written in his youth that can be dusted down and presented as his newest thoughts on life, love and the pursuit of happiness? \nThe second reservation concerns more closely the book itself. It's supposedly a novel about a "professional writer" (this is how he's regularly described) who displays for the benefit of his friend some stories he would like to publish, had he the courage. After the initial setting out of this situation, the book consists of seven of these stories. They're linked together here and there, but only nominally. \nThis is in fact another very familiar phenomenon, namely that of publishers contriving to issue a series of short stories in a format that suggests they are, in fact, a novel. \nIn the case of this book, the author has been persuaded -- or has persuaded himself -- to link the stories together to give them the illusion of being integral parts of a whole. It's not a fudge, but nonetheless for the reader keen to have a long story to get lost in, this may prove a shortcoming. \nThese two points out of the way, what about the book's qualities -- its feeling, its imaginative world? Essentially, the spirit is black comedy. Ma kicks off his set of anecdotes with one about a man who decides to benefit from the Open Door Policy (this, remember, is the early 1990s) by starting up a private crematorium. So -- what are the comic possibilities inherent in this scenario? You can almost list them before you start reading. \nOne, the ashes due to be returned to the families get mixed up, but it doesn't matter as they'll never know. Two, the ceremonial garments used to dress the corpses, unknown to the relatives, in fact get re-used to save on overhead. Three, the smell coming from the burning unit is, at least to begin with, actually quite appetizing. And so on. \nAll good short stories have to have a strong ending. So how does Ma end the story he's opted to place first in his series? Well, we'll give this one away and promise to keep quiet about the rest. He decides to slip someone into the furnace alive. Who? Who else but his old mother, though as an extra twist she's allowed to happily agree to the arrangement so long as the right music's played -- a song Deng Xiaoping (鄧小平) had specifically banned. \nThe pattern of all the subsequent stories is immediately apparent from this first one. The action of grotesque -- this is the one essential requirement. The opportunity is then used to introduce strong political satire (Ma Jian now lives in London, so there are no problems there). And the final synthesis is a hilarious, scandalous synthesis that, as the publishers hope critics will remark, displays the absurdities and cruelties of modern (in fact not-so-modern) China. \nWhat, then, are we to say about this book? First, it displays the character of a great deal of Chinese fiction that has appeared in English over the last decade. The less pleasant bodily aspects are very much to the fore -- stinking breath, piss, phlegm and the rest all contribute to the sense of uproarious comedy. This is the number one hallmark of Chinese comedy and seems to act as a release from the constraints of conforming to official ideology. Let's drink, let's fart, let's vomit all over the place to show we're human (and aren't breaking any laws about not saying this or that by doing so). This is something, incidentally, that Chinese comic novels have in common with many 18th-century English ones, also reacting, it could be argued, against an over-formal, over-repressive society. \nThe Noodle Maker proceeds with vignettes of a girl who wants to entertain an audience by committing suicide on stage by putting her head into the jaws of a tiger; of a failed author who expresses his resentment of his much more successful novelist wife by using his power as an editor to seduce aspiring young female writers (21 of them to date); and a story in which dogs are imagined taking over society. \nAmid the comedy Ma has his serious moments, and very impressive some of them are. Take this passage, from a story of a letter-writer who becomes too involved in the affairs of those whose letters he's writing. \n"We grew up in a spiritual vacuum, cut off from the rest of the world. A wasted generation. When the country started to open up, we were the first to fall. Foreign culture is the only religion now, but we have no means to understand it, or appreciate its worth. Half a century gone by, and suddenly we find ourselves in the forest of modern life without a map or a compass. How can a society numbed by dictatorship ever find its way in the modern world? We are unable to think things through for ourselves, we have no reference points, we feel lost and out of depth. We put on a show of superficial arrogance to hide our low self-esteem." \nThis book, despite its formal shortcomings, is a notable contribution to the growth of an international literature, a globalized one if you will. Structural weaknesses there may be, but Ma is doing something admirable and even necessary. It's not as engrossing as Red Dust but, if viewed in its historical perspective, it is at the very least an interesting, and at best a revealing and entertaining, read.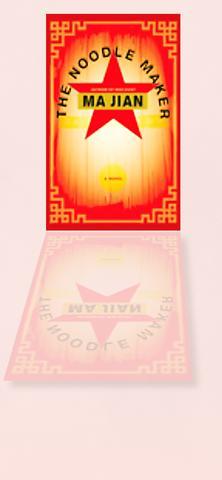 The Noodle Maker By Ma Jian Chatto & Windus 203 pages
Comments will be moderated. Keep comments relevant to the article. Remarks containing abusive and obscene language, personal attacks of any kind or promotion will be removed and the user banned. Final decision will be at the discretion of the Taipei Times.