Return to the election fray
Thousands of overseas Taiwanese have returned to donate their time and energy to the election campaigns of the DPP and the KMT-PFP candidates
Sheayi Chang (張雪玉) lives and works in the Taiwanese enclave of Flushing, New York, where she settled after completing a master's degree at Manhattan's Fashion Institute of Technology in the mid-1970s. In her 28 years since moving to the States, she became a US citizen, started a law firm with her husband, raised two daughters and returned to Taiwan only a handful of times. But for the past two months she's called Tainan's DPP campaign headquarters home, logging 12-hour work days answering phones, greeting visitors and training elderly ladies dance routines that are performed at rallies.
"I feel a tremendous sense of mission by coming back to volunteer for the campaign," she said, taking a short break between shifts earlier this week.
In Taipei, at the KMT-PFP campaign headquarters, Linda Wang feels the same way. Like Chang, Wang went to the US about three decades ago for higher education and decided to stay and make a new life there. Now she's back, throwing her time, money and energy into Lien Chan's (連戰) election bid out of a similarly urgent sense of mission.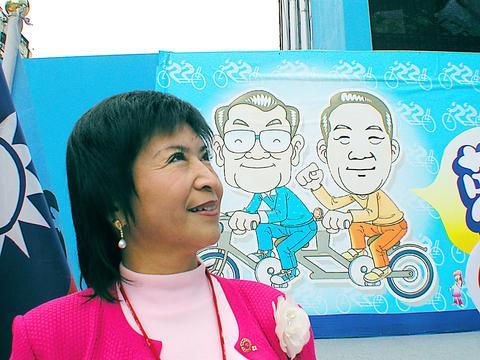 Linda Wang, of Chicago, volunteers at the KMT-PFP campaign headquarters in Taipei.
PHOTO: MAX WOODWORTH, TAIPEI TIMES
Without knowing it, the two women have followed almost parallel trajectories that have now crossed in the current tooth-and-nail struggle for the presidency.
Coming home
Chang and Wang are only two foot soldiers in each political camp's battalions of overseas Taiwanese campaign volunteers that have returned from every corner of the globe to take part in the presidential campaign. Over half are retirees with time and money to spare, but a large portion are lawyers, professors, entrepreneurs, doctors, engineers, tech-industry employees -- basically a sampling of highly educated and well-heeled Taiwanese emigres.
The campaign is a party for DPP volunteer supporters riding a bus around Taiwan drumming up support for Chen.
PHOTO: MAX WOODWORTH, TAIPEI TIMES
As campaign volunteers, they are a unique blend of well-intentioned outsiders and fervid party supporters, the majority of whom volunteered in the 2000 election as well. And they've come back with a single purpose: to get their man elected in what all view for differing reasons as a crucial presidential election.
The DPP currently has four groups of overseas Taiwanese volunteers dispersed around the country, one of which is traveling by tour bus, making whistle stops at small and large towns calling for people's votes.
When the Taipei Times caught up with the bus in Tainan it was stopping for just half an hour to hear a strictly Taiwanese-language speech by the city's DPP mayor Hsu Tian-cai (許添財) before motoring on to Chiayi. Each member of the 34-person group, who hail from the US, Canada and New Zealand, had paid US$2,000 of their own money to travel up and down the island several times stumping for Chen in the month leading up to the March 20 election.
The average age of the volunteers appeared to be about 65, but, as one volunteer named Echo Lew (劉順吉) confided, "We take this very seriously and are still very young!" The charged carnival atmosphere on the bus would seem to confirm that.
Hundreds of other volunteers, like Chang, made their own arrangements from abroad to serve at local campaign offices for periods lasting from a couple weeks to three months. Though the number fluctuates as volunteers come and go, Simon Lin (林榮松), vice board chairman of the United Taiwanese Foundation of Southern California and the spirited coordinator of the DPP's overseas Taiwanese campaign support group, said there are about 2,000 overseas Taiwanese returning to volunteer for Chen's campaign.
Both parties count returnees from China, who outnumber by several times the returnees from other countries, under a different category that is handled by specific units within each campaign.
The KMT-PFP campaign has set up similar duties for its returnee volunteers, who number around 1,000. They work the phones and do the busy back-office paperwork and logistics support that is essential to keeping the campaign machine properly greased.
Groups of returnee KMT-PFP volunteers will also fan out around the island during the final week of the campaign following an overseas Taiwanese rally at Sun Yat-sen Memorial Hall next Saturday that campaign staffers expect to be attended by over 10,000 people.
Stakes are high
Whether they support Chen or Lien, returnee volunteers represent a unique core of highly vocal activists in whom the nation's political issues have been distilled into ardent versions of the basic ideological struggles that the candidates only dare allude to, namely national identity and independence versus unification. This tendency is especially strong in the DPP camp, but is certainly not exclusive to it.
As non-permanent residents of Taiwan, they've come back turbo-charged with hyperbolic language and fanaticism that some admitted is to compensate for their extended absence from their homeland. Chang, for example, said she felt a need to "express her love for her motherland" after all these years. She also expressed personal reasons that relate to the broader ideological stances of the DPP.
"When I was growing up we had nothing. We were so poor. Mainlanders got to learn piano, but we couldn't because we were too poor," she said. When she recalled being punished for speaking Taiwanese at school and, what she called, the monopolizing of top-level posts by mainlander KMT bureaucrats, she stuttered with suppressed rage.
But then she beamed when saying that nowadays practically no one in Tainan would admit in public to voting KMT, when not too long ago dissenting words against the ruling party were never uttered outside the home.
Wang and her fellow volunteer Bill Kung (龔丕堯), a Vancouver resident who serves as Secretary of the World Taiwanese Chamber of Commerce and is soliciting donations for Lien's campaign, spoke of the shock they felt in witnessing from abroad the emergence of a Taiwanese nationalist identity that Chang would seem to represent. It was the fear of this trend, exacerbated by Chen's election in 2000 that inspired them to join this campaign for Lien.
"For as long as we knew, the curve was pointing up for the economy and social development, but it suddenly stopped when Chen was elected. The suicide rate went up, social values went down, the education system has become a mess. It's a disaster," she said, taking a fairly obvious cue from campaign brochures.
Although neither group of returnees stands to gain or lose much in this or any election aside from the gratification of having fought the good fight, they have remained deeply concerned with Taiwan's political development and, in Kung's words, seek only "to make Taiwan a better place."
Small number, large impact
It's impossible to quantify, but the relatively small number of returnee volunteers belies the significant impact of their work on people's voting tendencies, according to campaign officials.
"When local people hear that we've paid out of our pockets and taken off from work and left our families just to join the campaign, they get very moved. For some I think it shocks them into having a stronger political consciousness," said Simon Lin.
Chou Chun-feng (周春豐), the vice director of the KMT's committee for Overseas Chinese, which is coordinating campaign activities for returnees, agreed that this group generates a domino effect among voters.
"I know of a doctor from Chiayi who lives in Chicago and who's come back to vote. He'll go home and meet with relatives and friends and while he's at it, he'll urge them to vote for Lien. And people will listen because he's a successful and respected doctor," he said.
One recent college graduate volunteer at the Tainan DPP campaign office, however, was less convinced that returnees had such a strong impact, moral or practical. "People my age would probably hear that they paid all that money to come back for an election and think, `what a bunch of fools.'"
Not surprisingly, Chang and Wang don't see themselves in that light. They're convinced of the correctness of their political views and of their plans for Taiwan and, more than most, they're willing to put their money where their mouth is to be an unpaid mercenary in this campaign.
When asked what they would do if their favored candidate lost, both said they'd be disappointed, but they added they'd be back in four years. "The way things work now with the democratic system, there's always another chance next time," Wang said.
Comments will be moderated. Keep comments relevant to the article. Remarks containing abusive and obscene language, personal attacks of any kind or promotion will be removed and the user banned. Final decision will be at the discretion of the Taipei Times.