Getting down and dirty
Taiwan's off-road racing enthusiasts have started a new season of mud-splattered mayhem with the first leg of the National Off-Road Championship taking place yesterday and continuing today in Nantou County
Taiwan's four-wheel drive off-roaders are getting off to the start of a new season this weekend in the remote village of Wujie (武界), Nantou County, as Taiwan's multitude of off-road racing fanatics do battle in the opening leg of this year's National Off-Road Championship (全國越野吉普車障礙挑戰賽).
Organized by The 4X4 Association of Taiwan ROC (中華民國越野吉普車運動協會), the event, which is now in its 12th year, pits 60 of the nation's off-roading clubs against each other in a series of four two-leg events climaxing in September, when the league leaders go head to head in the championships' final round.
"Taiwan might be small, but it has such a wide variety of terrain that it's perfect for off-road racing competitions such as this," said Team Chuen An's (全安) Wu Wang (吳汪), who, at 72 years-old is Taiwan's most senior active off-road racer. "And I think a lot of people are aware of this. Compared to other sports off-roading attracts large numbers of participants and large numbers of on-lookers. It's as exciting to watch as it is to take part."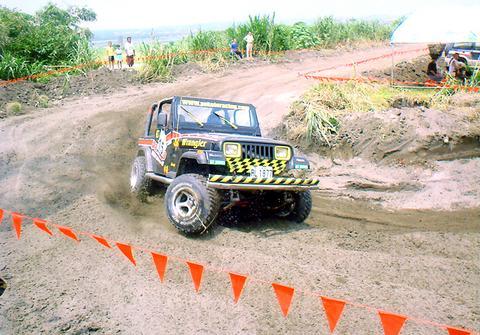 Action from races held last year by the 4x4 Association of Taiwan ROC.
PHOTO COURTESY OF 4X4 ASSOCIATION OF TAIWAN ROC
The annual competition is divided into five categories based on engine size, driver ability and car size. The most challenging and competitive of these is category "A," where monstrous off-roaders with an engine capacity greater than 2,500cc battle it out. The other categories are "B," for cars with engines less than 1,999cc, Four-door, Unlimited and New Driver.
Defending its crown this season is Team Marine (陸戰). Led by team captain Hong Ming-hui (洪明輝), Team Marine placed first in four of the six categories last year and is expecting a challenging first leg-this weekend.
"With the recent bouts of awful weather and some stiff competition, this weekend's meet should be trying for both the cars and the drivers," Hong said. "If it rains again then conditions are going to be terrible. I'm not worried about the mud, as it's always more fun to race in bad weather, but when the weather plays a factor in any race it makes predicting what your opponents will do very difficult."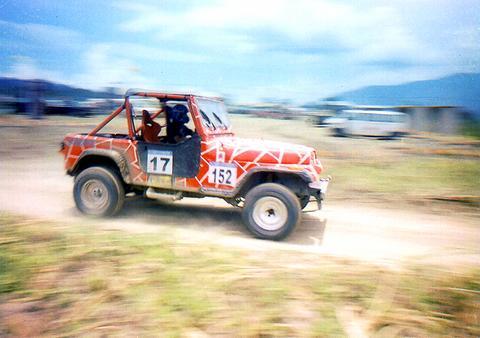 Now boasting over 5,000 members nationwide, the association has come a long way since it was established in the late 1980s when roughly 100 of the nation's four-wheel drive racing pioneers first took their vehicles off the roads and into the wilds. It was a move frowned upon by the authorities and put the racers in the perilous position of running a foul of the law.
"When we first started taking the cars off-road it was pretty perilous. We had no support vehicles, meaning that if you got stuck in mud you had to get yourself out and if the cops got wind of what we were doing they'd come after us. The races all had to be kept secret," said 4X4 association chairman, Chen Chin-chu (陳清柱). "After two of three years of this the police finally gave up chasing us."
Along with informing the police prior to races, the association works in liaison with local authorities, many of who are happy to grant the association use of public land. This is a move that has not only given the association a national boost, but has also enabled it to be acknowledged by clubs and associations on the international scene.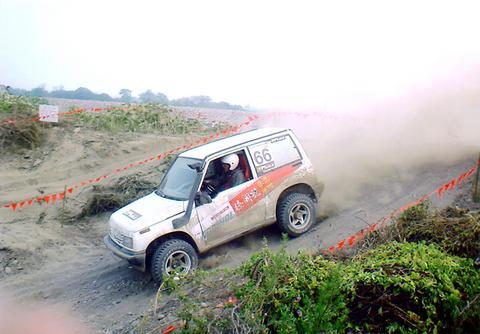 "Since we have started becoming known on the Asian circuit, local drivers have become permanent fixtures at meets in Thailand and Malaysia and we have built up close ties with off-road clubs throughout much of Asia," Chen said. "A couple of years ago we even had a team participate in the Lhasa to Katmandu Rally."
While Taiwan's off-roaders continue to make small but successful marks on the international scene, lack of funds and sponsorship deals still inhibits the association from developing its races to meet international standards.
"It's a shame really, as Taiwan's off-roading environment is perfectly suited to hosting international competitions. There are mountains, areas of dense foliage, sand dunes and just about everything any off-roader could want," said Hong. "But then it all boils down to funding, or in our case the lack thereof."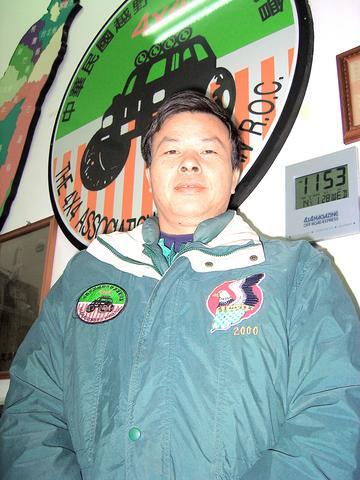 Chen Chin-chu
PHOTO: GAVIN PHIPPS, TAIPEI TIMES
The nation's highest, yet sadly only, international accolade was when Taiwan hosted the 2000 Silverstone Trans-Asia Trophy. The eight-day race, which was won by the Japanese team of Jun Shimizu and Daisuke Tada, saw 53 cars representing off-road clubs from 11 countries competing in a nine-leg competition that circumnavigated the country and traversed some of the nation's most formidable terrain.
Although a huge success, the cost of holding this one competition was more than Chen and other association members had initially predicted. Funding from private companies was not forthcoming and the cash-strapped association was forced to go it alone.
"In many ways the competition was a huge success. The race started outside the Presidential Office in Taipei and the President [Chen Shui-bian (陳水扁)] was there to give his support for our efforts," Chen said. "The cost of staging it, though, was more than we'd anticipated. As the sole sponsor and organizer it cost us over NT$5million, which is a lot of money for a privately run and pretty small association such as ours. Regardless of press coverage a majority of would-be sponsors remain ignorant as to the potential of backing such races in Taiwan."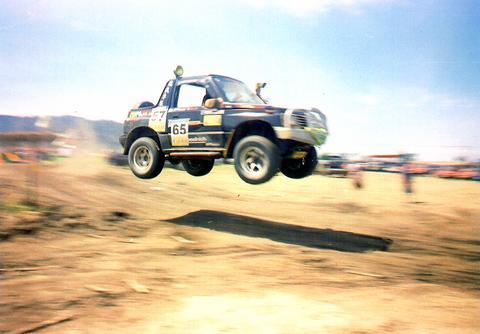 According to Chen, funding problems will not be solved overnight and will remain a dilemma for many years to come. Regardless of the financial reserve of local companies the no-nonsense off-roader still holds lofty plans for Taiwan's off-road racers. He hopes to take a Taiwan team to France someday in order to compete in the most famous and demanding off-road challenge of all, the 17-day, 11,163km Paris-Dakar Rally.
"My aim is take a Taiwanese team to France to compete in the Paris to Dakar Rally. It requires substantial funding, though. Companies who could sponsor such a trip are ignorant of the race and even local motor companies don't realize that in the long run it would benefit them immensely," Chen said. "It might sound like a mammoth task, but I can foresee a Taiwanese team competing in the event one day."
For the time being, however, Chen realizes that if he is to see a Taiwan team compete in the world famous cross-continental rally the association must continue to prove to local audiences just how popular a sport off-roading is.
One way in which it aims to do this is by opting for different race venues every season. This year's championship sees the teams putting their four-wheel drive vehicles through their paces in mountainous and muddy out-of-the-way parts of Nantou, Yunlin, Taitung and Taichung counties.
Since Taiwan measures only 32,260 square kilometers finding areas of accessible terrain that measure between 2km and 6km and on which cars can race can prove problematic. In previous years the association has rented privately-owned land for the competition -- the most recent land rental cost the association NT$250,000 for two days. This year's event sees the association doing it on the cheap and working in conjunction with local authorities.
"For a really good competition going you need a plot of land that measures between two to six square kilometers and has a variable terrain. In the past we have used private land, but it can work out quite expensive," Chen said. "Recently we've taken to working with local authorities and asking them to grant us access to public land."
The sport and its use of public land is not without it critics, many of whom believe the driving of large over-powered cars across large swaths of land is both harmful to the environment as well as putting the lives of hikers in danger. But these are accusations that drivers such as Hong and Wu dismiss as unfounded.
"Sure, there are people who do drive on public land that is accessed by hikers, but we [the association] never race on any land that has not first been cleared by local authorities," Hong said. "We never drive anywhere near hikers and all the races are well sign-posted with warnings so people don't endanger themselves and walk on the tracks."
In his nearly 10 years behind the wheel of over-powered off-roaders Wu has never run a foul of a hiker and neither has he inadvertently destroyed arable land. Based out of Shulin in Taipei County, Wu and the other members of his club ensure that the land they drive on is either void of humans or is simply inaccessible to ramblers.
"Hikers in Taiwan stick to trails, very few go off and roam around in uncharted mountainous areas, so the chances of running into anybody are very slim," said the 70-year old driver. "All the tracks we use are carefully vetted before-hand and we ensure we drive in places where nobody else would want to go."
With this season's off-road courses already chosen by the respective local authorities and, according to Chen, guaranteed to be both hiker-free and incredibly testing on both drivers and their cars, all that remains to be determined are the results.
As for which team will walk away with top honors this year? Chen reckons Team Marine and its six full-time drivers will once prove triumphant, while team manager Hong is less optimistic.
"There's a lot of competition this season and I wouldn't like to make assumptions as to which team will win," said the Team Marine boss. "We'll just have to wait and see which drivers and clubs come out on top."
Comments will be moderated. Keep comments relevant to the article. Remarks containing abusive and obscene language, personal attacks of any kind or promotion will be removed and the user banned. Final decision will be at the discretion of the Taipei Times.