Giving voice to Taiwan's working class
Black Hand Nakasi is ready to stick it to the man with its down-to-earth music
Best known for its impromptu performances at labor demonstrations and for squatting at factories faced with closure, The Black Hand Nakasi (黑手那卡西) band's recent acceptance of a Taipei Cultural Award (台北市文化獎) certainly doesn't mean the group is going to become urbane and change it class-struggling ways. \nFar from it. Its members will continue to take their message to the streets and stand up for workers' rights. Whether they be prostitutes or telecom and transport workers, and no matter under what circumstances, Black Hand Nakasi will continue to fight the good fight. And, according to band founder, Broadway Chen (陳柏偉), what better way to continue than with a city government grant. \n"The city gives money to artists to create what are, and I don't think I'm being rude when I say it, predominantly pieces of meaningless rubbish. So it was about time it gave funds to someone who was going to do something worthwhile with them," explained Chen. \n"The cash prize of NT$200,000, although a pretty paltry amount in the big scheme of things, will certainly go some way to helping us to promote the plight of the Taiwanese working class," Chen said. \nFormed by a handful of members of the Informational Center of Labor Education (台灣勞工教育資 發展中心) in the early 1990s, the group has since become a key player in the nation's labor movement. None of its nine members are full-time musicians and all hold day jobs within the public sector. \n"I first took an interest in workers' rights in the early 90s. Taiwan's fledgling labor unions were pretty unorganized and found it hard to get their messages across," recalled Chen, who works for House of Migrant Empowerment, an organization that helps Taiwan's foreign workers. \n"It was the Keelung Bus Company strike in 1992 that tipped the balance for me, though. After they sacked all the workers and the government just sat back and allowed it to happen I figured that somebody had to stand up and tell the workers' story." \nSetting out to give voice to the labor unions and support them at demonstrations hasn't been an easy task. Over the years the group has been involved in some rather ugly incidents. And while the group's members have built up a good relations with several police forces, Black Hand Nakasi has managed to attract the ire of others. \n"A couple of years ago we were squatting and holding \nperformances in a factory in protest of its impending closure when a group of private security guards appeared with five or six dogs," recalled Chen. "The security guys let the dogs go at us. They [the dogs] were barking at and biting whatever they could until we had all left the building." \nAlthough initially making a name for itself by organizing benefit concerts and performing at labor rallies and demonstrations, the band has recently taken to holding workshops at which its members teach laid-off workers how to express themselves and deal with the traumas of unemployment through music. \n"A lot of the people that come are in their 50s, and, having worked all their lives, it can be very traumatic to find themselves unemployed for the first time," explained guitarist/bassist Chuang Yu-lin (莊育麟). "Learning the guitar might seem insignificant, but by teaching these guys something new it gives them an outlet for their frustration." \nThe number of those currently turning up at the weekly meetings is lower than the group initially anticipated, but the workshops have proven a huge success. According to Chuang, he has managed to get a group of elderly unemployed men so proficient on the guitar that they now hold regular jam sessions on their own and also helped others to rid themselves of the shame they feel when faced with unemployment. \n"We had one guy who came a few times and didn't say anything. He sat there with his head down in total shame and embarrassment," continued Chuang. "I asked him to write some lyrics that summed up his mood. Before you knew it he'd penned three songs, began to be part of the group and is now a very active member of our workshops." \nThe group made its long player debut in 1998 with Lucky as Shit (福氣個屁), an album featuring not only the band, but the voices of roughly 30 recently laid-off factory workers. \nFeaturing a selection of folksy/rock renditions of traditional Taiwanese workers' songs, such as The Brave Taiwanese Workers (勇敢的台灣工人), as well as a Taiwanese-language version of L'Internationale, the album was released to coincide with the 10th anniversary of the Taiwan Independent Labor Movement (台灣自主工運). \nThe album's rather natty title was taken from a popular TV commercial of the day and was a spoof of the catch phrase for Whisbih (維士比), in which Hong Kong movie star, Chow Yun-fat (周潤發), was seen to swig on the caffeine soaked energy drink with a group of workers. Lucky as Shit may not have gone platinum, but it certainly put the band on the map. \n"Every time I heard [Chow] say `you are lucky' in that commercial I thought `what a stupid thing to say.' I mean, factories were being closed down like never before. What on earth did Taiwan's workers have to be lucky about? They were losing their jobs and were plain out of luck," stated Chen. \nEven before the culture award and the sudden upsurge in media interest that has followed, it has been a busy year for the band. It has held numerous workshops, performed with members of the Collective of Sex Workers and Supporters (日日春關懷互助協會) at fund raising events for unemployed prostitutes, taken an active roll in recent anti-war protests, played at numerous labor rallies and even made time to record and release a new album. \nReleased this week, Taiwan Buffalo vs. WTO (台灣牛vs. WTO) -- the cover art for which shows the Taiwan Buffalo giving the WTO (in the guise of Uncle Sam) a good whooping -- once again sees the group joining forces with various labor groups for a series of \nmelodies. \nHelping the band to give musical voice to their concerns apropos Taiwan's growing unemployment rate and high industrial accident rate are members of the Collective of Sex Workers and Supporters and the Taiwan Association for Victims of Occupational Injuries (工作傷害受害人協會). The main target of the Black Hand's musical ire is the WTO, an organization that, according to Chen, gives good reason for Taiwan's working class to be distrustful of its professed benefits. \n"There was a lot of media hype and talk before Taiwan joined the WTO, but I'm pretty sure that a large percentage of the population wonders what all the fuss was about. And, more importantly, quite what Taiwan got out of it," said Chen. "The price of rice wine went up and the price of rice has fallen to an all-time low. Has it helped us, the workers, or has it simply helped the rich to get even richer?"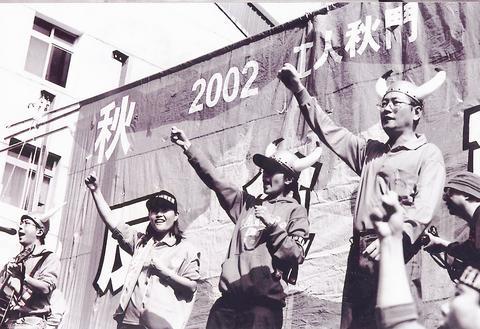 Members of Black Hand Nakasi on stage at last year's Autumn Struggle labor union rally in Taipei. Working closely with local labor unions, the nine-piece combo helps raise money for the unemployed, performs at rallies and holds workshops at which laid-off workers are treated for depression througt music.
PHOTO COURTESY OF BLACK HAND NAKASI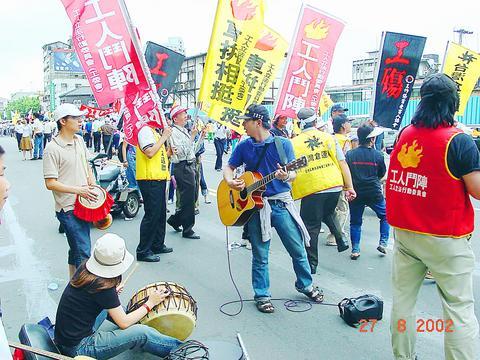 Black Hand Nakasi vvocalist, Broadway Chen, center, and his combo has been performing at labor rallies and giving musical voice to the rights and position of Taiwan's working class since it was founded in 1996.
PHOTO COURTESY OF BLACK HAND NAKASI
Comments will be moderated. Keep comments relevant to the article. Remarks containing abusive and obscene language, personal attacks of any kind or promotion will be removed and the user banned. Final decision will be at the discretion of the Taipei Times.