Finding time for Christmas behind bars
Foreigners in prison miss home even more at Christmas, but a party laid on by the prison service and charity groups ease the pain
I've been saving myself for this, I haven't eaten for three days," said Jimmy as he filled his plate full of turkey, ham and pizza. Originally from Hong Kong, Jimmy is one of 133 foreign prisoners who attended a Christmas party at Taipei Prison last week.
Like Jimmy, each of the men is a foreigner serving a prison term handed down by a Taiwan court and in accordance with regulations of the prison the men are not permitted to congregate apart except this one day. "I haven't seen some of these men since last year, some I've never seen before, they must be new," Jimmy said.
Lighthouse, a volunteer Christian ministry, receives special permission to throw a Christmas party at the prison and for the last 10 years foreign inmates have gathered to sing songs, feast on traditional holiday fare and simply hang out.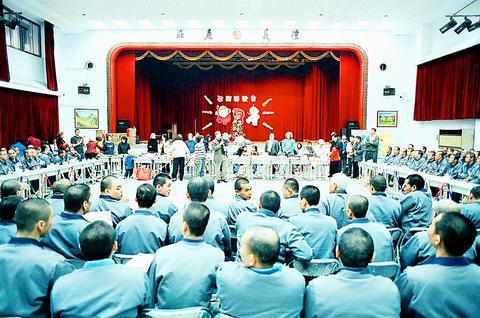 "This party's concept is that it's the one day a year that they can let off steam and pretend they are not in prison," said Jon Brantingham, one of the main organizers of the Christmas event.
Lighthouse was founded 15 years ago by the Calvary Baptist Church when the pastor was asked to visit a missionary's son who had been incarcerated for a drug offence. After realizing the young man was one of several foreign inmates, the pastor appealed to his ministry for volunteers to visit them, which led to the organization of Lighthouse.
A few years after its establishment, Brantingham became director of Lighthouse and for more than 12 years he has been a familiar face at Taipei Prison.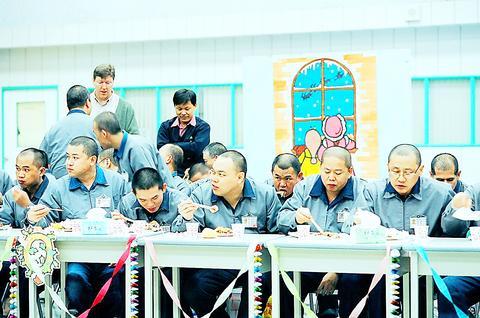 "It started out as a visitation program where volunteers would go out to visit the prisoners. And because most of these prisoners' families can't visit them, and the embassies and cultural offices can only do so much, we end up taking on the role of their family."
Foreign representative offices are restricted in the assistance they can provide, though they do make prison visits and will help inmates to contact relatives. Representatives from both the British and Thailand trade offices in Taiwan made an appearance at this year's Christmas party.
Emmanuel Sharrer is one of a small but committed number of individuals who visit Taipei Prison on a regular basis. Originally from Germany, he has been making weekly trips for nearly four years.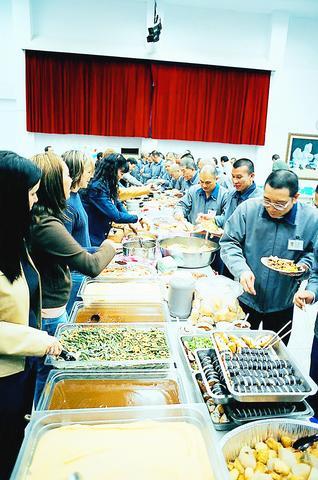 Foreigners at Taipei Prison enjoy a roast turkey with all the trimmings for their annual Christmas dinnr, one of the few occasons that foreigners incarcerated here can meet up with each other.
PHOTO COURTESY OF BENOIT ZULLO
Prison ministerial work is not new to him. Before coming to Taiwan, he spent 18 years in Thailand, also working with foreign prisoners. Fluent in Thai, Sharrer works mostly with the Thai inmates at both Taipei Prison and Kuanfu Prison in Hualien. This year, Sharrer was one of some 50 volunteers who dished up food, sang carols and passed out gifts.
The mad dash for seconds, however, led to chaos at the banquet table and the three-hour time restriction dampened spirits, but the occasion was still festive.
"This is my sixth party and I count the days until the next one. I enjoy it, I eat a lot and see a lot of different people who come to help," said Alan, from Singapore, as he rushed off to pose for photos with fellow inmates.
During the week inmates are separated into groups of 20 to 30 men and placed in factories to work. On the weekend they stay in rooms with up to 20 cellmates. Due to a strict daily regime the men rarely see anyone apart from those they share a room with. For several of the prisoners, the Christmas party serves as the one day a year when all of the foreign inmates get together.
Most of the foreign prisoners are from Singapore, Thailand, Malaysia and Hong Kong. However, there are currently 15 men collectively from the United Kingdom, South Africa and the US.
While a large number of the men are Buddhists, several have converted to Christianity and were baptized in prison. Brantingham assures that the Lighthouse ministry does not segregate foreign inmates based on their religious faiths.
"We don't say, `If you're Christian then we'll meet your needs and if you're not then we won't. We're here for all the foreign inmates and the programs we do are for everyone regardless of their faith," Brantingham said.
Paul, who has been in Taipei Prison for two years, said he was not a practicing Christian prior to his sentencing, but he welcomes the weekly Bible study offered by Lighthouse.
You start to get tired of seeing the same people everyday. It's nice to talk to someone else and Sunny [his teacher] is a lot of fun."
With several years left on his sentence, Paul has accepted that he may not be spending another Christmas with his parents.
"I am 35 and my parents are old. I have at least 15 years left on my sentence so they won't be around when I get out. This is it," Paul said, motioning to the surrounding party, "this is Christmas."
Malcolm, also a British citizen, has spent 12 years at Taipei Prison and has been to every party since the first one in 1993.
"They have changed tremendously over the years. At the first one, there were only 25 foreigner prisoners here and all they had was cake, sandwiches and Coke."
In addition to the standard western Christmas dinner of turkey, potatoes and gravy they now serve Japanese, Thai and Malay food. It might not be the merriest of Christmas celebrations, but every one of the prisoners appeared to enjoy the festivities.
"It helps to break the barriers and keep you in touch with reality or else you run the risk of becoming completely institutionalized," Malcolm said.
With less than two years left on his sentence, he said the parties are like "the milestones of every year."
Taipei Prison has the largest number of foreign inmates in Taiwan, but it is not the only prison with foreigners, nor is it the only prison celebrating Christmas this year. There will be similar parties for those detained at the Foreigners' Detention Center in Sanhsia and Kuanfu.
Comments will be moderated. Keep comments relevant to the article. Remarks containing abusive and obscene language, personal attacks of any kind or promotion will be removed and the user banned. Final decision will be at the discretion of the Taipei Times.