Weekend warriors down n' dirty
This year's annual Action Asia Challenge should be the biggest and best so far
The Action Asia Challenge, which has become increasingly popular with weekend warriors around SE Asia, is set for its third race in Taiwan next month. It was originally scheduled for April but was postponed due to SARS. Now everything is set to go on Nov. 15 and Nov. 16, in Fulung on Taiwan's northeast coast. Registration has opened and organizers are expecting the biggest race so far, with the technical hitches that marred past races now resolved.
Michael Maddess, course designer of the Action Asia Challenge, arrived in Taiwan last week to look over the course, and while not wishing to give too much away -- the unexpected is definitely part of the thrill of adventure racing -- he said that the race this year will cover much of the coastal area between Fulung and Lungtung.
"There will be beach running, river swimming, cargo net climbing, abseiling, on- and off-road biking, rock scrambling, trail running, inflatable kayaking and fixed lines for Tyrolean traverses," Maddess said.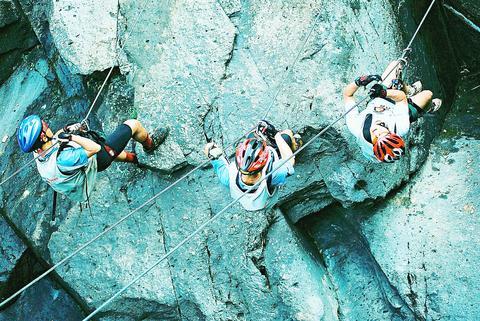 Shots taken from previous Action Asia Challenges, including the Tyrolean traverse, which is much less difficult than it looks but certainly adds excitement to the race.
PHOTO COURTESY OF AAC
All of this will be squeezed into a course that he expects the winning team will manage in around four-and-a-half hours. Addressing concerns from locals after last year's race -- who were unfamiliar with some of the race disciplines -- David Bishop, the Event Managing Director for Action Asia, said that there will be "nothing happening on the race course that cannot be learned in a very short time."
Emphasizing the accessibility of the Action Asia Challenge, Bishop said that in the Hong Kong race that took place Oct. 5, of the 68 teams, 28 had no experience of fixed-rope work, but even so, all but three teams completed the course.
Taiwan competitors have previously had trouble with disciplines such as kayaking, which is little practiced here. But according to Lin Man-you (林滿優), a member of Team Eco-Challenge in 2001, he and his teammates have been practicing diligently in order to have a better chance of placing in this year's event.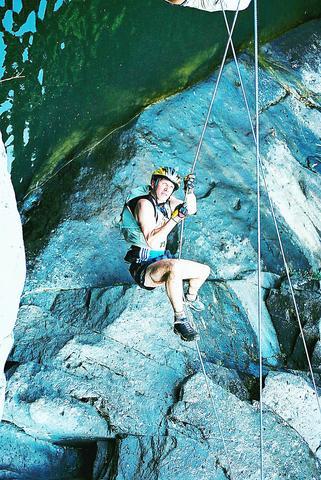 To help other teams, Bishop said that the Web site for the Taiwan race will have the contact details of local sports centers that can provide training in various disciplines for those who are serious about the competitive aspect of the race. A spokesman for the local organizer, Bayshore Pacific Group, said that the Web site for the Taiwan race will be set up by late next week, in both Chinese and English. Meanwhile, competitors can contact Bayshore directly for registration information at (02) 2777 1725.
"We will be providing our local partner with names of firms around the island who can offer short courses in various disciplines," Bishop said. "And if that doesn't come through, we definitely want to get competitors to the starting site the day before to run through preliminaries and make sure everyone knows how to use the equipment."
Another problem that has been addressed are the bottlenecks that seriously marred the 2001 race and in which Team Eco-Challenge, among others, failed to complete the course due to bottlenecks in the abseil section that had competitors back up by over 30 minutes.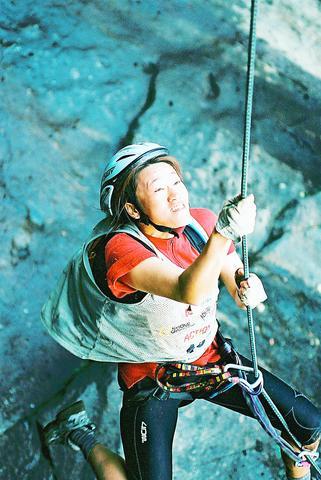 "It will not happen this year," Maddess said, "We have invested heavily in technical gear this year. We have many kilometers of rope this time, more than enough for five or six abseils, so we will be getting people over the technical sections pretty quickly."
The race will be starting and finishing at the Longmen Camping Park at Fulung, where contestants will gather on Nov. 15 and prepare for the starter's gun, which will go off one hour before sunrise on Nov. 16. "We like to do something different for each race," Maddess said. "This time it is setting off in the dark. It should make things interesting for the first 40 minutes or so. Headlamps will be an essential piece of equipment -- you'll definitely need your hands."
While Maddess makes final adjustments for the event, Bishop is working with local groups to ensure that participation is not dominated by well-heeled expatriates based in Hong Kong.
"It is very important for us to get the community involved," Bishop said.
Action Asia Challenge has already established itself among the outdoor and sporting communities of Hong Kong and Thailand but has yet to make a real impression in Taiwan. Bishop said that of the core groups that compete regularly in the event, none are from Taiwan, but added he hoped that with greater local participation this would change.
"Adventure racing is one of the fastest growing areas of the sports market," Bishop said, adding that the ROC Tourism Bureau is the main sponsor for the event and has incorporated a regular booking for Action Asia Challenge as part of its bid to bring in more tourists. Judging from challenges over the last two years in Fuhsing township and Sun Moon Lake, local interest in adventure racing is growing, thought the event has yet to spawn locally organized challenges.
Action Asia Challenge is raced in teams of three, in four different categories: open men, open women, masters (combined age of three competitors over 120) and college (all participants are registered students). The cost of participation is NT$4,500 for local teams, which includes pre-race and post-race meals but not accommodation (college teams are half price). Participants will also be expected to provide their own equipment.
Pre-race preparations and dinner will take place at the Longmen Camping Park on Saturday Nov. 15 and the race will start pre-dawn on Nov. 16. The event will wrap up with a barbecue. Watch the Web site www.aachallenge.com or http://www.aachallenge.com for bulletins, or call Bayshore Pacific Group at (02) 2777 1725.
Comments will be moderated. Keep comments relevant to the article. Remarks containing abusive and obscene language, personal attacks of any kind or promotion will be removed and the user banned. Final decision will be at the discretion of the Taipei Times.