'Dogvill' divides and conquers
Even the most blinkered, Bible-beating Bushite would have to admit that Our Town, dramatist Thornton Wilder's 1938, Pulitzer prize-winning homage to bucolic, small-town America, has become all but unbearable. Even if taken at its most ironic, the play possesses such cloying sentimentality, faux simplicity and tortured naivety that it's become as embarrassing as an episode of Amos & Andy. Or Will & Grace. \nPart of the reason for the quasi-hysterical reaction to Lars von Trier's Dogville at Cannes earlier this year (a Variety critic was all but foaming with Ashcroftian umbrage, or auditioning for US talk radio), is its merciless reconstitution of such a venerable institution as Wilder's play. Or, to cite another example, Tom Sawyer, which makes several appearances throughout the film. Or the naming of Dogville's male lead Tom Edison (whose namesake once said that genius was 1 percent inspiration and 99 percent perspiration, and always expected the perspiration to come from someone else). Or the Capraesque qualities of its heroine, played by the incongruous Nicole Kidman. Or the perhaps minor, but telling, detail that Hummels -- the kitschy figurines that even the Germans can't take seriously -- are considered high art by the movie's Erskine Caldwellesque characters. A lot of Americans, we must reveal, collect Hummels. \nSo without even mentioning foreign policy, Von Trier has hit a lot of us where we live. And that place, in the Danish director's fertile mind, is a bubble of myth and provincial thinking. \nIt was too bad that, during his press conference in Cannes, Von Trier side-stepped questions about the film's unmistakably anti-US bent, declaring at one point that he himself feels "like an American". (Of course he does; if you ascribe to his view of US cultural imperialism, how could you avoid it?) There are plenty of Americans who appreciate Von Trier's point of view. And they might have appreciated hearing him back it up. \nVon Trier's film, Grace arrives from elsewhere and provokes suspicion (she is, after all, fleeing a carload of gangsters) but is eventually embraced -- and then exploited, abused, enslaved and betrayed. She, however, gets to exact her revenge. Which is the most outrageous turn in Von Trier's brilliantly twisted plot. \nIt is necessary to give away a bit of Dogville in order to get near its politic essence, which shouldn't affect its commercial prospects because, frankly, it doesn't seem to have any. At a current running time of three hours (or a reported two hours and 20 minutes in its soon-to-be-released European version), Dogville was a tough ride for even the most sympathetic viewer. For more mainstream American audiences, it'll be too obscure in its meaning to generate either interest or outrage. Von Trier, unfortunately, will be preaching to the choir. \nBut it will still be a discomfited choir: Von Trier explodes the complacent self-image of the US the way De Tocqueville once deflated its democracy, Upton Sinclair exposed the malevolence of its commerce and John Steinbeck exploded its illusion of community. \nThe Dogville townsfolk are basically a mob, kept on a leash by boredom, poverty, provincialism and children. Their worldview is nil (no news reaches Dogville, which may explain their antiquated diction). Their self-interest is not enlightened, and they may have been inspired by a line out of Mike Leigh's Topsy-Turvy: "The more I see of men, the more I admire dogs." \nThe men who were originally chasing Grace are gangsters, but they include her mob-chief father (James Caan, in a cute bit of casting). Given the power by him to destroy the town, Grace seizes it, has the population machine-gunned and the place burned to the ground. \nCall her a terrorist, because that's what she is. But that's not what she was -- she initially fled the terrorists, her own people as it were, seeking what she thought would be a better life, based on seeing the best in people. Those people, whose village should have provided a safe haven for someone like Grace, instead exploited and abused her. \nFor any American, seeing such nakedly hateful sentiments expressed by a filmmaker such as Von Trier should be as terrifying as a replay of those jets ploughing into the World Trade Center. It is equally terrifying to think that those sentiments will be dismissed, a la Variety, as "anti-American" in the sense that they are a fad, or a stage the rest of the world is passing through. Von Trier may be displaying a fascist instinct in Dogville, but he is not without a sense of history, be it political, religious or revolutionary. And history would seem to be on his side.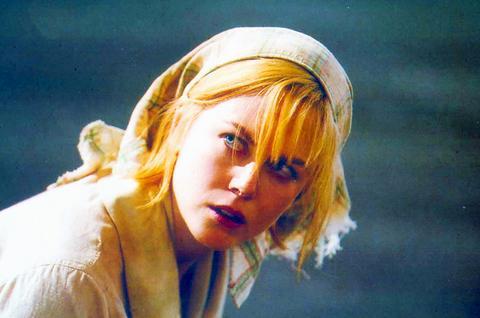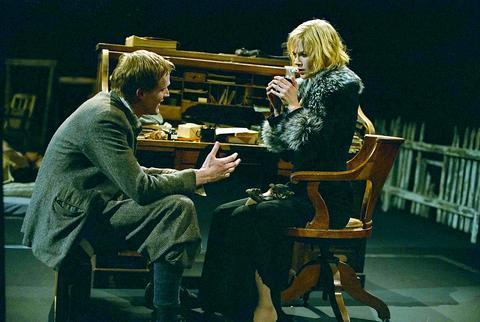 Lars Von Trier's Dogville has polarized those who have seen it.
PHOTO COURTESY OF CRYSTAL FILMS
Publication Notes
Film Notes:
Dogville
Directed by: Lars Von Trier
Starring: Nicole Kidman (Grace), Stellan Skarsgaard (Chuck), Lauren Bacall (Ma Ginger), Blair Brown (Mrs. Henson), James Caan, Patricia Clarkson (Vera), Siobhan Fallon (Martha), Chloe Sevigny (Liz Henson), Jimmy Uller (Chuck)
Running time: 117 minutes
Taiwan Release: today
Comments will be moderated. Keep comments relevant to the article. Remarks containing abusive and obscene language, personal attacks of any kind or promotion will be removed and the user banned. Final decision will be at the discretion of the Taipei Times.