A movie where even bad taste misses the mark
'American Wedding' is the sequel to two movies you probably never wanted to see anyway
"You know, I thought I'd outgrown this kind of behavior,'' Jim (Jason Biggs) says about halfway through American Wedding, at which point you're likely to feel the same way. The sequel to American Pie and even more pathetically the sequel to American Pie 2, Wedding struggles so hard to be tasteless that it's almost quaint. (Don't, however, presume such a remark to be a compliment; you'll see better film on ponds.)
The key word in that sentence, however, is "almost," which could also be appended to the noun "movie.'' In a summer of sequels that included follow-ups to Charlie's Angels, The Terminator and Legally Blond, Wedding is so reiterative that it suggests the kind of compulsive behavior that often requires psychiatric counseling. (What's next? Mayberry: CSI?) And this is keeping in mind that there were also a pair of Porky's sequels, the idiot cousins with which the Pie opuses have something in common.
In Wedding, Jim has proposed to Michelle (Alyson Hannigan). Their friends show up to support the happy event -- actually, Jim's friends Paul (Eddie Kaye Thomas) and Kevin (Thomas Ian Nicholas), since Michelle's friends were apparently able to slip out of whatever obligations might have forced them to return for this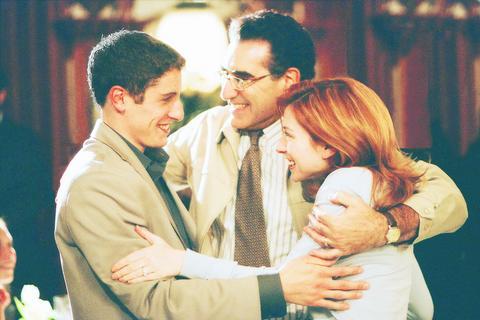 This summer has been the season for sequels and American Wedding is among the worst of them.
PHOTO COURTESY OF UNIVERSAL
picture.
Morale seems to be so low on the set that the cast might as well be clearing away shelf space at Blockbuster for the eventual spot of dishonor Wedding will assume.
Things have reached such a precipitous pitch that Stifler (Seann William Scott), the goat boy who annoys just about everyone, has been elevated to co-star visibility, a state that shows exactly what a turn this series has taken. Stifler pretends to be an intellectual yuppie in order to seduce Michelle's sister (January Jones), a young woman who happens to be named Cadence. The only funny thing about this is that her parents (Fred Willard and Deborah Rush) have the nerve to be snooty.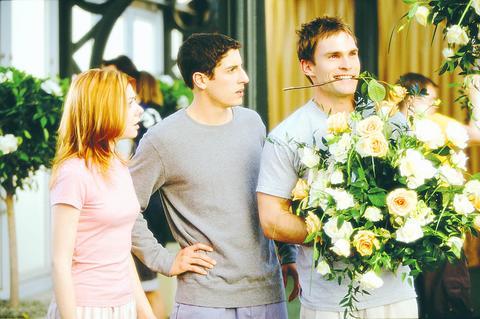 American Wedding is likely to get an early Blockbuster release.
PHOTOS COURTESY OF UNIVERSAL
The movie grinds slowly, inexorably toward the bawdy, bad-taste shenanigans that observe the decorum usually found only in the letters section of Penthouse Forum. The limp, boring jokes are relentless. The makers of Wedding have so effectively managed to make offensiveness seem tame that this could be subversion financed by the religious right.
Displaying the patience of Job is Eugene Levy, who returns as the wise but tightly wound character known as Jim's Dad, a move that was inspired casting in the first film and now seems to be taxing even Levy's professionalism. (This is the kind of thing he used to parody during his glory days on SCTV.)
With any luck American Wedding should finally finish off the series. And if any potential Project Greenlight contestants are watching, remember to remind that show's pit bull figure, Chris Moore, of his producer credit on this picture when he gives you a hard time.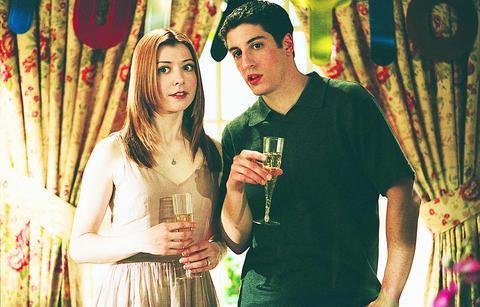 Publication Notes
Film Notes
American Wedding
Directed by: Jesse Dylan
Starring:Jason Biggs (Jim Levenstein), Alyson Hannigan (Michelle Flaherty), January Jones (Cadence Flaherty), Thomas Ian Nicholas (Kevin Myers), Seann William Scott (Steve Stifler), Eddie Kaye Thomas (Paul Finch), Fred Willard (Harold Flaherty), Deborah Rush (Mary Flaherty) and Eugene Levy (Jim's Dad)
Running time: 102 minutes
Taiwan Release: Today
Comments will be moderated. Keep comments relevant to the article. Remarks containing abusive and obscene language, personal attacks of any kind or promotion will be removed and the user banned. Final decision will be at the discretion of the Taipei Times.