The Vinyl World
Everyone turned up at LUXY's opening night party last week -- the usual first-night crowd, regular clubbers and some new faces. It was just a shame the drinks ran out. \nOver 3,700 people attended the bash and the idea of putting on a local act, Bliss Production's Citrus Party, instead of a headliner, proved to be a good one. \nThough it was not much different from the average 2nd Floor night out (the owners are the same) LUXY is a nicer place to be overall. The arrangement of rooms seemed to work pretty well, with people emigrating to the house section toward the end of the night, as the hip-hop area wound down relatively early around 4am. Which is about the time the bar ran dry. \nWe were reminded of the saying about being able to organize a piss up in a brewery as the first stage in competent management. A club, you would have thought, would be equipped to (eagerly) supply expensive beers to willing punters. \nWe removed a quote in this column last week from one of the investors in LUXY who said people would not be kept waiting longer than three minutes at the bar for a drink. Stories of people waiting for an hour for a drink were so numerous they could not have all been exaggeration. Some gave up and went round the corner to Sofa for a drink. \nTo be fair, it was a free bar before 11pm and the same investor, asked earlier this week about the fiasco, replied "heads will roll" and confirmed there had been a 10-hour meeting to find out what went wrong and how not to do it again. \nSo, maybe a lesson has been learned and let's see how LUXY manages the bigger acts that have been promised and a seven-day per week opening policy. \nLUXY's first night out was a success. Not everyone loved her but she is the biggest and loudest lady on the block and Taipei will benefit from having an international-class nightspot. \nThe other place to be last week was the British Council party hosted by Saloon, which was a well-attended affair with some good looking boys and girls flouting the latest Scottish fashions. The next night it was Scottish DJ Paul Cawley and VJs Damien Smith and Clyde Lawson, mixing it up at the Party Room. The evening's highlight was a buxom, strawberry blond-haired, six foot plus linebacker-type "dressed" in a kilt. [We are told by a reliable source the nipples were pistachio shells]. But the sparks were lacking as Taipei seemed to have a hangover from the parties the night before. \nThe UK can't be all that bad, however, if its taxpayers are willing to shell out a modest sum of cash to promote DJs and VJs, sending them over here for a couple of club dates. "I liked the way the British Council promotes art and culture together in a carnivalesque way," said Sylvie Lin, curator of the Museum of Contemporary Art in Taipei. \nTonight's best bet for a good time is big-name DJ Nick Warren at 2nd Floor, at 15 Heping W Rd, Sec 1 (台北市和平西路一段15號). The dance music pioneer from England will be showcasing his eclectic trance mix for Taipei's masses. \nThe hottest action this weekend though will be an imaginatively planned party in Penghu for the International Sailing Festival being organized by Gammon Creative. In addition to peripheral activities, such as sailing and kayaking, skating and skateboarding exhibitions, the evening's entertainment will be hosted by MTV and local DJs, including K Fancy and his crew, from 10pm until 12pm, tonight and tomorrow. \nAs of press time there were still some plane tickets available to Penghu and ferries from Pudai in Chiayi Country and Kaohsiung. Go to the YMCA activity center near Makung, for the sailing and parties. Why not be impulsive and enjoy a bit of boating with your nightlife? Contact http://taiwan49er.com or http://www.kingofwind.com for more information. \nIf you can't make it out this weekend don't despair. Double 10 Day next Friday means parties the night before. Going head-to-head for the biggest crowd will be LUXY and Texound. \nDJ Aphrodite will be importing his brand of "urban junglist" drum n' bass for the night in the main arena, while Big Beat Boutique in the second room will feature DJ Hyper, B.L.i.M, Matt Cantor, The Freestylers and VJ Tim Flemming, at LUXY, on Thursday, Oct. 9, at 5F, 201 Zhongxiao E Road, Sec 4, Taipei (台北市忠孝東路4段201號五樓), NT$900 in advance, more on the door. \nTexound, meanwhile, will be hosting Christian Smith and Sound of Tronic Treatment. Prepare yourself for techno house, leaning toward trance, from the three-turntablist and producer of 30 albums. Entrance NT$500 in advance or before 1am, NT$700 afterwards, at B1, 217 Nanjing E Road, Sec 3, Taipei (台北市南京東路三段217號B1), call (02) 2546 7708. \nFor input and feedback contact features@taipeitimes.com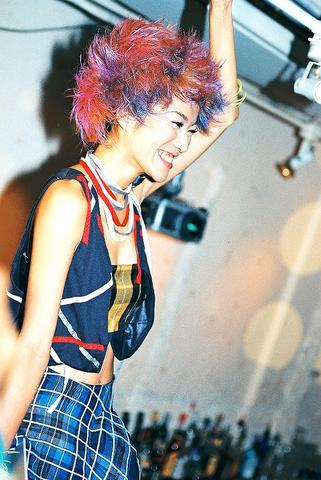 "come to mama." A model wearing tartan at the British Council bash at Saloon last week.
PHOTO COURTESY OF CHEN CHENG-MING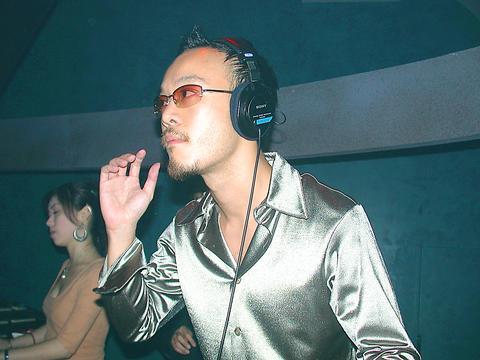 "I can't hear you," says DJ SL.
PHOTO: JULES QUARTLY, TAIPEI TIMES
Comments will be moderated. Keep comments relevant to the article. Remarks containing abusive and obscene language, personal attacks of any kind or promotion will be removed and the user banned. Final decision will be at the discretion of the Taipei Times.