Tech Review
A favorite display item among computer retailers is the most recent line of ultraportable laptop computers. The designs have gotten smaller and lighter, thanks in large part to Pentium's new M-series of chips, and have also gotten more powerful. These small machines don't pack the same punch as the more popular desktop replacement models. They often don't have internal CD or DVD drives and their displays top out at 12 inches. But for frequent travelers and anyone who wants a smaller portable computer, they've become excellent machines to own.
One of the reasons ultraportables are gaining in popularity has more to do with peoples' habits than with advances in technology or design. Fewer people are exchanging files on disk and are opting instead to fire off e-mails over high-speed Internet connections. As a result, manufacturers are leaving out many of the drives once found in laptops, thereby decreasing the size of the machines and attracting more buyers interested in owning a "commuter computer." Advances in networking technology, such as 802.11b and 802.11g, have helped make most every drive except the hard drive unnecessary in ultraportables.
That's not to say you can't watch a DVD on your plane ride. Many of the more popular ultraportable models still include a CD/DVD drive. And most every laptop that doesn't ship with one can still have one tethered to it. Sony's VAIO TR1A (around US$2,200) is one of the sleeker machines available in the ultraportable family of machines. It not only has a DVD/CD drive, it can burn disks in either format as well. It has a built-in digital camera and an extra-bright display, too, but despite these traditionally CPU-sapping features, it maintains a long battery life. All crammed into a of small, 1.2kg package.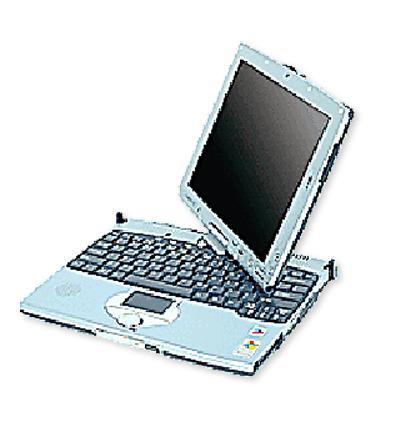 Acer TravelMate C110.
PHOTO COURTESY OF MANUFACTURER
A favorite of many hardware testers is IBM's ThinkPad X31 (around US$1,800). It packs a lot of features into a 1.2kg case and most notably includes Intel's new Pentium M, which can be configured as a Centrino machine. The Pentium M crams 77 million transistors on a miniscule 0.13 micron design. It drastically saves power and increases battery life by predicting your next task and shutting itself off between clock cycles. Take a Pentium M processor and add an 855 chipset and 802.11b wireless set-up and you have what Intel calls Centrino. But if the machine you're interested in doesn't have a Centrino sticker on it, don't pass it over. It simply means that, while it may have a Pentium M processor and 855 chipset, a different wireless setup has been installed. It's likely just as fast and efficient as the much-touted Centrino. The ThinkPad X31, for example, has a battery life of 4.5 hours. The ThinkPad T40, also with a Pentium M processor, runs for a whopping seven hours between charges.
One of the more diminutive designs in ultraportables is found in Fujitsu's new LifeBook P5000 series. It packs many of the features found in desktop replacement models into something almost as small as a sub-compact notebook. It does it by changing the traditional aspect ratio of the display into a longer, cinema-type ratio, which is nice considering you can order it with a DVD/CD-RW drive -- perfect for watching your own in-flight movie. Like the ThinkPad, it includes a Pentium M processor and 855 chipset and, despite a modest processor clock speed, maintains decent overall performance. While not as sexy as Sony's VAIO, it's an excellent commuter computer.
Smaller still is a line of ultraportables with swinging displays. Open the lid, flip it around and close it again and you have a tablet PC. Two popular models in this range include Toshiba's Portege 3505 (around US$2,100) and Taiwan's own Acer TravelMate C100 series (around US$2,000). Both brands have strong processor speeds and hefty hard drives. The Portege is rather bulky for its class at 1.8kg, but has an otherwise impressive design. The Acer series also has a nice design, and ships with an excellent assortment of software. It also includes and external DVD/CD-RW drive that the Toshiba doesn't.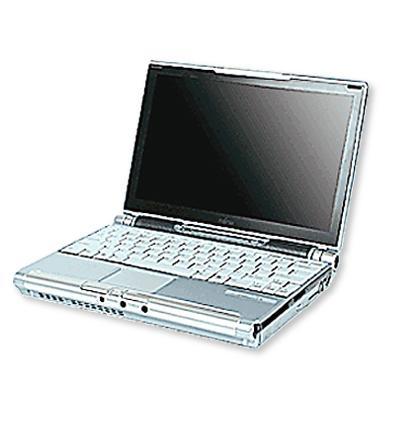 Fujitsu Lifebook P500.
PHOTO COURTESY OF MANUFACTURER
One major shortcoming to convertible ultraportables, however, is a short warranty, usually around one year. All that flipping wears on the hinge.
Because they are for frequent flyers, one of the major issues potential buyers of these machines have is their battery life. A laptop's battery constitutes a considerable portion of its weight. Make the battery bigger (thereby allowing you more time between outlets) and the laptop gets heavier; make it smaller and lighter and the machine ceases to be a commuter computer.
Because of this, buying a second battery (which can cost between US$100 and US$300) is usually advised. Of course, then your 1.2kg computer becomes a 1.5kg computer. Another thing you'll want to consider is whether the notebook comes with a docking station. If it does, your time spent plugging in the computer power cord, Ethernet, Web cam, external speakers, et al will be greatly reduced -- as will the clutter on your desk. A docking station can also connect you to a larger screen, keyboard and mouse, making your commuter computer a powerhouse at home, too.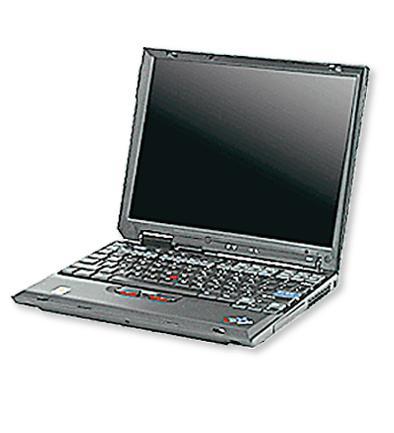 IBM Thinkpad X31.
PHOTO COURTESY OF MANUFACTURER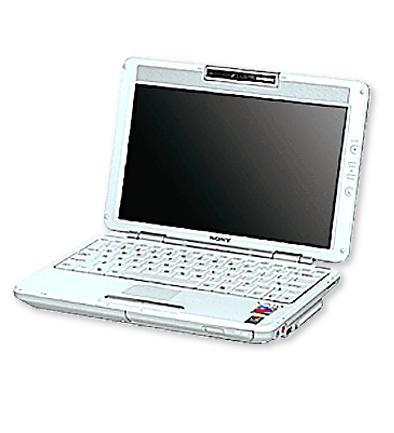 Sony VAIO PCG-TRA.
PHOTO COURTESY OF MANUFACTURER
Comments will be moderated. Keep comments relevant to the article. Remarks containing abusive and obscene language, personal attacks of any kind or promotion will be removed and the user banned. Final decision will be at the discretion of the Taipei Times.