Bringing down the UK curtain
The final performances of the CKS Cultural Center's British Theater World View Series will take place this weekend when the London-based Station House Opera brings its Roadmetal, Sweetbread to the stage of Taipei's Experimental Theater. \nFounded in 1980, the troupe, whose members have backgrounds in visual and performance art as opposed to standard theater, has built a name for itself on both the UK and international theater scenes because of its unique physical and visual styles. \nWritten four years ago, Roadmetal, Sweetbread is a conversation-less piece that explores past, present, imaginary and real worlds. And, like the title of the play, which can also mean tarmacadam and offal, it is a show with two sides -- one that looks at both the good/nice and bad/unpleasant aspects of a relationship. \nAlong with being dialogue-less Roadmetal, Sweetbread also differs radically from standard theater because of its use of video. Used in conjunction with live performance it enables the audience to be confronted with two alternative and contrasting takes on events. \nThe play explores the comedic and at times grim relationship between two people and the environment in which they find themselves. The plot is a stratagem full of twists and turns, as a man and a woman compete with their own life-sized video images in a game that includes bouts of passion, intrigue and violence. \nWhile on the surface a script-less play that employs video may appear rather confusing, according to Station House Opera's Julian Maynard Smith, the combination of the two adds a greater depth and clarity to the performance. \n"There's no [dialogue] in the show, but because audiences are busy with two versions of events language is less relevant," he said. "Audiences don't know whether the video or live performance is real or imaginary. It's like you're inside the brain and looking at two imaginations. With two things to look at the audience gets a double view on events" \nRoadmetal, Sweetbread by the Station House Opera will play tonight and tomorrow at 7:30pm and tomorrow and Sunday at 2pm at the CKS Cultural Center's Experimental Theater. Tickets cost NT$500 and are available direct from the CKS Cultural Center or via Acer ticketing outlets nationwide. \nIn addition to the show, members of the Station House Opera will be holding a special Multimedia Workshop on Sunday, Oct 5 from between 9:30am to 12pm. Tickets for the workshop costs NT$800 to NT$1,200, are available from the CKS Cultural Center.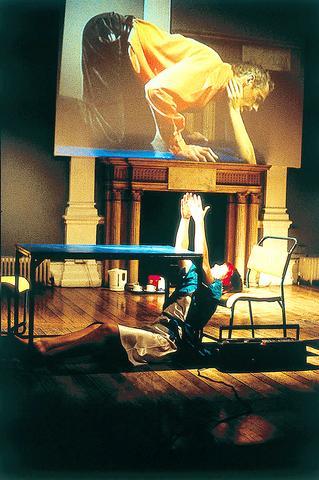 A scene from Roadmetal, Sweetbread at Taipei's Experimental Theater.
PHOTO COURTESY OF THE 252CKS CULTURAL CENTER
Comments will be moderated. Keep comments relevant to the article. Remarks containing abusive and obscene language, personal attacks of any kind or promotion will be removed and the user banned. Final decision will be at the discretion of the Taipei Times.