Banging a drum for Taiwan arts
Does Taiwan need yet another arts festival? Well, the Bureau of Cultural Affairs seems to think so and this weekend will celebrate the official opening of the National Center of Traditional Arts with the inauguration of a new annual event -- the Asia-Pacific Traditional Arts Festival, which will take place in Ilan this weekend. \nThe event, which will focus on traditional wind and percussion music, brings together 10 local groups and five from overseas. The visitors, who are obviously the highlight of the event, include Abbos from Uzbekistan, the Iranian Folk Music Ensemble, Musafir from India, musicians from the Dharma Chakra Center in Tibet, the Chun Woong Korean Traditional Music Ensemble, and the Thai Classical Music Group of Srinakarinwirot University. \nThe new festival is part of a larger Bureau of Cultural Affairs push to put Taiwan on the map in the arts world. It has received considerable impetus from culture having been made a major area in the Challenge 2008 National Development Program, which has made unprecedented funding available for cultural projects. \nTchen Yu-chiou (陳郁秀), the Bureau of Cultural Affairs chairwoman said at a press conference yesterday to announce the addition of the Asia-Pacific festival to Taiwan's cultural calendar, said that Taiwan had made significant progress in developing its "creative industry" -- a term, borrowed from the UK, that is now ubiquitous in describing the cultural bureau's mission. \nIt is rather disappointing, in the light of the laudable ambitions espoused by the Cultural Bureau, that the current event to be held in Ilan shows virtually no signs of innovation, doing little more than providing a forum for some rather arbitrarily selected shows and yet another opportunity to hawk local craft products. \nWithout diminishing the quality of the performances that visitors can expect to see -- and the visiting groups provide considerable interest for anyone who enjoys world music -- it is all rather disappointing. There will be seminars focusing on music, but with titles like "Double Reed Instruments of Thailand" and "The Concept of Dastgah in Persian Music," they will primarily be of interest to academics and professional musicians. Then there are the inevitable DIY craft workshops with classes in cloth dying, pottery, glasswork and calligraphy. \nWhile it is all good and well that Ilan should promote itself as a fine place for domestic tourism ? the International Folk Lore and Folk Game Festival was successful -- the mish-mash of events seems to make the whole thing lose whatever cohesion it might have had. \nDespite all this carping, devotees of world music could definitely find it worthwhile to visit Ilan and hear the sounds of the five foreign groups, that showcase musical styles, which, even among the plethora of musical styles that assault our ears daily, are, to say the least unusual. Abbos, a group from Uzbekistan, does wonderful things with huge horns that are likely to blow the audience away with their power. This is mixed in with the rapid maneuverings of the Surnay, a high-pitched central Asian flute. \nIn addition, to the big men and their big horns, there are also steppe-land beauties to provide visual appeal. While the Thai Classical Music Group is a little more sedate, they too provide new sound sensations, as do Musafir, which showcases the vibrant music of Rajasthan in northern India. Among the locals, there are distinguished musicians such as Chiu Huo-long (邱火榮), a practitioner of the bei-guan style of music, who received a National Folk Art Heritage Award in 1989 for his contribution to one of Taiwan's most import forms of traditional music. \nAt the other end of the spectrum there is the Ho-Hak Band (好客樂隊), which was put together by former members of Labor Exchange, easily one of Taiwan's most influential folk-rock groups. \nThe Asia-Pacific Traditional Arts Festival will take place in the grounds of the National Center for Traditional Art at 201 Wupin Rd, Sec 2, Jishin village, Wujie Township, Ilan. More information about the event can be found at the NCTA Web site at www.ncfta.gov.tw and at www.iov.org.tw. The event opens tomorrow and runs until next Sunday.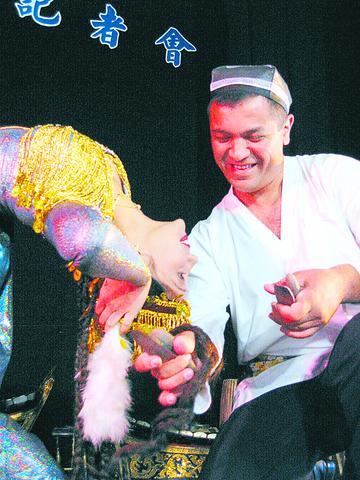 Abbos, a brass and percussion ensemble from Uzbekistan is visiting Taiwan for the Asia-Pacific Traditional Arts Festival.
PHOTO: IAN BARTHOLOMEW, TAIPEI TIMES
Comments will be moderated. Keep comments relevant to the article. Remarks containing abusive and obscene language, personal attacks of any kind or promotion will be removed and the user banned. Final decision will be at the discretion of the Taipei Times.