China counts down to liftoff
The People's Republic of China is seeking to become just the third country to put a man in space
Chinese legend holds that a Ming \ndynasty (1368 to 1644) man named Wan Hu (萬戶) aimed for the stars by holding kites in each hand and strapping himself to a chair as 47 servants lit 47 gunpowder-packed bamboo tubes tied to his seat. \nA roar followed. After the smoke dissipated, the chair was gone, along with Wan Hu. It was unclear if what was purported to be the world's first manned rocket ever made it to the skies. \nToday, China is counting down the days to its first manned space launch and hoping to avoid the same fate as Wan Hu, thanks to advanced space technology. \nChina, long mired in poverty but growing fast after more than two decades of market reforms, is eager for the prestige that would come with being just the third country capable of putting people into space. \n"With the launch of the Shenzhou spacecraft, China lifts its technological image into the heavens, bypassing the rest of the advanced-engineering nations," said Anthony Curtis, editor of Space Today Online. \nYu Maochun of the US Naval Academy said, "The manned space program is an essential part of the Communist Party's near fanatical quest for international respect and dignity, which [in] itself is a normal phenomenon among many rising powers in \nhistory." \nFailure looms large \nA successful launch, on the heels of Beijing's winning bid to host the 2008 Olympics, could fuel nationalism and boost the Communist Party's credibility as China seeks a place on the world stage alongside the great powers. \nA failure would be a loss of face and would raise questions about the necessity of a space program in a country where 140 million people live in abject poverty, or on less than US$1 a day. \n"For China, as with all perilous endeavors, the chance of a deadly public failure looms large. By linking national pride and CCP [Chinese Communist Party] credibility, Beijing is jeopardizing both," Joshua Eisenman, a fellow at the New American Foundation, a public policy think tank in Washington, wrote in Singapore's Straits Times. \nChina has cloaked its space program in secrecy, ostensibly to avoid embarrassment in the event of failure. \nStung by a string of failed satellite launches in the 1980s and 1990s, China has kept recent lift-offs quiet, announcing them only after success was confirmed. \nThe date of the launch of the next Shenzhou -- meaning "Divine Ship" -- is a state secret but is expected around the Oct. 1 National Day holidays. Repeated requests to interview space officials have been rejected. \nChina's first astronauts -- dubbed taikonauts from taikong (太空), the Chinese word for space -- are faceless. China has yet to tell the world who they are, other than that they were plucked from the ranks of top fighter pilots in the airforce. \nMilitary applications \nThere are no public details on the launch's budget, though it is believed to be a fraction of US manned space flight costs and is covered under rapidly expanding military outlays. \nThe launch by China is going ahead despite the loss of the US space shuttle Columbia, which disintegrated in February while re-entering the atmosphere. Seven astronauts died. \nExperts said China's space program had no big technology breakthroughs but would incrementally improve existing space technologies such as computers, materials, electronics, rockets, guidance and life support. \nIt comes as no surprise that China's space program may have military applications. \n"As the Soviet Union used its Soyuz capsules and Salyut space stations in the 1970s and 1980s to spy from space and carry out other forms of military research, so will the Chinese," said Curtis of Space Today Online. \nYu of the US Naval Academy said: "This project may boost China's R&D on strategic missile programs, but the cost will be enormous for China." \nChina has hinted at more starry-eyed space plans. State media have reported on designs for a lunar probe that would be a step towards sending Chinese to the moon. \nOne giant misstep for China? \nHard economic realities may temper those dreams. \nChina is running a record 320 billion yuan (US$39 billion) deficit this year. While the economy is flourishing, the health of the financial system is precarious and any sharp downturn could quickly squelch loftier ambitions for space. \nSome analysts were critical of the \nplanned moon landing. \n"A wasteful program such as the planned moon landing conducted by a developing country is just a small step for mankind and a giant misstep for China," Yu said in a wry twist on Neil Armstrong's famous quote. \nHuman boots have not trod on the moon since the US Apollo program ended with the Apollo XVII mission in 1972. \nThe Soviet Union was the first to put a man in space when Yuri Gagarin reached orbit in 1961. Weeks later, Alan Shepard became the first American in space, although an American didn't orbit Earth until John Glenn did so the following year. \nExperts said China may be joining the exclusive space club four decades late, but its entry could trigger a space race in Northeast Asia with Japan and even South Korea. \n"The launch of Chinese astronauts will capture the attention of everyone, especially opinion leaders," Curtis said. "That could breathe new life into the US space program as Americans realize that competition has returned after disappearing for a time since the fall of the Soviet Union."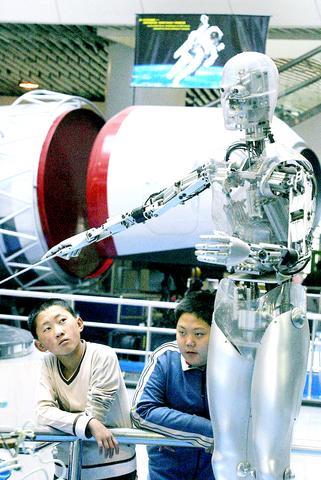 Chinese children look at a robot conductor and try out a device that simulates weightlessness.
PHOTO: AP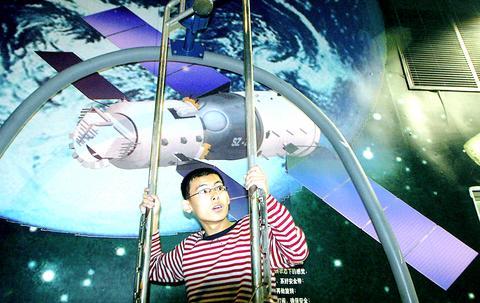 At the science museum in Beijing.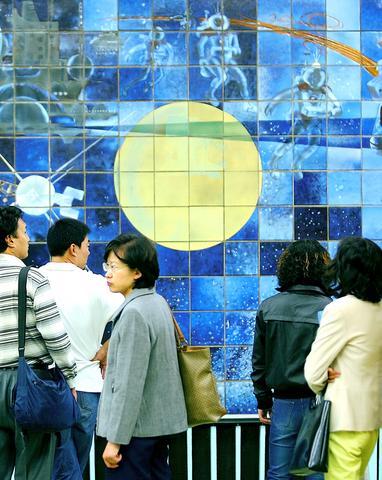 Members of the public stand in front of a mural depicting astronauts flying around the moon at a subway station in Beijing.
Comments will be moderated. Keep comments relevant to the article. Remarks containing abusive and obscene language, personal attacks of any kind or promotion will be removed and the user banned. Final decision will be at the discretion of the Taipei Times.