Traditional arts award winners announced
Fourteen artists were recognized for their achievements intraditional Chinese arts
The winners of the prestigious annual Global Chinese Culture and Arts Award (全球中華文化藝術薪傳獎), now in its 10th year, were announced yesterday in Taipei. Fourteen winners, in nine categories, won rainbow-colored circle trophies, symbolizing the passing down from one generation to the next of the traditional arts and crafts. \nThe winners this year were poets Chuang Bo-lin (莊柏林) and Chian Ming-chiang (錢明鏘) for the Literature Prize; tai chi master Chu Hung-bin (鞠鴻賓) for the Martial Arts Prize; Lien Sheng-yan (連勝彥) and Yeh Wei-han (葉維漢) for the Calligraphy Prize; Chen Shi-fa (陳十髮) for the Fine Arts Prize; temple painter Pan Yuei-hsiung (潘岳雄), ink block maker Chen Chia-de (陳嘉得) and Koji master Gao Chi-ming (高枝明) for the Folk Crafts Prize; Chinese opera singer Liu Huei-fen (劉慧芬) for the Traditional Theater Prize; Ho Guo-chao (何國昭) for the Traditional Kong-fu Prize; Nan Guan player Huang Cheng-tiao (黃承祧) for the Folk Music Prize; and former chairman of the Council of Cultural Affairs Chen Chi-lu (陳奇祿) and centenarian painter Wu Mei-ling (吳梅嶺) for the Life Contribution Prize. \nThe formal award ceremony is scheduled for Oct. 11 at Taipei's Sun Yat-sen Memorial Hall. At the ceremony, many of the 128 former winners will also gather to mark the award's 10 year history. \nThe phrase "hsin chuan" (薪傳) in the award's Chinese name, means "passing down to the next generation," as Lien Ting-guei (連丁貴), general convener of this year's award, explained. \n"This is a culture and arts award, but more importantly, this is a `hsin chuan' award. We do not want to create cultural superstars out of the award but to recognize people who have worked for a long time in their respective fields to pass down their skills to the next generation," Lien said. \nAll candidates for the award must be over 40 years old and be currently working in a field of traditional arts and crafts. As it's a global award, ethnic Chinese artists working outside Taiwan may participate. Two of the winners are overseas Chinese. \nThe award works on a recommendation basis. Both government agencies and private institutions were encouraged to submit their recommendations from March to July, a period longer than in previous years because of the SARS outbreak earlier this year. \nThe organizer, Senior Jaycees Club, Republic of China, was relieved to see the award otherwise unaffected by the outbreak. \n"As a civil organization, we're glad to let people know through hosting the award, that there are more good things from Taiwan than lotteries," Lien said. \nTemple painter Pan Yuei-hsiung, like most other winners, had a humble attitude toward his winning the Folk Crafts Prize. "My father and grandfather told me we do not paint for fame or money, but for the glory of gods and the good of mankind," Pan said. \nPan's father is a former prize winner.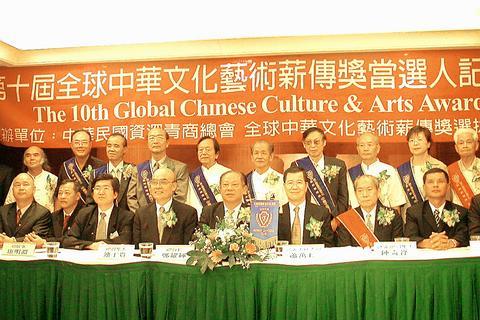 Winners and organizers of the Global Chinese Culture and Arts Award pose for cameras yesterday in Taipei.
PHOTO: VICO LEE, TAIPEI TIMES:
Comments will be moderated. Keep comments relevant to the article. Remarks containing abusive and obscene language, personal attacks of any kind or promotion will be removed and the user banned. Final decision will be at the discretion of the Taipei Times.