Retired laborer builds his castle in the clouds
Ivan Plotnikov has always wanted to own a medieval fortress, and now, though retired and getting a pension barely sufficient for utilities, he is trying
Retired builder Ivan Plotnikov always regretted he wasn't born Richard the Lionheart. \nAt age 4, he promised himself and his parents that he, like England's warrior king, would have his own castle someday. At age 7, he drew out a plan. And at age 19, he robbed a bank in a failed effort to get the money to pay for its construction. \nYet, 35 years later, a half-finished gray stone bastion stands amid rickety little weekend cottages on the bank of a mountain river in the picturesque Aksay Gorge outside Kazakhstan's biggest city, Almaty. \nFifteen meters tall and about 10m wide, it looks like a small medieval castle from afar. Only the freshly laid rocks at the top give away its true age. \n"Are you tourists, journalists or theater lovers?" the heavily bearded Plotnikov calls out to visitors crossing a small footbridge spanning the river. \nHe's got a card certifying that he's an invalid, and another that proves his proud membership in the Communist Party. He got the latter only recently -- in Soviet times, when the party accepted only the cream of the crop, a convicted bank robber who did time in a psychiatric ward couldn't make the grade. \n"I will keep building this fortress until I die, like Lenin and Stalin built communism," Plotnikov tells his visitors. \nSmall beginnings \nHe began building the castle in 1983, earning a living at construction sites during the week and spending weekends in the gorge. Since going on a disability pension five years ago, he has devoted most of his time to raising the bastion. \nHe must wait out the harsh winter at his two-room apartment in Almaty, where utility bills eat up 5,000 tenge (US$33) of his 5,900-tenge (US$39) monthly pension. But when the cold begins to ebb, he camps out at the castle, which is outfitted with a cot, a small heater and a fireplace. He draws water from the river and takes a weekly hike to the closest village, 5km away, to buy tea, bread and the few other staples he can afford. \n"The apartment eats up all my money; there's nothing left for cement," Plotnikov laments. "So I hire myself out to cottage-owners, helping dig potatoes. Sometimes they give me money, but more often they give me food or cement." \nPlotnikov wrestles rocks weighing up to 50kg up from the river for the walls. He figures that over the 20 years he's carried about 800 tonnes up the bank. \nHe doesn't know just how the idea of building a castle came to him. He only remembers that from early childhood, he would close his eyes and see a stone bastion with little windows, arches and a flag -- a red flag. He says family legend has it that his grandmother and grandfather were Russian nobles. \n"I was born in China in 1949," Plotnikov says. "My mother told me that she and her parents fled Russia on the eve of the revolution." \nChildhood dreams \nWhen Plotnikov was 4, his family returned to Russia. They lived for a time in the Siberian city of Omsk, then moved south to Almaty, in the then-Soviet republic of Kazakhstan. \n"I was already getting on my parents' nerves with my knights, fortresses and chain-mail shirts," Plotnikov recalls. \nIn school, when he was 7, he got a top grade for a mock-up of a castle. In a later class, he drafted a construction plan. He still carries the yellowed drawing in his chest pocket. \n"My parents refused to finance my project. That's when I decided to rob the savings bank," he says. \n"On Aug. 13, 1963, I forced my way into an Almaty branch with a sawed-off shotgun. I pointed the gun at the cashier. She gave me five rubles. That's all she had, because the bank had just opened." \nHe was caught immediately. The investigators were unmoved by the story of his dream of building a castle. They took it as the ravings of a lunatic and he was sentenced to two years in a psychiatric hospital. \n"Those were awful times. To this day I don't know what they cured me of. Maybe I really am sick," Plotnikov says. \nHe made his first stab at building a castle near Almaty, but there were too few rocks there and he had to drag them from far away. Then some friends showed him the site in the Aksay Gorge. \nAfter two decades, he's built about half the bastion of his dreams. According to his plan, it should have two towers with a round arch in the middle. \n"I won't have time to finish it before I die, but I hope someone will continue my work," Plotnikov says. "Maybe once it's finished, someone can open a restaurant here. \n"There's a saying that a man should achieve three things before he dies: build a house, plant a tree and have a son. I don't have children, but I'm leaving a fortress. And maybe someone will remember Ivan."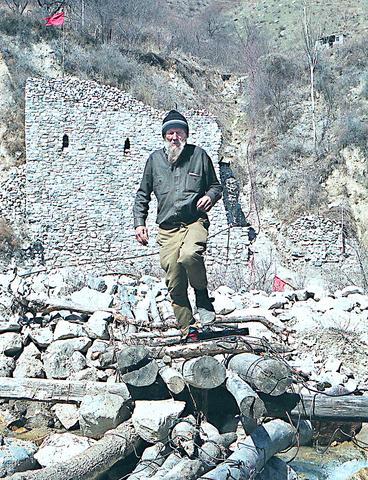 Ivan Plotnikov crosses a river in front of a half-finished gray stone fortress.
PHOTO: AP
Comments will be moderated. Keep comments relevant to the article. Remarks containing abusive and obscene language, personal attacks of any kind or promotion will be removed and the user banned. Final decision will be at the discretion of the Taipei Times.