Celebrating an unbroken record of achievement in dance
As part of its 30th anniversary celebrations, Cloud Gate will be hitting the road next week and presenting a series of special performances
Formed in 1973 by choreographer Lin Hwai-min (林懷民), Taiwan's premier modern dance troupe, Cloud Gate (雲門舞集), will be celebrating its 30th anniversary over the coming weeks with a special series of performances.
Entitled Cloud Gate at 30 (雲門三十週年), the celebratory season will see the group taking to the stages of Taipei's National Theatre (國家戲劇院), Kaohsiung's Chih-teh Hall (至德堂) and Taichung's Chungshan Hall (中山堂).
Named after a legendary dance that, according to scholars is the oldest known dance in China -- some 5,000 years old -- Cloud Gate was the first contemporary dance company to be established in Greater China. Establishing the troupe at a time when male modern dancers were unheard of in Taiwan, Lin's dance group initially shocked traditionalists.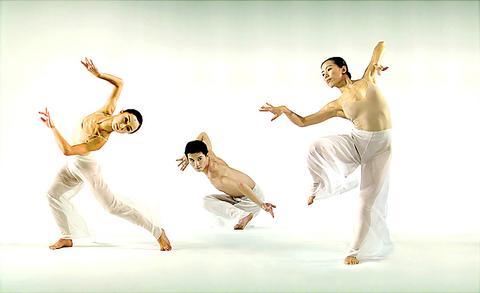 Cursive II, a work created to celebrate Cloud Gate's 30th anniversary.
PHOTOS COURTESY OF LIU CHEN-HSIANG
Since then the 24-member dance troupe's shock value has disappeared and now Lin and his group receive both rave reviews and admiration when and wherever they perform.
Its groundbreaking dance styles, which see performers using tai chi, Chinese Opera, modern dance and ballet to create works that blend myths and folklore with religious aesthetics, have made it one of the world's most notable contemporary dance troupes.
It is at home in Taiwan, however, that Cloud Gate enjoys its largest following. Regardless of where it performs, be it prestigious venues, high-school auditoriums in remote villages or outdoor plazas -- at which the troupe performs free of charge several times a year -- Cloud Gate programs are guaranteed sell outs.
While residents of Taiwan's cities will have to wait until next week to catch Lin and his celebrated dance troupe in action, Cloud Gate's 30th anniversary performances have already played to packed-houses in Puli, Touli and Meinung. Each of these rural shows, which were free and staged outdoors, attracted crowds of upwards of 20,000.
The troupe will be kicking off their big city indoor leg of their birthday tour in Taipei on Thursday with a six-day run of performances of one its most prominent and groundbreaking productions, Legacy.
First staged on Dec. 16, 1978 -- the day the US severed diplomatic ties with Taipei in favor of Beijing -- Legacy raises questions about Taiwan's identity. Twenty-five years since its debut on the stage of Chiayi Gymnasium, the show is still considered by many as the watershed production that shaped the nation's contemporary dance scene.
For the special anniversary performances of Legacy, Cloud Gate will be joined on stage by its equally celebrated youth group, Cloud Gate II (雲門舞集2), which was formed in 1999 with the aim of nurturing young choreographers, as well as Taiwan's leading percussion ensemble, Ju Percussion (朱宗慶打擊樂團).
On Aug. 30, Cloud Gate will be bringing its newest production to the stage. Although based on the same calligraphic theme as last year's production, Cursive, the troupe's second show in its anniversary series, Cursive II (薪傳II), is, according to the troupe, "drastically different from its forerunner."
Whereas the original work explored the aesthetics of calligraphy through vigorous motions that portrayed the blackness of the calligrapher's ink, Cursive II sets out to bring a subtle hint of color to the age-old Chinese art form with more refined movements.
In what has been described as "a work of delicate lyricism" the troupe's latest production celebrates and explores the emptiness and lighter hues of calligraphy over a backdrop of music by progressive classical music guru, John Cage.
Cloud Gate will be performing Legacy -- Revival at the National Theater from Aug. 21 through Aug. 26. Performances begin at 7:45pm except those on Aug. 24, when an afternoon matinee begins at 4pm. The Aug. 21 premier of Legacy -- Revival will be simultaneously broadcast on a large screen in the plaza of the CKS Cultural Center.
From Aug. 30 through Sept. 6, Cloud Gate will perform Cursive II at the National Theater. The troupe will be performing Cursive II at the Chih-teh Hall in Kaohsiung on Sept. 12 and 13 and then at Taichung's Chungshan Hall on Sept. 19 and 20.
Tickets cost between NT$400 and NT$2,000 and are available form ACER Ticketing Outlets nationwide or direct from the CKS Cultural Center. Several of the performances have already sold out. In order to avoid disappointment, organizers' advise those wishing to attend Cloud Gate 30th anniversary shows to purchase tickets in advance.
Comments will be moderated. Keep comments relevant to the article. Remarks containing abusive and obscene language, personal attacks of any kind or promotion will be removed and the user banned. Final decision will be at the discretion of the Taipei Times.