Taking two points of view on the Gettysburg war
One book is slight but sweeping and useful, the other is dense but bordering on overkill
Sir Edward Creasy, the British historian, published a famous book in 1851 titled Fifteen Decisive Battles of the World. Some years later he issued a new edition and added a 16th battle: Gettysburg.
We mark the 140th anniversary of that most decisive moment in America's most important war, the moment when the possibility of Southern victory reached high tide and began to recede. Coinciding with the anniversary comes a regiment of new anatomies of the fight.
Not that we've been lacking. The Civil War continues to fascinate Americans. We've gotten to the point where every significant battle seems to have its 400-page tome, but the three-day battle of Gettysburg is in a league all its own. There are fat books devoted not only to the battle as a whole but to each of the three days -- see Harry W. Pfanz's Gettysburg: The First Day (2001) and Gettysburg: The Second Day (1987) and Jeffry Wert's Gettysburg: Day Three (2001). The last two years have also brought Noah Andre Trudeau's Gettysburg: A Testing of Courage (2002) and Craig Symonds' American Heritage History of the Battle of Gettysburg (2001). Doubtless this list is not complete.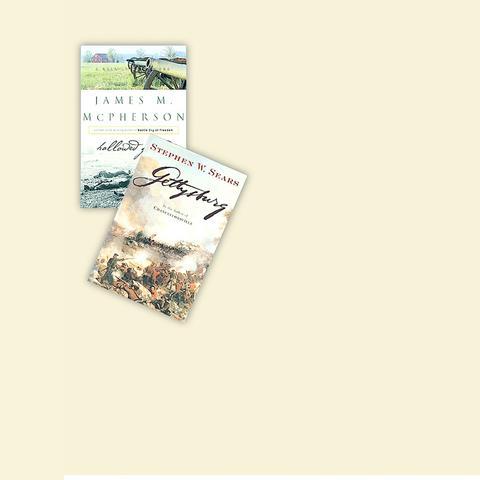 Hallowed ground By James McPherson Crown Journeys Hardcover 144 pages Crown Publishing Gettysburg By Stephen Sears Houghton Mifflin Hardcover 623 pages
Here are two new ones that can be recommended for readers who may know more about Abraham Lincoln's address that followed the battle than about the battle itself. Call James McPherson's 141-page Hallowed Ground "Gettysburg Lite" and Stephen Sears' 623-page epic "Gettysburg Phat."
That distinction is not intended to denigrate the former. McPherson, who teaches at Princeton University and is widely regarded as the most distinguished living historian of the Civil War, has produced an elegant hybrid of a book.
Hallowed Ground is a contribution to Crown Journeys, a new series in which noted writers tour a place they know and love (forthcoming contributions include Kinky Friedman on Austin and Ishmael Reed on Oakland, California). McPherson has conducted more than two dozen tours of the Gettysburg battlefield over the past 20 years and knows the landscape well. His book is part guidebook -- take this road, take that road, climb this hill, that sort of thing. But the direction-giving is imbedded unobtrusively in a gracefully rendered, succinct narrative that mixes human detail with the larger political and military context of the battle. The result is a book you can read in a day, preferably before visiting the battlefield, then take along for reference.
Sears' book is much more detailed, almost an hour-by-hour account of the battle, which commenced on July 1, 1863. It is not a work to be picked up casually. You get thumbnail profiles of every important commander. You get accounts of every skirmish that occurred over three days across a battlefield that stretches for miles, accounts that go on for pages. Gettysburg is a long march.
But Sears is a fluent writer who flogs his narrative into a brisk, steady trot. His renderings of unit movements during the ebb and flow of battle -- often the hardest thing to follow in books of this sort -- are generally clear. The maps help. Both books have them, and they bear close study.
Both books capture the drama of the famous moments: the defense of Little Round Top on day two, by Union troops under Bowdoin College professor turned soldier Joshua Lawrence Chamberlain, Virginian George Pickett's doomed charge that signaled the final Confederate defeat on day three.
But for most readers, I suspect, the real fascination lies in the personalities, strengths and weaknesses of the key generals. On the Confederate side that would be Robert E. Lee and such top commanders as James Longstreet and Richard Ewell. For the Union, George Meade, the testy, colorless, "goggle-eyed old snapping turtle" who took over command of an army riven with officer dissension, and such supporting actors as the flamboyant Major General Daniel Sickles, who as a prewar Tammany Hall congressman shot his wife's lover dead and got a jury to acquit him. And it wasn't even a Texas jury.
McPherson and Sears vindicate Longstreet's judgment. The former writes: "A master of defensive tactics, Longstreet recognized the strength of the Union position. Some Southern officers considered Longstreet ponderous, stubborn, and phlegmatic. But in reality he was reflective and sagacious. He recognized better than some of his colleagues that courage and dash could not overcome determined defenders armed with rifled muskets."
Both authors also defend Meade against critics then and now who have faulted him for not following up his victory with an immediate counterthrust against Lee's wounded army.
But the Army of the Potomac had also suffered huge casualties -- 23,000. Moreover, as Sears notes, Meade was a cautious man. He would engage Lee's forces only if convinced the odds were clearly in his favor, and he didn't see such a situation presenting itself.
Traditionally, the battle of Gettysburg has been viewed as the turning point of the Civil War. Neither of these books takes issue with that assessment. Read McPherson's book first, and then, if you remain curious, turn to Sears'. Both deserve a permanent place in the large and ever-growing library devoted to our great national tragedy.
Comments will be moderated. Keep comments relevant to the article. Remarks containing abusive and obscene language, personal attacks of any kind or promotion will be removed and the user banned. Final decision will be at the discretion of the Taipei Times.