A journey of discovery
The Overseas Youth Chinese Language Training Program offers an invaluable opportunity for young Chinese brought up overseas to become acquainted with their heritage
I am here because I should be able to continue my cultural heritage," said Huang You-gong (黃友恭), a student in National Taiwan Normal University's (NTNU) Overseas Youth Chinese Language Training Program (師大 海外青少年華語研習班), which is currently midway through its summer term.
The 67 students attending this rotation of the program are in Taiwan largely because they or their parents think it is necessary that they have some acquaintance with their mother tongue and Chinese culture.
Hidden away behind the higher-profile Mandarin Training Center (MTC), the Extension Division for Interservice and Continuing Education, has for the last three years, operated the Overseas Youth Chinese Language Training Program at the behest of the Mainland Affairs Council (MAC). The program has a broad mandate to introduce overseas Chinese, who feel they have lost touch with the wellspring of their culture, back into the fold.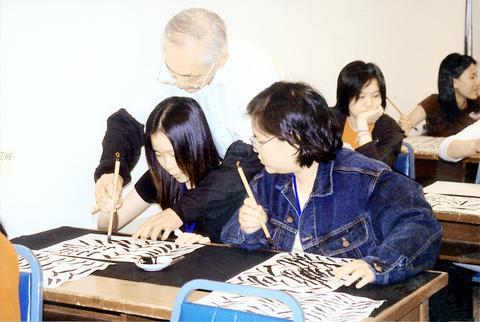 A teacher instructs students in the basics of calligraphy.
PHOTO COUTESY OF NTNU
The program, which offers places for young overseas Chinese aged 14 to 24, is subsidized by the MAC, so that students only pay slightly over NT$20,000 for the seven week program, including accommodation, language teaching, cultural activities and travel around Taiwan. "It is very much cheaper than regular Chinese training offered by NTNU," said Jocelyn Tsai (蔡思真) of the Extension Division for Interservice and Continuing Education.
For the younger students, it also offers a more community-oriented atmosphere than MTC, as all the students live and study together. With its 10:30pm curfew and penalties for missing class, it is not unlike a boarding school, and Tsai said it was not particularly surprising that not all the students, especially the more outspoken Americans and Europeans, adapted well to it.
Moreover, not all the students are there of their own volition. The school faces enormous difficulties creating a program that can cater to such a diverse student population. American Chinese make up a significant proportion of students this term, but overall, students from countries with significant ethnic Chinese populations such as Indonesia and Thailand are among the most numerous.
"Chinese education in these countries is quite poor," Tsai said, "so the training we provide is valuable. We don't get many students from Malaysia or Singapore, where Chinese education is already highly developed."
The Overseas Youth Chinese Language Training Program is one of a number of MAC-sponsored programs designed to appeal to overseas Chinese, and was the only one to continue, albeit with reduced numbers, despite the SARS scare.
Programs such as the "Love Boat" focus on simply providing an opportunity for travel around Taiwan; the Chinese Language Training Program has a strong academic component. For many of the students, this is the key benefit.
"We go to Chinese school on weekends back in the US," said one advanced class student, "but it is not really much use. There isn't the environment. Here we are forced to talk Chinese."
The practicalities of providing language education are complex, and Yang Si-wei (楊思偉) admitted that the curriculum was still a work in progress.
The level ranges from students who are not even able to speak a single word of Chinese, to those with fluent verbal skills but who are unable to read or write; some students have more moderate conversational ability but are able to read, while still others are confident in Taiwanese but unable to speak in Mandarin. "This year we have started grading students separately on reading, writing, speaking and listening," Yang said, rather than giving students a single rating, "this way, students can get more out of the class."
While not everyone participates in this program willingly -- parental pressure is behind some of the glum faces in the classrooms -- there are others who are fiercely eager to rediscover what they feel has been lost.
Lily Yang, who left Taiwan 17 years ago for Canada, talked about the "shame of not being able to understand" Chinese and the importance of this period of study for her.
Liao Hsin-ping (寥心平), one of the older students at 21, said that he had rejected learning Chinese in the past, but said now he was older, he felt it important to "try to retain my knowledge" of Chinese.
Even a 15-year-old student going by the name of J Jay, who knew no Chinese when he arrived at NTNU a month ago and was under the impression he was being sent to sports camp by his parents, felt that the experience of cultural education was useful. "I don't say much," he said, "because most of the time I don't know what's going on. But I might start learning Chinese in future."
The wide range of ages and abilities, and with as many as 15 to a class, means the learning process is not particularly structured, but the community atmosphere fostered by the school means students still get plenty of time for practice outside class. Liao said he shared his dormitory room with a student from Germany and one from Japan.
"They don't speak such good English, and I don't speak Japanese or German, so we use Chinese. Talking with other students is one of the most valuable parts of this course," he said.
In one beginning level class, the students learned vocabulary and culture while drinking tea and eating traditional snacks. Liao, who is doing an internship at NASA, said he felt the program had given him a taste of various aspects of Chinese culture.
"And I have learned to make all kinds of free souvenirs for my friends," he said, referring to the many craft classes offered as part of the program.
For North American students, many of whom have visited Taiwan before now, the island remains a Wild East of chaotic traffic and uncomfortable squat toilets. "I couldn't live here," said a student from Toronto, "It is far too hot and the air is so dirty."
Others have chosen to go on to university or graduate studies in Taiwan, perhaps finding society here more amenable than in their adopted homes. The classrooms of the Overseas Youth Chinese Language Training Program are a museum of the overseas Chinese mentality.
From those fiercely seeking to regain their heritage, to those reluctantly accepting a two-month confinement in a country whose language and culture they have long since rejected, the products of the Chinese diaspora are all here.
For the former, the program provides an invaluable opportunity to learn more about who they are, and the option of balancing a new identity with an old one; but for the latter, boys such as J Jay, many are caught in a battle of cultural identity in which they are merely pawns.
Comments will be moderated. Keep comments relevant to the article. Remarks containing abusive and obscene language, personal attacks of any kind or promotion will be removed and the user banned. Final decision will be at the discretion of the Taipei Times.