Modernizing the business of death
In Taiwan not so long ago it was taboo to talk about death and the funeral business was controlled by gangsters. No more ...
When Wang Chi-hong (王智弘) was hired by Won Ann Funeral Parlor in Taipei 10 years ago, the only qualification he had for the job was not being scared of corpses. Though he was at ease with dead bodies, he dared not give acquaintances his name card. People referred to him and his seven colleagues only as "those from the funeral parlor," while the traditional euphemism "Tou-kong-ah," (土公仔) or "those who deal with the earth," was applied to Wang's central and southern Taiwan counterparts.
A new recruit in the small family business, Wang had to do everything from transporting, cleaning and embalming corpses, to acting as announcer in ceremonies, many of which were held under a temporary tarpaulin canopy in front of the recently deceased's house.
Wang is a manager at the parlor now, which was renamed Won Ann International Funeral Company (萬安生命事業機構) four years ago. The parlor has 130 morticians at 18 branches island-wide. Wang said he was proud of his profession and being a "li-yi-shih," (禮儀師) or "instructor of the proprieties."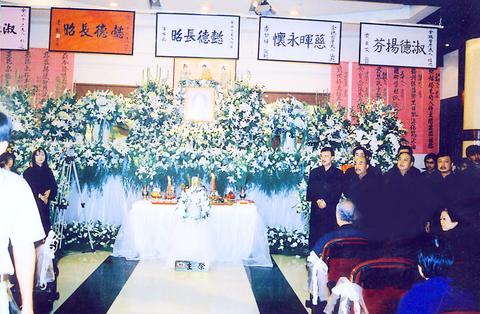 The funeral of the mother of the singer Yu Tian, in Neihu, Taipei, earlier this year.
PHOTO COURTESY OF WON ANN INTERNATIONAL
In order to recruit a younger generation of workers, Won Ann has teamed up with Huafan University for a "Funeral Direction Specialist Course," (殯葬業管理保證班) which is slated to start next week in Taichung. After a preliminary selection and interview, the company will choose 30 of the candidates -- based on their manners and college degrees -- to take the 136-hour, one-month course. After which they will be allowed to serve their apprenticeship in the company as an assistant mortician. They will receive a starting salary of NT$30,000, higher than the average college graduate's salary of NT$25,400.
"A mortician is entitled to a reasonably good salary, like any other profession," said Wu Tsi-huei (吳賜輝), vice chairman of the company.
According to the Ministry of the Interior, around 120,000 Taiwanese die each year. Funeral facilities, crematoriums and cemeteries for these recently departed people occupy around 4km2 of land annually. A family spends an average NT$400,000 on their loved one's funeral and burial, which usually includes professional mourners, a band, paper houses, Taoist wizards, as well as flowers, a coffin, and sometimes entertainment. The funeral industry makes NT$50 billion a year, according to the interior ministry, and these figures have attracted Service Corporation International, one of the biggest funeral service providers in the US, which has been looking at the Taiwan funeral industry since 1994.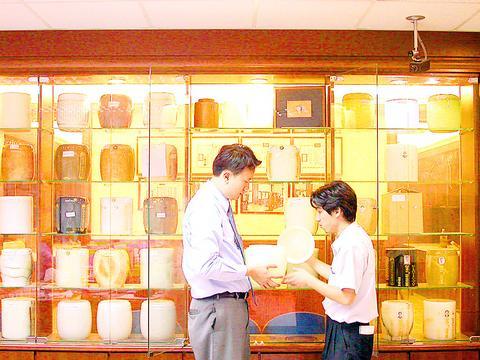 Staff help customers choose urns and coffins at Won Ann International Funeral Company.
PHOTO COURTESY OF WON ANN INTERNATIONAL
The industry used to be a no man's land, as far as legislation was concerned. The only related law was the Grave Establishment and Management Regulations (墳墓設置管理條例), enacted in 1883, that regulated only the making of graves, leaving out all the other parts of the funeral process. Sometimes, gangster-run funeral parlors took possession of dead bodies before forcing their family to pay outrageous sums. Gang fights over corpses used to be a common occurrence. For fear of trouble, most people kept quiet about such dealings.
The new Funeral Industry Management Regulations (殯葬管理條例), which went into effect at the beginning of this month, are the first laws for over a century that deal with the business of death. They prohibit those with a criminal record from running funeral parlors and require all companies to publicize their prices. The new regulations also outlaw asking for payment for bodies taken without family consent. All aspiring morticians have to pass a national exam to receive a mortician's license.
"The gangster culture [surrounding the funeral business] has come to pass basically because people don't want to talk about death. All matters about death are taboo. Although Taiwan is home to probably the most
PHOTO COURTESY OF WON ANN INTERNATIONAL
complicated sets of rituals in all Chinese societies, people shy away from understanding them," said Ran Chun-chung (阮俊中), Chairman of the Huafan University Extended Education Center Taichung Branch (華梵大學推廣教育中心) and a director at the Chinese Society for the Life and Death Studies (中華生死學會). "Therefore, they follow whatever the funeral companies tell them. The rituals and customs may vary from area to area, but if you learn just one set of those rituals, you can start a business. Even if you're from a shady background, you can get a share of the immense market, resulting in the cut-throat competition, which leads to the snatching of corpses."
Ran attributed the gradual change in the public perception of death to academic institutes like the National Taipei College of Nursing's Graduate School of Life and Death Education and Guidance (臺北護理學院), Nan Hua University's (南華大學) Graduate School of Life and Death Studies and Fo Guang University's Graduate School of Life Studies (佛光人文社會學院), who worked with businesses to change their images. Big corporations have also changed people's attitudes toward death, with companies such as Chinpaosan Group (金寶山事業集團) and Lungyen group (龍巖集團) promoting funerals with sleek advertisements.
The Department of Civil Affairs, at the interior ministry, was unable to provide the number of funeral companies in Taiwan because many firms did not register in the past. Wu estimated the number of registered companies to be around 3,000 in Taiwan and 300 in Taipei, including the dim and rundown family outfits with staffs of two or three. Less than 20 companies have more than five employees. There's also a considerable number of illegal outfits.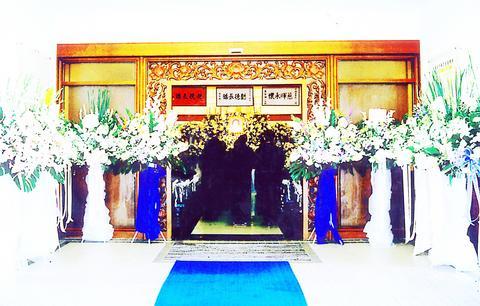 PHOTO COURTESY OF WON ANN INTERNATIONAL
It's the bigger businesses that welcome the new regulations and are more willing to educate their staff. On-job training courses have been held in recent years at National Taipei College of Nursing, Nan Hua University and Huafan University. The new courses, that enlist college graduates without funeral direction experience, puts more emphasis on the business side of the industry.
"We have held 18 courses in the past targeting existing morticians. We found that the technical part, like holding ceremonies and observing rituals, was easy, but what we need now is a new group of professionals who are initiated into new concepts and trained in managing a funeral business," Ran said.
"Like the insurance industry, which went through a successful facelift to become a modern business, with a social character, [the funeral industry] needs to be modernized. Our goal is to make our funeral home appear like department stores, where customers browse items, at ease. Our staff can help them select like consultants," Wu said, drawing attention to the brightly-lit line-up of caskets and urns of various designs and decorations at the company's funeral house up a quiet hill in the Taipei suburb of Neihu. Finding sites like this, Wu admitted, was a major problem because most people still dislike seeing funeral homes next to their house.
Funerals can be a public anathema since many families choose to hold the funeral in front of their houses, especially in central and southern Taiwan. Some complicated and time-consuming customs also remain, such as the meticulously observed rituals that are sometimes said to "tire the living to death."
"In some rural areas, a wake lasts for 49 days, every seven days the deceased's family hires taoist monks to recite sutras and hold big banquets for everyone in the area. So they would have big meals seven times. Together with marching bands and professional mourners, they would have to spend some NT$800,000, for which they sometimes had to take loans. In the meantime, the body may smell, causing their neighbors to protest. Sometimes the siblings fight with each other over who should keep the wake, because everyone is tired," Wang said.
The cutting-edge side of the business, however, is funeral homes set up by interior designers, equipped with large projection screens, that produce VCD memoirs, and comprise online worship, the so-called "e-funeral," part of the curricula on the Funeral Direction Specialist Course. The memoir, using past photos of the dead, Wu said, aims to "give funerals more feelings and less sadness." Hsinchu City Funeral and Mortuary Services Office Web site has set up an online worship section for those who can't go to their loved ones' graves in person.
Saying that the atmosphere of most funerals is still dominated by sadness, Wu cited the example of famous writer Tsao Yu-feng (曹又方) who held the "Happy Pre-funeral" two years ago. Tsao was reported to have said on the occasion that she wanted her funeral to be beautiful, touching and pleasant and her friends to be happy at her funeral. "People were surprised by the idea that a funeral can be happy, because they stick to the idea that funerals are sad and gloomy. But that can be slowly changed," Wu said.
Ran expects the Funeral Direction Specialist Course to attract a large number of applicants and a significant increase in the number of college graduates joining the funeral industry in the next couple of years. "At first, many may join [the business] not because they are dedicated to it, but because they do not have much choice in these lean economic times. However, after the industry has set up higher standards of recruitment, the tide will ebb and the quality of morticians will significantly improve," Ran said.
"The course will make people realize that being a mortician is a vocation like any other, only that we serve the dead," Wu said.
Comments will be moderated. Keep comments relevant to the article. Remarks containing abusive and obscene language, personal attacks of any kind or promotion will be removed and the user banned. Final decision will be at the discretion of the Taipei Times.