Ang Lee gets that funny feeling
Bruce Banner turns into The Hulk under emotional stress and the film's director Ang Lee (李安) said he felt the same way in the middle of promoting his latest flick.
"I have been asked by hundreds of media [people] about what my next project will be. And sometimes I get too annoyed and say I will retire after this film," Ang Lee said at a Taipei press conference on Friday.
"It was pure enjoyment working with ILM [the computer graphic company on the film]. We tried many special effects that have never been done before.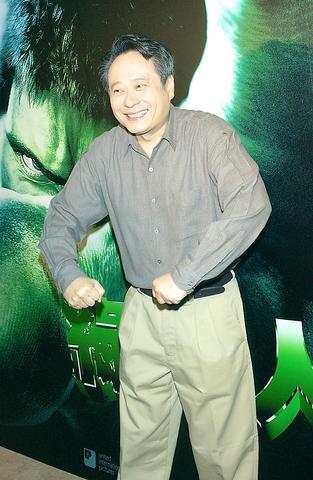 Ang Lee flexes his directorial muscles.
PHOTO: TAIPEI TIMES
"We even spent an extra $US5 million. And the company [Universal] was willing to pay," Lee said.
Working for the first time with a Hollywood studio, Lee said there has been no problem or compromises.
"The film was made pretty much based on my ideas," he said.
Some critics have, however, describes the computer-generated green giant as similar to Gumby, or a clay animation. And others point out that Gollum in Lord of the Rings: The Two Towers looks more natural and vivid than the Hulk.
Lee defended his work. "I can assure you that the making of the Hulk was much more complicated than that of Gollum.
"It's much bigger and stronger and it has lots of muscles. Plus, the green color makes it difficult to see the details of skin textures," Lee said.
The box office seems to agree with Lee. The film's first weekend gross in the US was US$62. 6 million, breaking John Woo's (吳宇森) Mission Impossible II mark. Released for three weeks, it is still in the top five at the US box office. Taiwan box office receipts reached NT$ 41.1 million last weekend, second to Jim Carrey's Bruce Almighty.
Although Ang Lee later clarified his earlier statement that retiring was just a joke, he did tell one European journalist that he was tired and needed to take a break.
"I really don't have anything planned ahead," Lee said.
After making a series of art house dramas, a martial arts epic and a comic-based superhero film, Lee said he has learned a lot from those very different experiences.
"And I need time to sort them out," he said. "Sometimes so many different images and inspirations stir in my mind, I don't sleep well."
There are, in fact, at least two projects that Lee has coming up. One is the sequel to The Hulk, which is scheduled to be finished in two years, and the other is the long prepared prequel to Crouching Tiger, Hidden Dragon (臥虎藏龍).
Comments will be moderated. Keep comments relevant to the article. Remarks containing abusive and obscene language, personal attacks of any kind or promotion will be removed and the user banned. Final decision will be at the discretion of the Taipei Times.