A blooming great day out
Lotus farming has made Kuanyin township in Taoyuan County an ideal place to make a weekend visit
Driving south of Chiang Kai-shek airport in Taoyuan County, one might think it's a plot of barren land except for a congregation of factories. But after turning west entering Kuanyin township (觀音鄉) and Xanadu seems to appear in front of you.
A total of 47 lotus farms are located at the town's three major roads. Every summer from June to September, 70 hectares of lotus and water lilies blossom. This is where the annual Taoyuan Lotus Festival (桃園蓮花季) takes place, which starts this weekend.
In terms of viewing lotuses, local people normally use the terms "South Paihe, North Huanyin" to describe the two major lotus tourism places in Taiwan. Paihe refers to Paihe township in Tainan county, a place having more than 30 years of history producing lotus seeds and roots as agriculture products.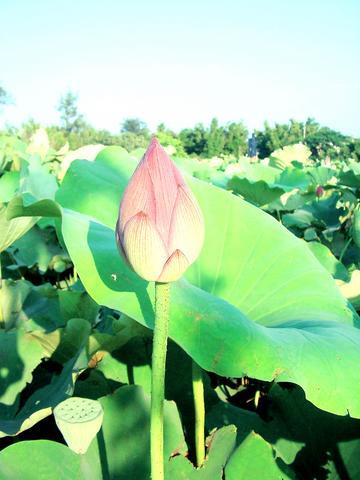 PHOTO: YU SEN-LUN, TAIPEI TIMES
Kuanyin township, which started growing lotuses eight years ago, has made its business more tourism-oriented. Five years ago, since the Taoyuan Lotus Festival began, the township has taken away quite a few tourists from Tainan, because of its closeness to Taipei city.
"Here we have up to 50 kinds of lotus and water lilies." said Yang San-kuei (楊三貴), an owner of Wu-tso Yang Family Farm (吳厝楊家莊), which is one of the most popular farms among the 47 lotus farms.
According to Yang, the origin of Kuanyin's lotus growing began with an environmental protest. Ten years ago Taku stream in the township was contaminated by industrial waste from nearby factories. After two years of struggle, factories started to obey waste processing rules and the stream was saved.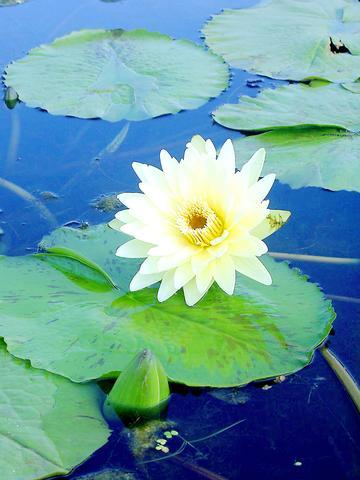 PHOTO: YU SEN-LUN, TAIPEI TIMES
Villagers tried to grow lotuses around the stream, testing the water quality and they blossomed, literally. In a way, the lotus farms in Kuanyin represent the fruitful result of environmental protection.
The famous kinds of lotus at Kuanyin's farms include Perfume Water Lily, Giant Water Lily and White Lotus. When the plants blossom, from 5am to 2pm, one can only be impressed by the multi-colored (pink, yellow, blue and white) flowers, either lying by the beds of water lily leaves, or poking out of the water.
Sung Dynasty poet Chou Tun-yi (周敦頤) once wrote a well-known poem praising the beauty of lotuses, describing them as the noblest gentleman among all the flowers: "Coming from mud but never tainted by the mud; having no tendrilled vines, and no complicated branches and leaves; Standing gracefully because of its erect stems coming out from the water. But you can only view a lotus from afar, not casually play with it, because of the thorns on its stems," Chou wrote in his Love Lotus (愛蓮說).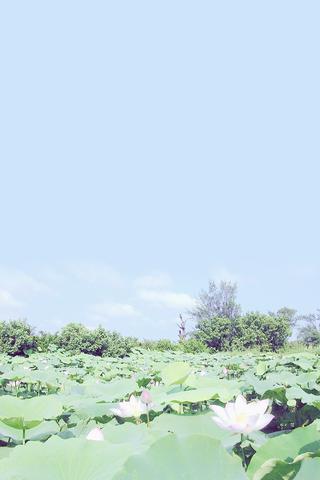 PHOTO COUTESY OF WU-TSO YANG FAMILY FARM AND INSET
"We also have lotus and water lilies that blossom during the night," Yang said.
At Wu-tso Yang Family Farm, there is a cafe facing a pond of night-water lillies, so that tourists can view the flowers during the early evening, while sipping coffee or a healthy herb tea.
Apart from lotus viewing, most of the farms in Kuanyin township offer other flower gardens for flower-viewing, flower-picking activities, and the sunflower garden, rose garden and organic vegetable warm house.
Picking a dozen freshly blossomed roses costs you only NT$100. And at the organic vegetable houses grow romanie lettuces, strawberries (available from December to May), aloe, rosemary, lemon balm, spearmint, sage and stevia.
Picking 1kg of the lettuce costs just NT$100. And if you want to take a stem of lotus flower back home, you can also request the gardener to cut one for you.
Another major tourism point at the lotus farms is the special lotus cuisine. "Almost every part of the lotus can be made into lotus cuisine," said Yang, adding the lotus flowers are best for making salads and the lotus roots are excellent for soup and sauteed dishes. Lotus leaves can also be used to wrap rice or fish for steamed dishes. As for lotus seeds -- which are already known as a delicious addition to various dishes -- they are best in sweet soups and stews.
So, don't forget to order a dish of sauteed chicken with lotus seeds, or a dish of sweet and spicy lotus roots, or lotus seed pork stew.
For tourists who might think of lotus-viewing as too as a little too static, many farms in Kuanyin township offer their unique specialties.
Hsiang-yeh Horse Field (鄉野馬場) offers horse riding activities. Lin's Old House (林家古厝蓮園) is over a 100 years old. Niu-ko-ko Ecology Farm (牛哥哥生態農場) lets its customers experience nostalgic farming in a rice paddy with water buffaloes.
And, as for Wu-tso Yang Family Farm, there is a pasture area for guests to feed the mini goats with foraged grass or give them a baby's bottle of milk. There is even a camping and barbecue area where you can roast the whole goat with a group of friends at the camping site.
"Before we began growing lotus, we used to have a goat farm, raising more than 1,000 [of them, mainly for milk and meat]," Yang said. "So goats have become our unique feature among the other lotus farms."
Here, you can also try the unique taste of Yang's ice cream, mixing goat's milk and lotus seed flavorings.
Taking just an hour to drive to Tao-yuan to enjoy a mixture of lotus viewing, lotus cuisine and experience gardening and other country activities, the Taoyuan Lotus Festival has made itself a popular day trip for Taipei dwellers to spend their weekends.
On Saturdays a small lotus farm can have in average 2,000 visitors a day, so make sure you call to reserve meals or services before making the trip.
For your information:

What: Taoyuan Lotus Festival
When: July 5 to Sept. 28
Where: 47 lotus farms in Kuanyin township, Taoyuan township
More information is available at (03) 338 2999 or at www.ettoday.com/events/lily
Traffic information:
Driving: Take Sun Yat-sen Expressway. Get off at Taoyuan interchange (before CKS Airport), and then take No.15 Provincial Highway toward Kuanyin
By coach: Take a coach from Taipei to Chungli. Change to Taoyuan City Coach. Take Kuanyin-bound buses and stop at Rueihsiang stop. From there take the special Lotus-viewing buses.
Comments will be moderated. Keep comments relevant to the article. Remarks containing abusive and obscene language, personal attacks of any kind or promotion will be removed and the user banned. Final decision will be at the discretion of the Taipei Times.