Restaurant: Ali Baba's Indian Kitchen
Address: 2F., 56-58 Nanking E., Rd., Sec. 2, Taipei (台北市南京東路2段56-58號2樓)
Telephone: (02) 2567-7163
Open: 12pm to 2:30pm; 6pm to 11pm
Average meal: NT$500 per person
Details: English menu. Major Credit cards accepted
For the past decade, Karachi native, Muhammad Ali, has been cooking up a storm with his authentic, flavorsome and at times tongue numbing Pakistani and Indian fare. \nOriginally located amid the chaos of the bustling Ninghsia Rd., (寧夏路) and its ever-busy night market, but for the last three years Ali has been operating out of the second floor of a commercial building on Nanjing East Road (南京東路). \nVegetarian and non-vegetarian dishes such as sizzling spice-infused tandoori chicken (NT$280 to NT$550), nut-loaded and creamy masalas (NT$200 to NT$280), yogurt-based makhanwallas (NT220 to NT$340) and fiery hot vindaloos (NT$290) provide a range of flavors that will be popular with new-comers and hardened curry fanciers. \nAnd of course, what curry restaurant would be complete without the fine breads to accompany the meal. Here too Ali Baba's doesn't disappoint with the choice of reasonably priced breads including butter naan, garlic naan, allo paratha (bread stuffed with potatoes), keema naan (bread stuffed with minced lamb) and plain naan, just to name a few. \nIf you still have room after the main course, then check out the desserts, which are as authentic as all the other fare. Gulab juman (NT$80), the popular small cake balls made from milk and flour deep-fried and served in a light sugar syrup, and gajar halwa (NT$100), a carrot based dessert made with milk and sugar and best served with ice cream are a great way to complete any meal. \nIn the coming weeks Ali is set to introduce his new menu. Along with the addition of glossy photos of all the dishes on offer, the ever-jovial restaurateur has added nearly a dozen new creations to the already extensive inventory. \nWhile Ali will be the first to admit that several of the seafood based new additions are far from authentic, he has taken steps to include half-a-dozen or so dishes from his homeland, Pakistan, that are rare finds in Taipei. \nThese include authentic Karachi dishes such as haleem, mutton cooked with several varieties of beans and rice, and paya, a slightly bony dish made of slowly cooked lambs' feet and spices -- a dish Ali describes as "a meal for men." \nFor those looking to sample a mixture of South Asian flavors at one sitting, Ali Baba's offers a reasonably priced weekend buffet. Priced at NT$399, the buffet changes every weekend, but always includes a good choice of both vegetarian and non-vegetarian curries, kormas, masalas, do piazas, daals and so on. \nAlthough, for obvious reasons, alcoholic beverages are not served at Ali Baba's, diners wishing to enjoy a drink or two with their meal are free to bring their own without fear of either offending the staff or paying an annoying corkage charge.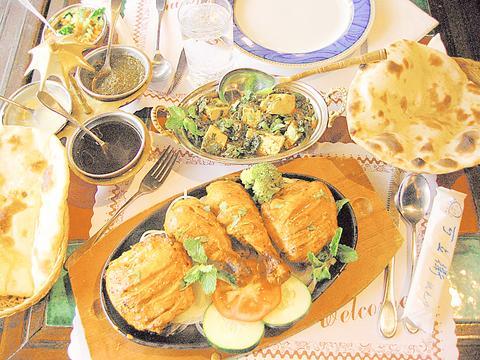 Ali Baba's offers up a solid selection from the subcontinent.
PHOTO: GAVIN PHIPPS, TAIPEI TIMES
Comments will be moderated. Keep comments relevant to the article. Remarks containing abusive and obscene language, personal attacks of any kind or promotion will be removed and the user banned. Final decision will be at the discretion of the Taipei Times.