Revealing the real Ang Lee
In his recently published autobiography, the director talks about struggling to make it, his insecurities, and the new challenges ahead
I can handle movie-making, but I cannot handle reality. In the world of reality, I am always an outsider.

-- Ang Lee
In the last few months, most Taiwanese filmmakers have been celebrating and looking back on two decades of the Taiwanese New Wave, with frequent retrospective screenings and discussions of Edward Yang's and Hou Hsiao-hsien's films taking place in Taiwan and abroad. At the same time, another Taiwanese filmmaker has also been looking back on his own filmmaking career. Ang Lee, equally famous and a recent Oscar recipient, established his career 10 years after his New Wave predecessors. Last month he quietly published his autobiography, the Chinese title of which roughly translates as A Decade of Cinematic Dreams (十年一覺電影夢).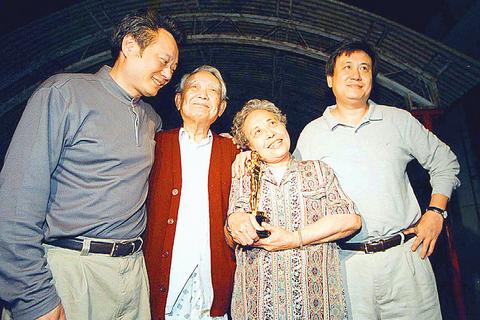 Ang Lee presents his Oscar award to his mother in this family photo.
PHOTO: TAIPEI TIMES
As Lee is currently working on the post-production phase of his latest Hollywood film, The Hulk, there has been little time for him to promote the book. But he still managed to create a stir during his one-day visit to Taipei in November, where fans waiting for him to sign copies of his book packed the conference room at SPOT -- Taipei Film House. The 480-page book quickly sold over 10,000 copies, prompting Hou Hsiao-hsien, the owner of Taipei Film House, to quip that he should consider writing an autobiography himself.
For the first time, the mild-tempered director with a bashful smile reveals behind-the-scene stories about his movie dreams. How did an obedient student and Mr. Nice Guy who grew up in a traditional Chinese intellectual family, come to create such various and complex stories on screen? How did Ang Lee spend the six long years as a "house husband," just to develop scripts and wait for filmmaking opportunities? What are his hidden sorrows and what dreams of his have yet to be fulfilled after seven films (four in Chinese language, three in English)?
"In Taiwan, I'm a mainlander. In the US I'm a Chinese and in China I have to use a Taiwan compatriot's travel document. The problem of identity and where are we going is always a question and [source of] confusion for me and many Chinese people," Lee writes in his book.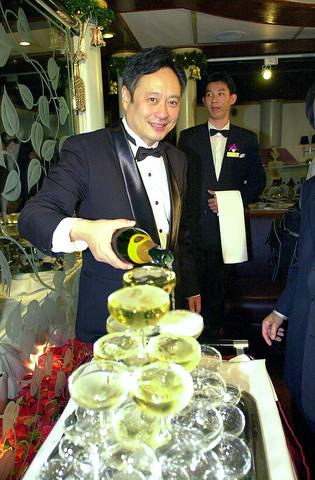 Ang Lee celebrating a Golden Bear in Berlin.
Growing up in Tainan, studying film and then making his first feature film in the US, Ang Lee's career has taken a very different route from those of other Taiwanese filmmakers. This is one of the reasons why Lee's filmmaking style differs so much from other Taiwanese filmmakers.
Lee was among the first to confront the question of cultural identity, the complexity of which and the anxiety it causes he explores in his first film Pushing Hands (推手, 1991), a story about an aging tai chi master who finds himself trapped in a foreign land with his sons's family and American wife.
The movie was made in 1991, when the Taiwanese New Wave -- with its realism, social criticism and poetic nostalgia for Taiwan's history -- was still on the ascent. "When most filmmakers in Taiwan were making avant-garde art-house movies, I made a traditional Chinese family drama," Lee says in his book.
A Decade of Cinematic Dreams was ghost-written by senior journalist Chang Ching-pei (張靚蓓) after three two-hour-plus interviews with Lee in New York, Los Angeles and Taipei. "I asked him questions endlessly, and he poured out his words endlessly in response. He talked so much that he surprised himself," Chang said.
"When I was asked by Chang to do this book, I thought that, since everything about me was already in my movies, there was no need write a book," Lee says in his book.
"I'm not a good student. I'm the son of a high school principal. I got married at age 30 and [we] had children, and then I began raising the kids and taking care of the cooking while my wife worked to support the family. This kind of life might be too boring to write about," Lee added at his book-signing ceremony.
"But now that the book is finished, I feel [writing it] was therapeutic for me. I'm very thankful to Chang for helping me look back at myself and talk about things I usually tend to avoid or deliberately forget, things like national sentiments, cultural identity and my struggle with masculinity," Lee said.
In February of 1985 Lee had finished his studies at New York University film school and was heading back home. "One night before my luggage was to be shipped, my graduation film Fine Line won the Best Film and Best Director awards at the NYU film festival. Agents from the William Morries Agency wanted me to sign a contract with them. They said if I stayed in the US there would be more opportunities for me," Lee says in his book.
So Lee began writing scripts, adapting scripts, and co-writing scripts with other new filmmakers. Lee recalls how difficult the years after graduation were for him: "If a film company likes your first draft, they'll ask you to rewrite or edit some parts, three to five times. Two years later, these scripts either come to nothing or need to continue developing. ... This is what they call the `development hell of filmmaking.'"
Lee writes that on average it takes five years from the day the first words of a script are written to the day when the shooting starts, and that is only on the rare chance that a script manages to get that far.
"During that time, my family's biggest luxury was eating at Kentucky Fried Chicken," Lee recalls. "I tried writing film reviews for Chinese papers, but only for two months. I guess that apart from directing, I was incapable of handling others jobs. But during those six years, my wife never once forced me to get a job," Lee said.
For this, Lee was once accosted by a friend who said, "How could a man treat his wife like this."
Lee's next movie after Pushing Hands, The Wedding Banquet, was a sweeping success, garnering the Golden Bear award in Berlin and creating a market for Ang Lee movies worldwide. The US$750,000 movie earned US$32 million, making it the world's most profitable film in 1993.
"I get all these crazy ideas whenever I start making a film, and these are often realized. Then I think, `If it's that easy for me to carry out these ideas, I must have something inside.' And maybe that's talent," Lee writes.
Lees autobiography chronicles in detail the making of each of his seven films, from Pushing Hands to Crouching Tiger, Hidden Dragon. Also detailed are his ideas, feelings and reflections on those films.
In one vignette, Lee describes Emma Thompson as the Queen Bee of English actresses. "Being a director, I have never met an actor who could give me so much pressure," he writes.
As for Hugh Grant Lee writes: "At first I couldn't figure out why he was so naughty, and why he didn't stand where he was supposed to when acting. Then I realized he didn't like to stand side-by-side with other actors. As long as you put him in front of other actors, he would listen to whatever you said."
Throughout his first-person account, Lee maintains a fluid and modest tone, displaying a mild sense of humor and profound knowledge of culture and history. He maintains this tone throughout most of the book, with the exception of when he talks about the argument over whether Crouching Tiger, Hidden Dragon is authentically Chinese.
"Some foreign critics think that they are Chinese film experts, and easily label the film as an unauthentic Chinese martial arts films. This may be [due to] their lack of knowledge, or simply their sense cultural superiority. They think that they have the power in cultural politics, and they can decide what is better for your culture," Lee writes. "Why should Chinese martial arts stay in their old place, on the level of B-movies? Should an authentic Chinese movie always be raw, earthy, marginalized, artsy or oppressive? If not, does this mean it's Americanized?"
Comments will be moderated. Keep comments relevant to the article. Remarks containing abusive and obscene language, personal attacks of any kind or promotion will be removed and the user banned. Final decision will be at the discretion of the Taipei Times.