Old passions that spring to life, then fizzle
Catherine Corsini's latest film fails to live up to the standard she set for herself with `The New Eve'
Replay (La Repetition) contains all the elements one would expect of a typical French movie: well-acted drama with beautiful, intelligent and artsy protagonists. The film's pacing is excellent, always maintaining an intensity of passion, love and hate, jealousy and rivalry. And actresses Emmanuelle Beart (A Heart in Winter, Mission Impossible, 8 Femmes) and Pascale Bussieres (When Night Is Falling) are perfect for their respective roles, Nathalie and Louise. Their two performances really make the movie, which suffers from a weak plot, less-than-stellar cinematography, and a lack of imagination. \nAs the story goes, Louise and Nathalie used to be good friends who grew up together. Now in their thirties, they meet up again after having not seen each other for 10 years. Both had dreamed of becoming an actress one day, but only Nathalie has fulfilled that dream. Louise has become a prosthodontist instead. The two meet by accident while visiting Copenhagen and decide to go sightseeing together, at which point the movie gives viewers a peek at the two women's shared past as they travel together. \nBecause she is infatuated with her beautiful, artistic friend and everything that she stands for, Louise tries to make herself indispensable to Nathalie. After helping Nathalie land the lead role in a prestigious stage production, Louise then begins to live at her friend's home, attend her rehearsals and live vicariously through her. \n"I wanted a relationship in which love and frustration are implicitly blended like two sides of a coin. This can seem terrifying. The unease is necessarily there all the time. I wanted two beautiful actresses to lend greater ambiguity to the situations," director Catherine Corsini said while explaining the movie in an interview. \nIn fact, the film is the world of the two women, the love story and psycho drama between them. There is no murder and no killings in that love-hate relationship between two women who grew up together. But there is no lack of madness, a different kind of madness though, which is not acted in extreme behavior but eerie enough to make your skin crawl. \nPascale Bussieres turns in an outstanding performance as the egoless follower and lover, Louise, who is always seducing Nathalie's boyfriends or dating her ex-boyfriends, as if she were holding onto a piece of Nathalie's life. Bussieres naturally expresses a sexually ambiguous, deceitful and intangible aura for the character of Louise. Emmanuelle Beart, a natural actress even in love-making scenes, plays the more spontaneous, more expressive, more proactive Nathalie. \nWith the excellent acting, director Corsini shows the audience how complicated a relationship between two women can be. It can be so much of a solace but also suffocating at the same time. \nHowever, the complexity poses problems for the structure of the drama itself, and this is resolved poorly in the ending. As Louise leaves Nathalie no respite, their relationship gradually twists into a spiral of obsession. But the film presents no solution or salvation for this increasingly morbid pair, who sink steadily into sadness and depression. \nFor all the film's psychological intensity, viewers might be left with the feeling that they've seen it all before.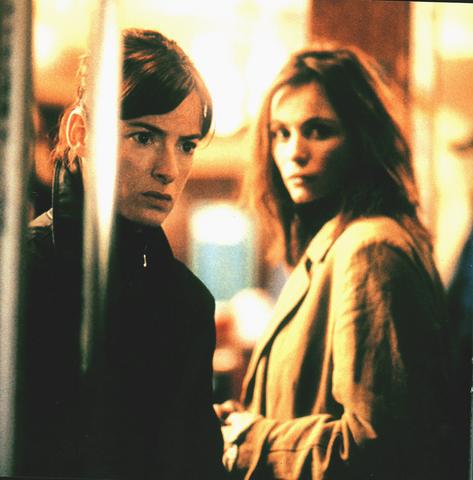 Pascale Bussieres, left, gets a little bit over involved with Emmanuelle Beart in Replay.
PHOTO COURTESY OF PYRAMIDE
Publication Notes
Film Notes
REPLAY
Directed by: Catherine Corsini
Starring: Emmanuelle Beart (Nathalie) and Pascale Bussieres (Louise)
Taiwan Release: 96 minutes
Taiwan Release: Majestic Film Festival 2003 starting Jan. 4, times available at http://www.movie.com.tw
Language: in French with Chinese subtitles
Comments will be moderated. Keep comments relevant to the article. Remarks containing abusive and obscene language, personal attacks of any kind or promotion will be removed and the user banned. Final decision will be at the discretion of the Taipei Times.