Like a whirlwind,Gaelforce blows through
Irish dance has proved remarkably popular in Taiwan, with knockoffs of River Dance coming through at regular intervals, some better than others but all much the same. For all that, tickets for the latest group to bill itself as Irish dance, Gaelforce, have seen brisk sales, proving the enduring appeal of spectacular theater to Taiwan's audiences.
Gaelforce, which was created back in 1999, incorporates a narrative element into Irish dance, telling a story of passion, jealousy and tragedy that gives the whole thing more structure; and the appeal of something like a Broadway musical.
While it bills itself as being direct from Ireland, the story is just melodrama pure and simple, done up with lots of Irish names and a romantic vision of Celtic romance. The dance tells the story of two brothers, Lorcan and Cuan, and Cuan's sweetheart Aisling. Cuan lives a life of the land, and Aisling's wild spirit demands more of life, leading to a longing for the dreamer Lorcan, who is the lover of Rhiannon. An ill-fated affair leads to broken loyalties and the rest, as they say, is history.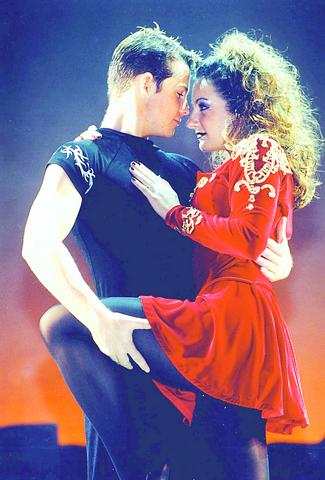 It's Riverdance, with a plot.
PHOTO COURTESY OF KHAM
While the story may not be one of startling originality, critics have generally applauded the innovation of adding narrative to provide a little more oomph to all those tapping feet and posturing.
"The story itself is a story of love, hate, hope and repression but above all it is a story of reunification and peace," the show's director Michael said. "Strangely enough, these evolving emotions from time to time have become part of the creative process amongst the people involved in the production. It's because of this that I believe we have such a wonderful raw story to tell through dance, music and song."
As in the case of Stomp, which visited Taipei recently, it seems that shows with sufficient spectacle and energy can go on year after year with only minor variation due to cast and the occasional new idea. Whatever else it may lack, Gaelforce is indeed full of energy, light, and the beauty of complex and perfectly harmonized movements.
Performance notes:

Gaelforce will perform at the National Theater on Dec. 31 (sold out), and Jan. 1 through Jan. 4 at 7:30pm and a 2:30pm matinee on Sunday Jan. 4. Tickets are still available in the NT$1,600 to NT$2,500 range and can be obtained through ERA ticketing.
Comments will be moderated. Keep comments relevant to the article. Remarks containing abusive and obscene language, personal attacks of any kind or promotion will be removed and the user banned. Final decision will be at the discretion of the Taipei Times.