Tech professionals turn to dance in Hsinchu
Hsinchu, the heart of Taiwan's information technology industry, is also an ancient cultural city. Those who earn high incomes in Hsinchu's science and technology businesses are in a position to play a major part in the country's economy while devoting time to cultural activities. \nChoreographer Joy Dai (戴喬伊) has put the dichotomy between "technology people" and "culture people" under spotlight in Yes! It Is? (是的!就是?), a new production by her Wan Chu Dance Theater (頑筑舞集). \nWhen Dai set up the Hsinchu-based dance group three years ago, it was the first performance group to consist of professionals in the IT industry. Forty percent of the 30 dancers held management level positions in their companies. Almost all divide their time between their day job and rigorous practice sessions, even though many of them already work long hours on a daily basis. \nDai, the group's leader, quit her high-paying job as an engineer at a subsidiary of TSMC in order to dance full-time. She has no regrets. \n"It's something lost and something gained after all. Many people fail to understand why I chose an unstable lifestyle. But I've become much happier as a dancer," Dai said. \n"When I was working as an engineer, I wasn't very creative at work. I think people have different orientations and I was rather a `dancer type.' When I dance, all kinds of ideas occur to me. It's much more fulfilling," Dai said. Dai had studied dance since childhood but could only spend a meager couple of hours a week dancing when working as an engineer. \nDai draws most of the inspiration for her pieces from her experience in the IT field. Wan Chu's first performance Playing With Symbols dealt with the 0 and 1 digits and the possibilities their combinations create. \nIn Yes, It Is, Wan Chu's out-of-town debut, Dai worked with other members to create five pieces dealing with life in the vibrant Hsinchu science park surrounded by the ancient city's traditional lifestyle. \nThe piece Taiwan Stories showcases the life of food peddlers in Hsinchu's night markets. Their struggle to survive in the thick of the economic recession and their down-to-earth ideas about life is presented in a humorous light. \nBeyond the Dimensions portrays the busy life of "technology aristocrats" who have to fit their fun into their busy schedule and high-pressure jobs. \nWan Chu's dancers perform the piece with refreshing vigor and genuine enthusiasm. Maybe that's because they are a rare kind of dancer who dance not as their job but for fun. \nYes, It Is will be performed at Crown Arts and Culture Center theater (皇冠藝文中心小劇場), located at 50, Lane 120, Tunhua N. Rd., Taipei (台北市敦化北路120巷50號). Shows are at 2:30pm and 7:30pm tomorrow. Tickets are NT$300 and are available at the venue or by calling the group at tel 0955896112.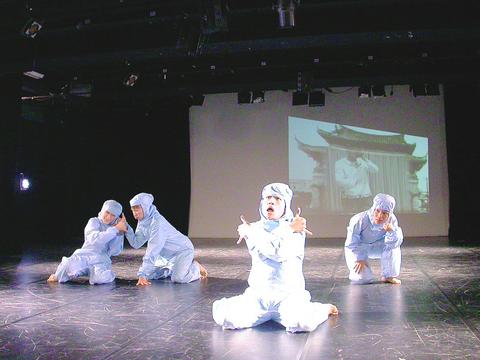 Hsinchu's Wan Chu Theater productions draw their inspiration from the city's high-technology industries.
PHOTO: COURTESY OF WAN CHU DANCE THEATER
Comments will be moderated. Keep comments relevant to the article. Remarks containing abusive and obscene language, personal attacks of any kind or promotion will be removed and the user banned. Final decision will be at the discretion of the Taipei Times.