Silly Hong Kong comedy that presses all the right buttons
Hong Kong director Johnny To (杜琪鋒) has been able to move through various movie genres with the greatest of ease. He used to direct martial arts dramas for television, and his gangland action film The Mission won him Best Director awards in both Taiwan and Hong Kong. Currently, he is known for his series of box office-sweeping comedies. My Left Eye Sees Ghosts, his latest, was the top earner in a depressed Hong Kong market this year, raking in HK$30 million in sales at the box office. \nSolid experience and a proficiency in different genres make To a natural storyteller. As in his recent comedies Needing You (孤男寡女, 2000), a story about office romance; Love on a Diet (瘦身男女, 2001), about losing weight; and Wu Yen (鍾無艷, 2001), a comedy about an ancient emperor, his girlfriend and an evil enchantress, To always adapts very different subjects and material to create highly original comedies. \nMy Left Eye Sees Ghosts sees To continue with this formula. This time, he uses a ghost story as the vehicle for a romantic comedy that employs many of his trademarks: a fast-paced narrative, liberal use of stereotypes and biting dialogues. \nThis is another film in which To works with actress Sammi Cheng (鄭秀文), whom he successfully transformed from pop singer into Hong Kong's queen of comedy -- its version of Meg Ryan -- in the popular romantic comedies Needing You and Love on a Diet, and in the period comedy drama Wu Yen. \nSammi Cheng again plays the silly, naive girl next door who is single and good looking, but who always misses out when it comes to finding Mr. Right. In My Left Eye, she is even more ditsy, careless and even vulgar. She plays Ho Lei-chu, a widow who spends her days smoking and drinking. The only incongruity in this role is her rather sophisticated fashion sense. She wears the most trendy ethnic dresses and matches them with the most stylish accessories. \nHo meets her late husband after just seven days of dating. When he dies he leaves her with a huge fortune and a luxurious beach house. One day, she gets drunk and crashes her husband's favorite antique Mercedes-Benz. \nAt this point the ghosts show up. One of them, Wong Ken-wai (Lau Ching-wan, 劉青雲), appears on the scene and puts Ho's soul back in her body. This near-death experience somehow endows her left eye with the ability to see ghosts, and life for Ho is never quite the same again. \nWong had been Ho's elementary school classmate until he drowned at age 13, so his ghost is still childish and silly, a good match for Ho's own ditsiness. Because he used to have a crush on Ho in elementary school, Wong has become her guardian angel, protecting her from other more malign spirits. \nAlthough there is chemistry between Ho and her guardian, the ghost Ho wants to see the most is still her dead husband. She asks Wong for his help, even though she knows it might make him angry. But Wong has another, more pressing matter to attend to. Will Ho ever see her husband again? Where is his ghost? And what's happening to Wong, who still likes Ho? \nTo weaves a lot of kitschy elements into the plot, such as how Ho, in spite of all her foibles, somehow manages to always steal the boyfriend of the same girl, dead or alive. Then there are the comic Taoist priests who play hide and seek with Wong and the other ghosts. These things may seem silly, but To has skillfully woven them into a successful Hong Kong-style comedy. \nSammi Cheng proves herself adept at handling a multi-faceted character, one who can be a bitch with bad table manners on the one hand, as well as a sensitive, kind-hearted woman who loves her husband despite the fact that everyone else thinks she married him for his money. Lau Ching-wan, who plays the role of Wong, turns out an equally skilled performance to make the chemistry work between the two roles. The result shows that the prolific Johnny To still knows what makes his audiences tick.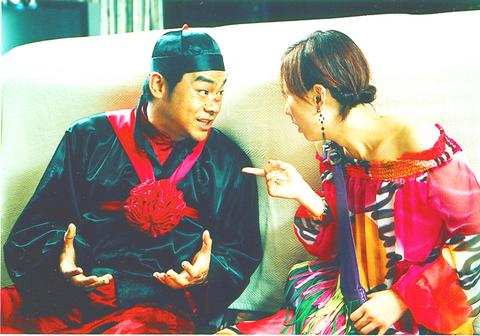 Lau Ching-wan plays a ghost opposite Sammi Cheng's ditzy widow.
PHOTO: GROUP POWER
Publication Notes
Film Notes
My Left Eye Sees Ghosts
Directed by: Johnny To
Starring: Sammi Cheng
(Ho lei-chu) and Lau Ching-wan (wong ken-wai)
Running Time: 98 minutes
Taiwan Release: Tomorrow
Language: In Cantonese and Mandarin with English and Chinese subtitles
Comments will be moderated. Keep comments relevant to the article. Remarks containing abusive and obscene language, personal attacks of any kind or promotion will be removed and the user banned. Final decision will be at the discretion of the Taipei Times.