Restaurant: Roma
Located on the ground floor of a towering residential building in Hsichi and within a stone's throw of the Sun Yat-sen Freeway, sits one of Taipei County's best kept secrets -- Roma Italian Restaurant. \nOpened only a month and a half ago by Paul Hu (胡維誠), William Li (黎國禧) and Robert Guan, all three of whom were born in Calcutta to Chinese parent and, coincidentally, learnt their trade in the kitchens of Taipei's once popular Italian eatery, Portifino, Roma has already built up a solid reputation with both residents of Hsichi and Taipei denizens willing to make the lengthy trip there. \nThere's no pomp, no circumstance and no fancy trimmings to Roma. It might have the appearance of a local noodle shop, but the food that they serve is a stark contrast to the establishment's simple and un-noteworthy appearance. And the price, well, when two people can eat their fill and still be presented with a bill for less than NT$800, that speaks for itself. \nWhile not extensive, the menu includes all the usual Italian edible suspects, all of which are prepared with genuine Italian ingredients and care. For stalwart spaghetti fans the menu includes spaghetti with fresh squid ink sauce (NT$110), seafood spaghetti with a choice of sauces (NT$95) and carbonara (NT$130). The most expensive dishes are the varieties of risotto which include both seafood and beef and cost a mere NT$160. Along with the pasta, Roma also offers several types of gnocchi for NT$130. For an additional NT$80 patrons can enjoy soup, dessert and coffee or tea with their pasta. Although the trio ensure all of the dishes they prepare taste as genuine as is possible, the most Italian of all the food is Roma's special penna norma (NT$110). Should diners fancy something that's not on the menu, then they shouldn't be afraid to speak up. As long as the ingredients are in the kitchen, Hu, Li or Guan will be only too happy to whip-up the Italian dish of the patron's choice. \nApart from their genuine ability to cook fantastic fare, the secret to the trio's success is due their willingness to do everything. They wait tables, act as barmen, clean the floor and even do the washing up. All of which, according to Hu, enables them to keep overheads down and the price of food to a minimum. \nAccording to Li, the trio has plans to open a second Roma somewhere in Taipei City early next year. And if the price and quality of the food served up at the Hsichi store is any indication of things to come, then some of the city's larger and over priced faux Italian joints had better beware. Three Chinese guys born in India are in possession of a recipe that's sure for success.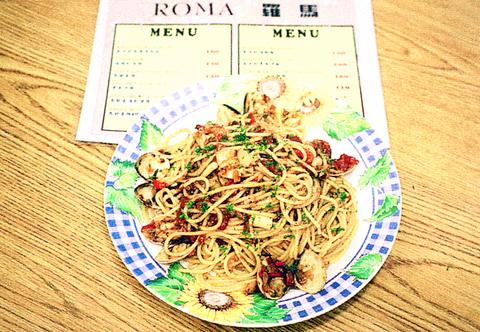 More authentic than most Italian restaurants, and it won't break the bank.
PHOTO: GAVIN PHIPPS, TAIPEI TIMES
Publication Notes
Address: 12 Changshu Yi Road, Hsichi, Taipei County
(台北縣汐止市樟樹一路12號)
Telephone: (02) 2690-3435
Open: 10am to 10pm daily
Average meal: NT$250 per person (including beverage)
Details: English menu
Comments will be moderated. Keep comments relevant to the article. Remarks containing abusive and obscene language, personal attacks of any kind or promotion will be removed and the user banned. Final decision will be at the discretion of the Taipei Times.