Taking the Bard out of context
"Whether or not there's a world after death, one may never know," says Othello. "To try to survive or to opt for destruction is one's own choice," Ophelia responds. Then one of King Lear's daughters offers her opinion in their discussion over how to translate Hamlet's famous line: "To be or not to be, that is the question." This is the opening episode from Mad Scenes, (瘋狂場景) Creative Society's (創作社) latest production and their first try at interpreting William Shakespeare's works. It's also the first time audiences in Taiwan will see characters from the master playwright's four tragedies coming out of their different contexts to speak for themselves. \nA great fan of Shakespeare, Wei Ying-chuan (魏瑛娟), director and script-writer for the performance, chose to present a montage of the episodes in which the desires or passions of the characters border on madness. The idea behind this mixing-and-matching of the four famous tragedies occurred to her when she was listening to a recording of opera diva Maria Callas' heart-felt rendition of an Ophelia going mad for love. \nAccording to Wei: "Madness has its roots in extreme passion, which is a positive thing. Shakespeare's passion for human beings and for exploring human nature led him to create his great works." \nWei thought of madness as "a mirror to human nature." "It reflects those of your desires that society does not approve of. [The desires], therefore, present themselves in a wayward manner -- as a mental disorder." \nA case in point is the episode where Othello kills his wife in an irrational rage. The two actors perform with breathtaking emotional intensity in the foreground, while another character, possibly a servant, distracts the audience with his cleaning work in the background. On both sides of the stage, other actors can be seen tampering with their makeup, adjusting their costumes, or simply looking at the audience in a bored manner. The border separating drama and reality is thus torn down. \nThe anachronistic stage setting -- giant painted curtains, a cheap gilded chandelier -- and stage effects -- crumbling paper to imitate thunder -- further expose the reality behind the stage. \nThe effect is sometimes funny. "Shakespeare was the pioneer of the TV melodrama series. During his time, these tragedies were popular entertainment. They were commercial performances, with some humorous parts here and there to please the theater crowd," Wei said. "Today, we can also look at these tragedies in a lighthearted manner. They are not so downright serious." \nPerformance Notes: \nMad Scenes will be performed at Novel Hall today at 7:30pm and at 2:30pm \nand 7:30pm tomorrow. Tickets range from NT$350 to NT$1,500 and are available at Eslite bookstores and Acer ticketing outlets. For more information or to order tickets, call Creative Society at tel (02) 2723-2305.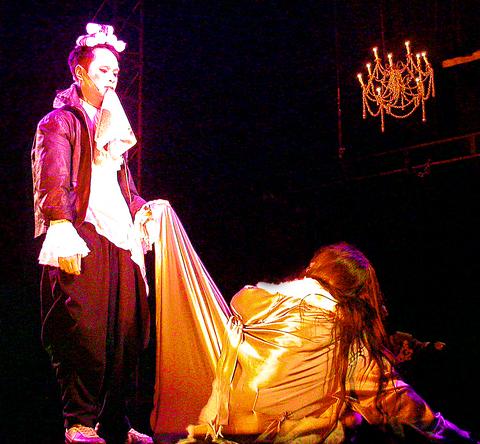 Othello prepares to strangle his wife, Desdemona, in Creative Society's Shakespeare montage, Mad Scenes.
PHOTO: VICO LEE, TAIPEI TIMES
Comments will be moderated. Keep comments relevant to the article. Remarks containing abusive and obscene language, personal attacks of any kind or promotion will be removed and the user banned. Final decision will be at the discretion of the Taipei Times.